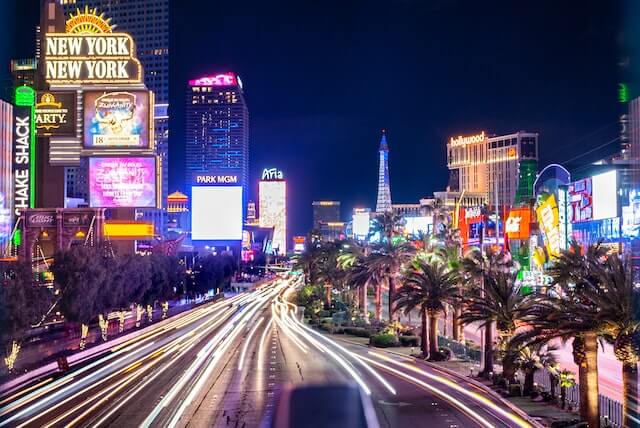 The Las Vegas Strip has maintained its fundamental size over the years. When the "Welcome to Fabulous Las Vegas"  sign went up in 1959, it marked 4.2 miles from Russell Road in the south right up to the north end of town on Sahara Avenue.
That Strip still remains the same but there are plans to double the acreage.
Jump to
Las Vegas NBA
The LA-based Oak View Group is building an arena and entertainment district. The developers are envisioning a 20,000-seat venue. They are planning to build a 2,000-room hotel and casino in the facility on Blue Diamond Road.
In the timeline of 2023 to 2026, the arena and casino complex will be part of the plan at the intersection of I-15 and I-215.
The NBA is the next major professional league to call Las Vegas. The NHL has the Golden Knights, and the NFL has the Raiders.
More online casino information
The North and South of the Las Vegas Strip
The northern section at Sahara Avenue is the sports stadium in the making. The southern end of the town already has Allegiant Stadium on the ground. The 65,000-seat home for the Raiders is in the newest sports venue.
The Allegiant Stadium has new neighbors. Dream Las Vegas Hotel & Casino is situated on Russell Road. The 531-room casino resort will take two years to build (2024). Station Casinos also made plans to build a new casino resort at Las Vegas Boulevard and Cactus Avenue.
Oak View Group CEO Tim Leiweke commented in a press release:
"South of the Las Vegas Strip represents one of the few areas of potential future growth of the gaming and entertainment corridor."
The New Las Vegas Strip "Triple the Size"
A former executive with MGM Resorts International, Alan Feldman, has forecasted that the Las Vegas Strip would "triple the size." He expects that the area would go to the M Resort at Las Vegas Boulevard South and St. Rose Parkway.
Sports are new to the town, but sportsbooks are as old as casinos. The Las Vegas Strip brings sports and sports betting into a whole new world. Grow this idea, the Strip would magnetize its surrounding.