Stone Cold merchandise brings in most money, but Alexa Bliss is the merchandise queen of WWE.
Vince McMahon famously called Stone Cold Steve Austin the highest drawing champion in WWE history. Turns out the 'Texas Rattlesnake' is still adding green to WWE's balance sheet, as per this report on WWE's highest selling merchandise.
Stone Cold, a six-time WWE champion, holds the distinction of being the WWE superstar (retired or active) with the highest grossing merchandise on WWE Shop. The 'Stone Cold Steve Austin Legacy Championship Collector's Title', retailing for $849.99, and having sold an estimated 1600 units, is the highest grossing merchandise on the WWE shop with an estimated $1,359,984. A replica of the iconic Smoking Skull belt is among the top 10 grossing items on the WWE shop as well, raking in an estimated $839,972 in sales.
The Women's Revolution in merchandise!
While Austin is still the most bankable name when it comes to selling merchandise ($3,657,224 in overall sales in 2021), the single highest selling product, in terms of units sold, is the 'Alexa Bliss Lilly Plush Doll. WWE sold 28,800 units of the doll, for $29.99 per piece, and brought in $863,712 in revenue.
It is definitely surprising that Bliss' plush doll sales were higher than that of both Roman Reigns' and John Cena's T-Shirts. A sign that WWE's efforts to give women wrestlers a bigger platform is working in bringing in younger fans.
A lucrative Bloodline
Reigning WWE Universal Champion Roman Reigns' heel turn and subsequent success has also shown up on the merchandise column. 'The Tribal Chief' and his fellow Bloodline members - Jey and Jimmy Uso - round up the list of the highest selling merchandise (by number of units sold). Their 'We The Ones' T-shirt is the second-highest selling product on the WWE Shop.
The sales of the t-shirt account added $406,500 to WWE's revenue column last year.
John Cena's 'spinner belt' is still a money spinner
Wrestling purists might hate John Cena's 'WWE Championship spinner belt' but WWE will not be concerned, considering the replica belt is still a very popular product.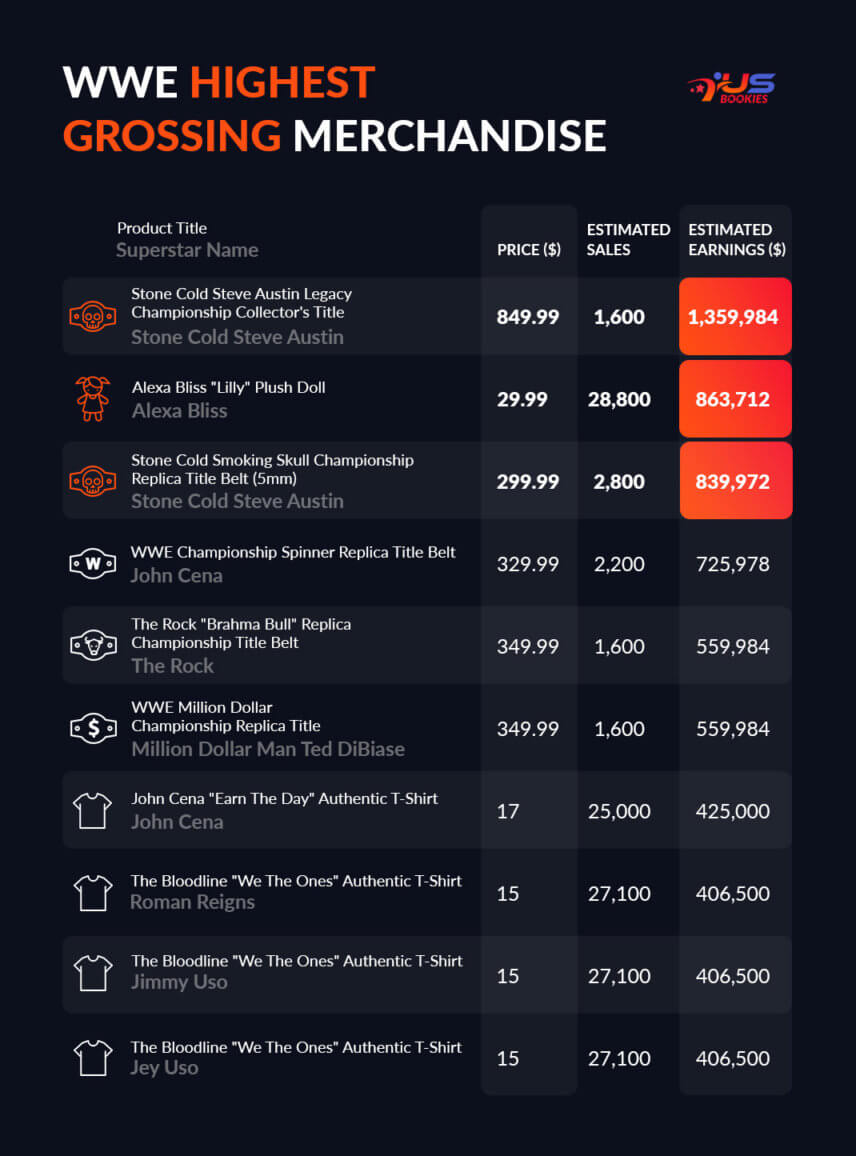 Retailing for $349.99 a piece, the belt is the fourth highest grossing product on the shop, earning $725,928. In fact John Cena's 'US Championship spinner belt' also helps WWE's bank account go 'ka-ching', being the 11th highest grossing item on the WWE Shop.
Methodology
Estimated Sales and Estimated Earnings is the number that we came up with based on the Official WWE Annual Report, and the number of reviews on the Official WWE Shop.
On the annual report, we can see that they had about 700k sales, and we managed to scrape about 7k reviews on the official shop, which is about 1% of 700k sales. So, we've multiplied our numbers by 100 to get a close estimate.
Figures are as of December 22, 2021