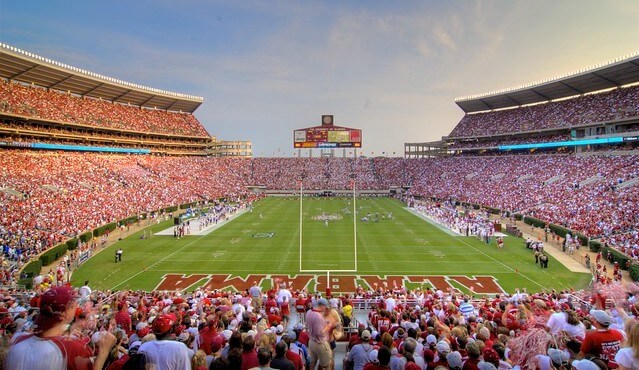 College football fans are infatuated with following the race to the College Football Playoff, but that's moving a bit too fast. There are important games that take place before the CFP, and those games might actually serve as elimination games.
The college football conference championship games are some of the best of the year, and we are just a few weeks away from those taking place. Some conferences are pretty easy to predict, while other leagues are wide open.
Here are some college football conference title predictions based on the current standings. These projections might look much different a week from now as this sport continues to produce some strange results.
Jump to
All Eyes on the SEC
The two best teams in the country play in the SEC. That should set up a terrific showdown in the conference championship game. Alabama still has some work to do, but Georgia is going to be in that game.
This could arguably be a preview of the CFP title game, but Alabama might need to win this game to reach the playoffs. That puts a ton of pressure on the Crimson Tide, but they have also had Georgia's number in recent years.
There are still a few teams that can make a run in the SEC West Division, but Alabama is now losing another regular-season matchup.
Big Ten East is Loaded
You might have heard that the Big Ten Conference is full of great college football teams. But that's not entirely true. The teams in the West Division have really struggled, but the Big Ten East is loaded.
The Wisconsin Badgers look like they are ready to claim the West Division title. Finding an opponent for them won't be easy. Ohio State has the clear edge at this time, but they still have to play the two teams chasing them.
The Buckeyes have shown some flaws at times, and the winning streak over Michigan has to end at some point. The Big Ten Championship Game will feature Wisconsin and Michigan.
Best of the Rest
Despite what the rankings might lead you to believe, there are actually college football games taking place outside of the SEC or Big Ten Conference. The other Power 5 leagues might not have as much depth, but there are still some really good teams.
In the Pac-12 Conference, look for the Oregon Ducks to face off with the Utah Utes in the conference championship game. The ACC championship game could feature two new teams this season as it looks like Wake Forest and Pittsburgh are set to square off.
Predicting the Big 12 Conference title is a bit more challenging as this conference just has so much parity. If you are looking for the safest bet, then look for the title matchup to be between the Oklahoma Sooners and Baylor Bears.