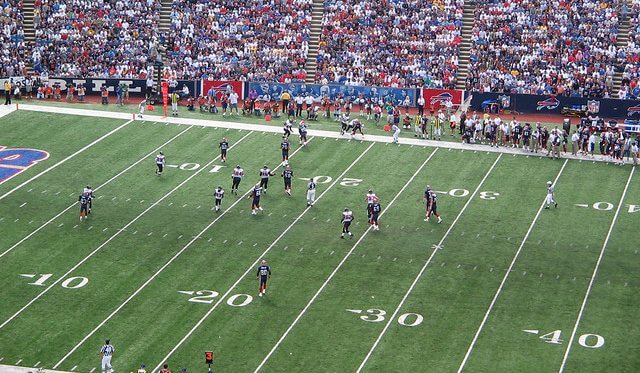 This has been one of the most competitive seasons in NFL history, and a quick look at the playoff standings would tell that story. There haven't been any teams that were able to clinch a playoff berth through Week 14, and only a handful of teams have been eliminated from postseason contention.
There are a couple of division races that appear to be wrapped up, while others are going to come down to the wire. The NFL Playoff picture has been interesting to follow all season long, and it's going to create plenty of excitement in the final few weeks of the year.
Not only does this mean that Weeks 15-18 of the NFL season should be full of excitement, but the playoffs are going to be exciting as well. There are a few teams that appear to be Super Bowl favorites, but plenty of other teams are in the mix.
Jump to
AFC North is Nuts
The AFC North Division is still wide open as we head into Week 15. The Baltimore Ravens looked to be in complete control just a few weeks ago, but they have now let the rest of the teams back in the race.
The Cleveland Browns and Cincinnati Bengals are the two teams putting the most pressure on Baltimore, but Pittsburgh isn't out of it yet. There are some other tight playoff races in the AFC but nothing as wild as what is going on in the North.
NFC West Teams Battling
Fans and pundits alike were expecting that the NFC West will be a loaded division this year. And it has definitely played out that way through the first 14 weeks of the season. The Arizona Cardinals are in first place in the league, but the Los Angeles Rams and San Francisco 49ers are in striking distance as well.
The winner of this division could also be the top overall seed in the NFC Playoffs, and that would create a pretty massive advantage. The NFC West is the only division in the NFC that appears to have any drama in the playoff race.
The Green Bay Packers are going to win the North, the Dallas Cowboys will win the East, and the Tampa Bay Buccaneers will win the South.
NFL Wild Card Spots Up For Grabs
Since the NFL has added an additional Wild Card playoff spot, that has created even more drama for the right to compete in the postseason. Even the teams that are currently just under the .500 mark entering Week 15 have a chance to get back into the playoff race.
Obviously, making the playoffs as a Wild Card will make it harder to win a Super Bowl, but the Tampa Bay Buccaneers just pulled that off a season ago.