NFL trading activity noticeably down in 2018
Commercial Content | 21+ | T&Cs Apply
The NFL has gone through something of a lull in trade activity this past week and is poised for a sharp 36% fall in business as the window prepares to close on Tuesday evening at 4 p.m. ET.
NFL teams have completed 25 trades from August 1 this year until today (Tuesday, Oct. 30), and unless one of the few rumors moves being floated somehow comes to fruition, that could well be the number it ends on.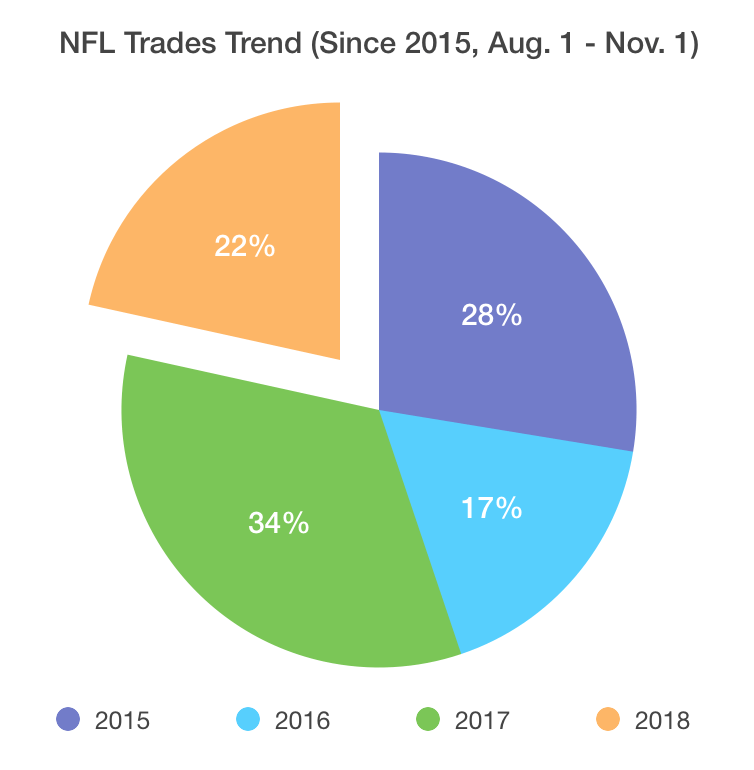 It's 14 trades fewer than what fans saw in 2017, when Jimmy Garoppolo's deadline-day switch from the New England Patriots to the San Francisco 49ers was the icing on the cake of an explosive year for player movement surprising everyone who wanted to bet on football. Unfortunately for those fans of the dramatic, this year's slowed pace also indicates 2017 was little more than an anomaly rather than the beginning of a new trend in the NFL.
The 25 trades completed this year is five more than were completed in 2016. However, we can see NFL trade activity has gone through peaks and troughs over the past four years, as there were 32 trades in 2015 (28% more than this year).

ESPN's Mike Sando reported last year's surge to 30 trades by September 3 was a 50% increase on the previous five years in that same period. By that same date this year, the NFL had completed only 19 trades, and that fall of more than 30% indicated we've seen a fall back to 'normality' in trade frequency, as well as overall volume.
If there are no deals competed on Tuesday, it will also be the first season since 2015 in which no deadline-day moves have taken place, yet more disappointment for transfer fans out there who want to engage in legal sports betting.
Garoppolo, Kelvin Benjamin (Carolina Panthers to Buffalo Bills) and Jay Ajayi (Miami Dolphins to Philadelphia Eagles) were three of five last-day moves in 2017, while Johnthan Banks (Tampa Bay Buccaneers to Detroit Lions) was the sole deadline trade in 2016.