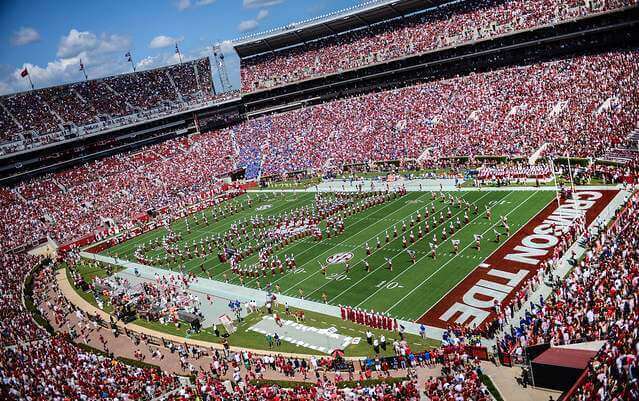 The Georgia Bulldogs won the 2022 College Football Championship by defeating the Alabama Crimson Tide in a convincing fashion. As soon as that game was over, the odds for the next season's championship came out, and those odds will continue to be adjusted leading up to the regular season.
You are going to see the same big-name teams at the top of the list when it comes to the early odds to win the 2023 title. Even though any team is able to make a run, it seems that only a few programs have what it takes to win a college football championship.
Jump to
Two Clear Favorites
It should come as no surprise that the Georgia Bulldogs and the Alabama Crimson Tide are the two clear favorites to win the college football championship next season. Alabama currently has odds set at +325 while the Georgia Bulldogs are at +350.
Since these teams play in different divisions in the SEC, it makes it possible for each team to get to the SEC Championship Game and then back into the College Football Playoff. Georgia might have had the upper hand over Alabama in 2022, but don't expect the Crimson Tide to be down for long.
Which Team Can Challenge
There are three other major college football programs that should be in the mix again in 2023. Each program will have to work on reloading their roster for the upcoming season, but there is plenty of talent there.
The Ohio State Buckeyes are next on the list at +700, and they missed out on the College Football Playoff in 2022. Ohio State always seems to reload with talent quickly, and that should be the case yet again.
Clemson and Michigan both have odds at +1200 to win the championship next season and should both be strong contenders to win their respective conferences.
Contenders For 2023
Even though there always seems to be a pretty clear group of top teams when it comes to the NCAA Football Championship, don't be surprised to see other teams make a run next season. Most teams can now afford to take one or two losses and still be in the race, and that will keep teams in it for a longer period of time.
The SEC continues to be the most dominant league in the country, but there are other conferences that are solid as well. If you are looking to make some money when making this type of futures bet, then there are some opportunities that exist.
Here is a list of the rest of the teams near the top of the list and their odds to win the NCAA Football Championship:
Texas A&M +1600
Notre Dame +2000
Oklahoma +2000
Oklahoma State +3300
Oregon +3300
Texas +3300
USC +3300
Utah +3300
Wisconsin +3300