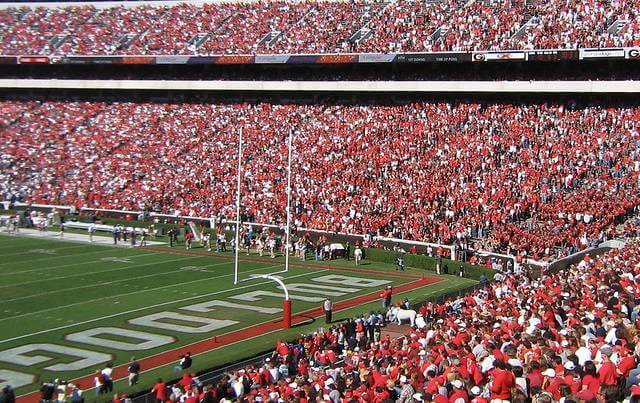 The entire NCAA Football season is filled with drama, but the action really heats up when conference championship games are underway. There are a total of 10 title games taking place this weekend, and each provides a unique betting opportunity.
These odds have been out since the matchups were determined, and they have been changing over the last few days. There are likely going to be some upsets that play out on the field, but these odds will set the stage for what could take place.
Here is a look at all ten conference championship game odds for this weekend.
Jump to
Power 5 Conference Odds
The Power 5 Conference games are going to get most of the attention this weekend, and the betting odds are really all over the board. Expect most of the games to be tight, but that isn't the case for all five of those matchups.
Here are the odds for each game:
ACC: Pittsburgh Panthers -3.0 vs. Wake Forest Demon Deacons
Big Ten: Michigan Wolverines -11.0 vs. Iowa Hawkeyes
Big 12: Oklahoma State Cowboys -5.5 vs. Baylor Bears
Pac-12: Utah Utes -2.5 vs. Oregon Ducks
SEC: Georgia Bulldogs -6.5 vs. Alabama Crimson Tide
All ten of the teams set to play in the Power 5 conference championship games are currently ranked in the top 17 or better. A number of these teams are playing for a spot in the NCAA Football Football Playoff, and that will affect what takes place on the field as well.
Michigan is the biggest betting favorite this weekend, and this comes on the heels of them upsetting the Ohio State Buckeyes a week ago. The smallest spread comes from the Pac-12 Conference, as Utah is a slim 2.5-point favorite.
Smaller Leagues Taking the Field
Not only are the five biggest conferences taking the field this weekend, but there are five other leagues set to host a title game. Some of these teams can still reach a major bowl game with a win, but winning the league title is always the biggest goal.
AAC: Cincinnati Bearcats -10.5 vs. Houston Cougars
Conference USA: Western Kentucky Hilltoppers -3.5 vs. UTSA Roadrunners
MAC: Kent State Golden Flashes -3.5 vs. Northern Illinois Huskies
Mountain West: San Diego State Aztecs -6.0 vs. Utah State Aggies
Sun Belt: Appalachian State Mountaineers -3.0 vs. Louisiana Ragin' Cajuns
It should come as no surprise that Cincinnati is the biggest betting favorite of these five games. The Bearcats should clinch a spot in the CFP with a win, but it can help its resume with a dominant performance.
The best game of the weekend could take place in the Sun Belt Conference as Appalachian State is a betting favorite despite taking on an 11-1 Louisiana team.