MORTEN ANDERSEN EXCLUSIVE: Soccer and NFL are nothing alike!
Commercial Content | 21+ | T&Cs Apply
Ahead of the 2019-20 NFL pre-season, US-bookies spoke with former New Orleans Saints and Atlanta Falcons placekicker Morten Andersen. He shared his thoughts on the Patriots being the favourite for the Superbowl, the k-ball changing kicking and the improved role of the long snappers. Before placing a bet on any of the games, you can read our guide to point spread betting explained and how to read odds.
Kicking responsibility used to be allocated to the soccer players
The biggest change in the kicking game, is the players in the NFL now have played and trained a lot longer. When the soccer style kicking started back with Jan Stenerud, a lot of the players were European guys, and not a lot of American kickers were involved. As it was born out of a background in soccer. Through the last 12 years since I retired in 2007, American kickers have become more prolific as they start kicking at an early age, to understand it.
Before it was a case of, if he's a good soccer player let's see if he can kick the football.
It's born of better understanding on how to coach the technique correctly and it's now considered a full-time developmental position.
The K-Ball has changed kicking in football
There are a couple of reasons why players are kicking further than ever. The K-Ball has come in which is a specific ball for the kicking situation. The balls they use now are nice and fat, which makes for a bigger sweet spot. But I also think the old 50-yard kick is now seen as the 40 yards, and the new target is the 60-yard kick, which is like the old 50 yards. Everything is evolving, and the more success you have in practice on long distances, the better you'll be.
But I always tell my guys that I work with, the most important kicks are the ones between 30-45 yards, you'll get 85% of your kicks in that range. If you can nail those you'll be around for a long time.
The improved role of the long snappers has improved team chemistry too
Having a long snapper in each team makes a massive difference. Previously, they would come on for fourth downs and that's all that he did. In the past it used to be the starting centre or the back-up. That has changed and helped ramp up the consistency of kickers.
I was lucky to play with a designated long snapper for most of my career and it's a huge reason why guys are better today than ever.
Now you can train whilst the game is on. Before you'd be lucky to get four or five snaps a day, but now you can get an hour if you want to train together. You're going to get better with that chemistry.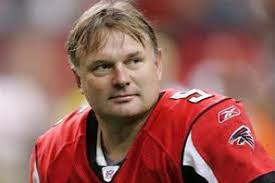 Soccer and NFL are nothing alike!
The biggest difference between soccer and NFL kicking, is the lift and trajectory of the ball. It took me a while to understand the importance of the planted foot and to get the foot ahead of the ball. It's almost like a strike down in golf. It's the same on a field goal to strike down on the ball, which is different from soccer when you need to lean back a little bit to get the height.
You want to get lift on the ball, so that was the initial challenge. In high school and college, you have a tee, but once you get to professional level, you're kicking off the ground.
The swing to the ball needs to be more linear than the soccer technique. The perfect strike on the ball is get the rotation on the ball correct. Originally, to understand the dynamics I had to teach myself and it was a case of trial and error.
An example was when I met with former soccer legend Henrik Larsson, in a competition where I was shooting with a soccer ball, and he was trying to score a field goal. He was surprised by how difficult it was and saying how he couldn't get the lift on the ball. He was used to having his plant foot behind the ball, instead of in front of the ball.
Watching NFL in Europe is more fun
The NFL will continue to grow in Europe. I played the Raiders at the old Wembley Stadium in a pre-season game to promote the NFL in the late 80s or early 90s. We were in London, Birmingham, Manchester and Glasgow, all over the United Kingdom. The Jacksonville Jaguars owner has ties to Great Britain, as well as several US owners having ties to Premier League teams. I think the globalisation is great.
I would love to see a team in London, I think that would be fantastic. I think we have four games this year in London.
When I went to the international games as an ambassador, at the new Wembley, there were jerseys of the teams playing, but there was a plethora of other jerseys. It was like a big party for the NFL, not just the two teams playing, just everybody out there showing their colours. It was a kaleidoscope of colours, which never happens in the US at an NFL game because you have allegiance to one of the teams. You would seldom see a fan wearing a Raiders jersey at a Falcons game when they were playing the Saints.
The Patriots are favourites for the Superbowl but the Browns will win their division
I think the guy everybody looks at right now is Justin Tucker, he's the best in the league. I will follow what the Falcons do, they've got a younger kid in there, and also, just from a football point of view, looking at the Patriots – they're still the favourites until somebody proves otherwise. I think it's up to (Tom) Brady, he's 40 or 41 years old. It will be fun to watch Brady navigate the season again.
Of course, there's (Patrick) Mahomes, a young guy, the question is, can he continue with Kansas City and take them to the next level? I would say they're one of the favourites that you have to look at.
I also really like what Cleveland is doing. I know it's 'just Cleveland', but I really admire their quarterback, and their defence is also dynamic and quick. I predict they will win the division, and some may say I'm crazy, but we'll see what happens.
I love the Saints, and they've signed a lot of their guys to big contracts so hopefully they're still hungry. I really like their chances in the NFC and it could be a fun season.
There are so many young, dynamic players coming in every year and a lot of them make an impact right away. It's always about staying healthy in key positions. If you lose a guy in an important position, your quarterback especially, and you have no depth – then you're pretty much done. It's very difficult to fill that spot, especially as the learning curve for a new guy is difficult if he hasn't been in meetings and doesn't know the playbook. If you have an injury to your starting quarterback, you are forced to close parts of your playbook because you don't have time in a season.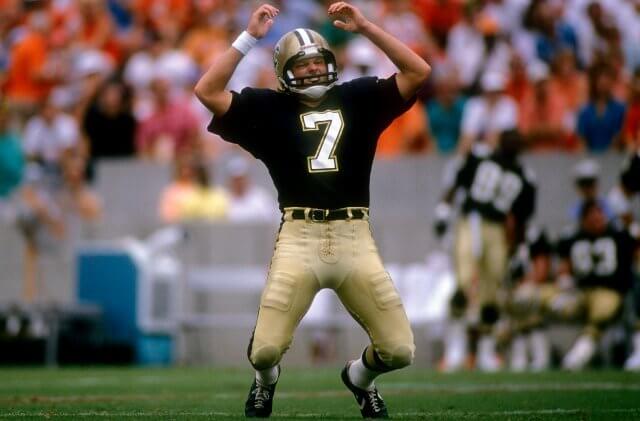 Cole Tracy has to improve his kick offs
For Cole, his nemesis has always been the kick-off. At LSU, he had another guy do that. He was money on field goals, yes, he was elite – but his problem has been kick-offs. I think the reason why he hasn't been involved in a roster is because he hasn't had enough work on kick-offs. It's a tough one, a small window of opportunity and you have to have all the tools.
Hindsight is 20/20 but I'm sure had he known that he was going to be facing those questions eventually about the kick-offs, he would have prepared.
I advise Christian Wade to get to grips with the play quickly
I would advise him to lean up against a veteran player who knows the plays to ask questions, study and absorb. Become fully engrossed in the process. If you know the play, a coach will say they can work with that. If you don't, the coach will say this guy doesn't know what he's doing. The physical part won't make up for that. As a rookie, just ask questions.
Stay humble and earn the right to be there for many years because an NFL career is a marathon, a lot of these guys out of college play fewer games – 11 or 12 – and you still got six more weeks in an NFL season so a lot of these guys are burned out. Pacing yourself is a big thing.
Hjalte Froholdt will be on the roster and will enter plays
I tweeted him to congratulate him when he made it and from what I see, he's a hard worker. He has some skill, as the world champions wouldn't have taken him otherwise. You've bought yourself two years and if you don't make it after then, they're going to cut you.
He's going to be on the roster. He may not be active for games but he could be. I would not be surprised if he entered plays, that wouldn't shock me at all. I'll keep an eye on him for sure. There's desire on the part of the team for him to succeed.