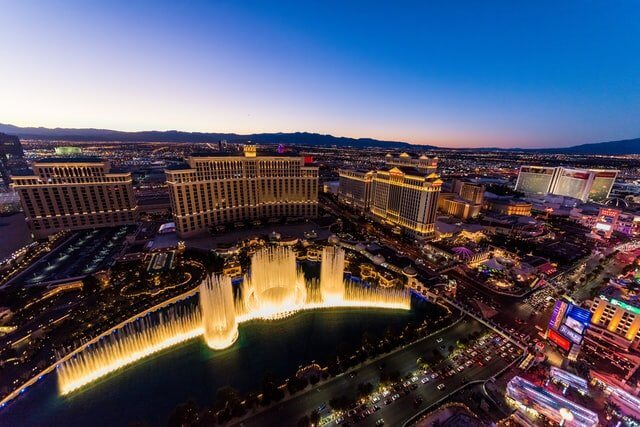 Over the past few decades, land-based casino gambling has expanded coast-to-coast in the US gaming market. Atlantic City, New Jersey was the first major expansion east. The Gulf Coast region of the country started offering casino gambling in places such as Biloxi, Mississippi, and on riverboats in New Orleans, Louisiana.
Through it all, Nevada remained the birthplace of casino gambling in the US and Las Vegas remained the gambling capital of the world.
However, more recent innovations in gaming technology have brought casino games online through mobile apps in a select number of states.
While mobile sports betting and casino gambling appear to be the US gaming industry's future, you can still count on the Las Vegas Strip to shake things up with new and exciting casino gambling concepts.
One of those innovations recently made its debut at Harrah's Las Vegas. A hybrid digital game of craps called "Roll to Win Craps' made its way to the casino floor. This digital version of one of the oldest casino table games around was created by Aruze Gaming America, Inc.
Based in Las Vegas, this gaming development company continues to make its mark in the land-based casino industry. It has continually raised the bar with new and exciting concepts for casino staples such as slots, video poker and other digital table games.
Find more online casinos in your state
The company's initial roll-out market for Roll to Win Craps took place in Florida this past December at Hollywood Hard Rock Casino, Tampa Hard Rock Casino, and Immokalee Casino as part of the Seminole Tribe's network of casinos.
Ready to go big time with this unique gaming concept, Roll to Win Craps has made its official debut on the Las Vegas Strip at Harrah's.
Players toss the dice onto a digital craps table. All bets are managed by individual player screens at separate stations. While this minimizes contact with the actual dealers to ease health concerns, it also makes the game easier to play.
Of all the casino table games, craps could be considered the most complex to learn given all the different ways a player can win and lose.
Rob Ziems is the president of Aruze Gaming America Inc. He recently noted that the digital version has minimal touchpoints with the only thing in common between the dealer and the players is touching the dice.
He also noted that:
By letting players learn at their own pace, we are helping a new generation of players discover how exciting a great craps roll can be.
As part of the gameplay experience, this digital version of craps is designed to offer helpful tips as well as guidance to new players through onscreen displays.
Gaming industry studies show that today's younger casino players are gravitating more towards online play as opposed to visiting an actual land-based casino. They grew up in a digital world so the attraction to computer video games is understandable.
This digital craps game is a gaming concept geared towards bridging that gap with this younger demographic. Moving forward, land-based casinos are going to have to give these younger gamblers a reason the venture out. Aruze may be onto something with this digital version of a traditional table game.