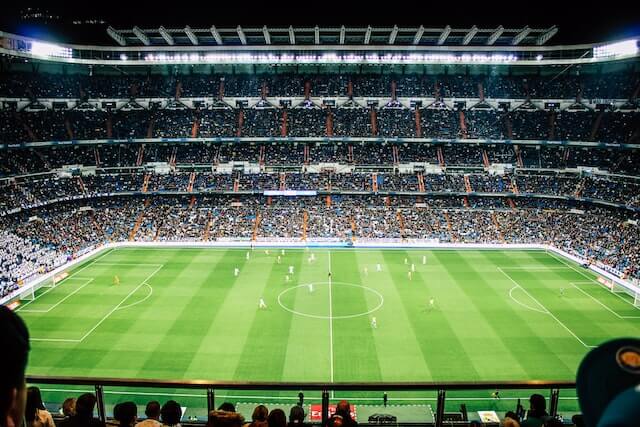 In what promises to be a unique season, Real Madrid look to defend their La Liga title with rivals Barcelona and Atletico Madrid nipping at their heels. The La Liga season will take a seven-week break for the World Cup in November and December, pushing the end of the season into June of 2023.
The league features new superstars this year, namely Robert Lewandowski, and once again features the reigning champions of Europe in Real Madrid. The title race may be a three-team battle once again, at least until a fourth side breaks the deadlock at the top.
The soccer odds are available for the La Liga title with Real Madrid as the favorites, ahead of Barcelona, Atletico Madrid, and Sevilla. Coincidentally that is the same order at the top of the table last season in Spain.
Jump to
Real Madrid Favorites Again
Real Madrid won the title last year by 13 points ahead of rivals Barcelona with only four losses and a +49 goal differential on the season. Karim Benzema scored 27 La Liga goals last season while Vinicius Junior had 17 and Marco Asensio scored 10. Thibaut Courtois was brilliant in goal with 16 clean sheets in La Liga play, and Real Madrid only allowed 31 goals in 38 games.
In the summer transfer window, they bolstered the defense with Antonio Rudiger joining from Chelsea on a free transfer. They also added midfielder Aurelian Tchouameni from Monaco on a six-year deal. They didn't have major departures, with seldom-used Gareth Bale, Isco, and Marcelo leaving on free transfers at the end of their contracts.
Los Blancos are +110 to win the title again this season with Carlo Ancelotti back as manager. They haven't successfully defended a La Liga title since 2008. This time however they have pretty much the same roster as last season plus money to spend in the January transfer window if reinforcements are needed.
Barcelona Lead Contenders
It won't be easy for Real Madrid to repeat, and the top three clubs in the league have been unchanged since 2012. In each of the last 10 La Liga season, Real Madrid, Barcelona, and Atletico Madrid have finished 1-2-3 in some order, while Sevilla have three straight fourth-place finishes. Last year Barcelona were second with 73 points, two ahead of Atletico and three up on Sevilla.
Barcelona are +140 to win La Liga this season, with 2020-21 champions Atletico at +500 and Sevilla at +1600. Barcelona have had some financial issues but still spent over €150 this summer to attempt and close the gap on their rivals.
Lewandowski, Jules Koundé, and Raphinha were the big acquisitions, and so far, they have hung on to Memphis Depay, Pierre-Emerick Aubameyang, and Frenkie de Jong.
Atletico released Luis Suarez after last season and brought in Axel Witsel, Samuel Lino, and Nahuel Molina as the big summer additions. Manager Diego Simeone's style of play is the big equalizer for Atletico over the season. Sevilla sold Diego Carlos to Arsenal in the offseason and added Marcao from Galatasaray and will likely lack the firepower to keep up with their Spanish rivals.
Lewandowski, Benzema Co-Favorites for Pichichi
The Pichichi Trophy is given to the individual player who leads La Liga in goals scored. Newcomer Robert Lewandowksi and last year's winner Karim Benzema are co-favorites at +200. Benzema's 21-year-old teammate at Real Madrid, Vinicius Junior, is next at +1400.
Lewandoski led Bundesliga in goals scored in each of the last five seasons and seven of the last nine. He scored 35 league goals in 2021-22 and 41 in just 29 games the year before. Benzema has scored at least 21 La Liga goals in four straight seasons.
Last year Benzema won the Golden Boot by nine goals with his 27 strikes. Iago Aspas of Celta Vigo was second with 18, ahead of Raul de Tomas of Espanoyl and Vinicius Junior with 17 each.
The winner has had at least 25 goals in every season since 2001-02, and either Lionel Messi or Cristiano Ronaldo won the award in all but one season from 2010-21.