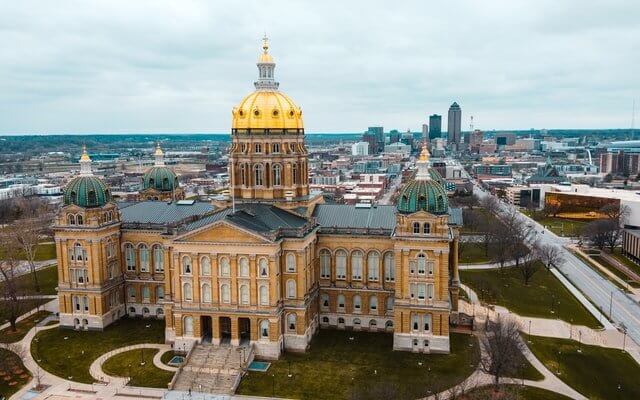 Iowa was one of the early states to legalize sports betting within its borders. The US Supreme Court cleared that path in May of 2018 in a landmark decision that gave individual states the right to govern legal sports betting within their borders.
The Hawkeye State quickly jumped at the opportunity and a year later legal sports betting was up and running. Iowa was also one of the few states that created land-based retail sportsbooks through its existing casino and race track network while also legalizing betting online.
Two years later, state lawmakers are pushing the first expansion of the initial rules and regulations governing the state's sports betting industry. House Bill 200 has recently been introduced for consideration.
The primary language in this piece of legislation would legalize betting on eSports as well as specific prop bets for traditional sports and sporting events. HB200 defines the addition of certain prop betting as follows:
"An event that takes place in relation to an authorized sporting event, but that is not tied to the outcome of a specific athletic event or contest as authorized by the commission."
This would pertain to prop bet options for events such as annual NFL draft and NBA draft player draft or annual player awards such as Most Valuable Player and Rookie of the Year.
As far as eSports wagering goes, issues originally arose given the younger age of many of the competitors. HS200 would remove those restrictions as well.
The concern is that offshore sportsbooks offering betting action on eSports and various betting props would continue to take business away from in-state sports betting operators given the current laws on the books.
Read about sports betting in more states
One issue that will most likely not be addressed is the legal age of Iowa bettors. As with other states offering legal betting, the minimum age to participate is 21. Offshore books generally require online customers be at least 18 years old to bet on their sites.
You can also add live in-game betting options to the list of issues that will not be addressed in the proposed legislation.
The main focus of HB200 is opening up the betting market to eSports events while broadening the range of betting on sports props.
When most mainstream sports were shut down in 2020, eSports quickly rose in popularity to fill the void. That was enough of a timeframe to provide a continued boost to one of the fastest-growing segments of the sports betting industry as a whole.
Offshore books enjoy a much wider range of flexibility in the betting options they can offer. By narrowing that competitive advantage, HB200 will help Iowa's in-state sportsbooks level the playing field while also increasing tax revenue earned on bets of this nature.
The same could be said for expanding prop bet options to player drafts, possible player trades, and seasonal player awards. This may be a small part of the overall sports betting handle but the popularity of these types of wagers is on the rise.
Support for the new measure appears to be strong given the state's progressive stance toward legal sports betting in general.