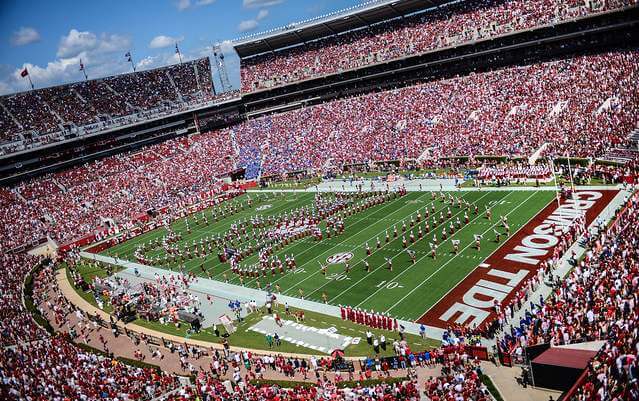 The College Football Playoff field has been set, and two of the teams in the field are not a surprise. Both Alabama and Georgia will represent the SEC, while the other two teams are Michigan and Cincinnati.
Michigan has returned to glory after finally finding a way to beat Ohio State, and now the Wolverines hope to cap it with a title. Cincinnati became the first Group of Five team to ever reach the CFP after going undefeated this season.
Alabama earned the top seed after delivering a blowout win over Georgia in the SEC Championship Game. The Bulldogs fell from 1-3 after that loss but avoiding Alabama again until the title game is a good thing.
Now that the matchups are set, it's time to take a look at each of the two games.
Jump to
Alabama Massive Favorite Over Bearcats
The Alabama Crimson Tide have opened up as 13.5-point favorites over the Cincinnati Bearcats. It's not a shock to see Alabama as such as a big favorite in the CFP, but there were some questions about Alabama before they destroyed Georgia.
Alabama quarterback Bryce Young has thrown 43 touchdowns this season to just four interceptions. The Crimson Tide are putting up more than 42 points per game, and they are going to try to win this game with the offense.
Cincinnati is giving up just 16 points per game this season, but the Bearcats will be in for a massive test in the CFP. The Bearcats do have a talented secondary, but they have never faced a quarterback like Young.
The Bearcats have proven that they aren't afraid of any opponent, but it's hard to see them keeping this one close at all. Alabama can score points in a hurry, and Cincinnati simply won't be able to keep up.
It has been a great college football season for the Bearcats, but Alabama wins this game by 20+.
Can Michigan Score on Georgia?
The real drama should take place in the second game of the night as both Georgia and Michigan do some things very well. Don't expect a ton of points in this game, as each team features an elite defense.
Georgia was giving up less than 7 points per game before the blowout loss to Alabama. The Bulldogs are giving up less than 82 rushing yards per game, and that's going to be a key factor in this game.
Michigan wants to run the football, and Hassan Haskins have nearly 1300 rushing yards and 20 touchdowns this season. The Wolverines will try to establish the run with Haskins, but that's not always easy to do against Georgia.
There are some question marks about the offense of Georgia, but they have been good enough most of the year. The Bulldogs are the better team, but this game should be close throughout.
Taking the Michigan Wolverines +7.5 appears to be the way to go.