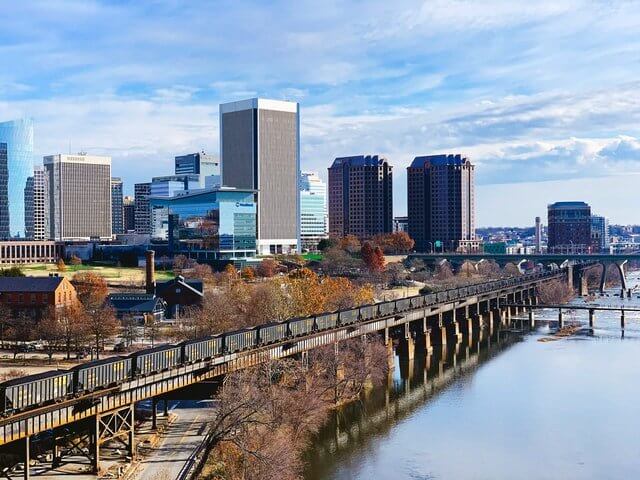 Virginia has taken some bold steps lately when it comes to the expansion of gambling within the Commonwealth. Virginia online sportsbooks have been approved. That process is moving forward through the licensing process with an anticipated launch early in 2021.
At the same time, plans are in the works for Virginia casinos in Bristol, Danville, Norfolk, Portsmouth. All four cities were preapproved by the state by meeting certain conditions that were part of an extensive qualification process.
The matter was then presented to the voters in those four cities in the form of a referendum on November's election ballot. All four gained the necessary votes to proceed with their plans.
As one of the biggest cities in the state, Richmond has been preapproved for a casino. Yet, it held off on its local ballot referendum until a later date.
Both Bristol and Danville are located in the western portion of the state in areas with a smaller population. Norfolk and Portsmouth border one another in the heavily populated Hampton Roads area which occupies the farthest southeastern portion of the state.
Read more online casinos information
A third city in this area is also looking for state approval. However, Hampton did not meet the initial qualifying criteria for a land-based casino site.
One of the qualifying conditions was a population decrease of at least 20 percent from 1990 through 2016. With a total population of 135,000, Hampton has basically remained steady during this designated timeframe.
That has not stopped the Hampton City Council from requesting a second look. A recent council vote set the stage for the request. Working against this city is market saturation with both Norfolk and Portsmouth in close proximity.
Nonetheless, Hampton is banking on a recent market study completed by The Innovation Group. Based in Florida, this company performed a thorough review on casino gambling for the Virginia Joint Legislative Audit and Review according to state records.
The results of this study concluded that the Hampton Roads region could financially support three land-based casinos. Yearly gross gaming revenue was projected to be $350 million.
Hampton officials also cited that a casino would create 900 new jobs that would result in $42 million in annual wages and benefits.
The only legal form of casino gambling in Virginia is through historical horse racing machines (HHR). In a deal with Revolutionary Racing, this Chicago-based group of investors agreed to buy the shuttered Colonial Downs Racetrack about 50 miles west of Hampton closer to the Richmond area.
As part of the agreement, the track also opened Rosie's Gaming Emporium in 2019. This venue offers 700 HHR terminals as an added gambling attraction to horse betting at the track.
The company also received approval to operate several satellite facilities across the state. Interestingly enough, one of those satellite venues is up and running in Hampton.
The group behind the casino plans in Norfolk is the Pamunkey Indian Tribe along with billionaire Jon Yarbrough. The cost of this new casino is estimated to be $500 million on 13 acres of city land.
Chicago-based Rush Street Gaming has proposed a $300 million casino resort in Portsmouth on vacant city land.