Clemson and Alabama, Alabama and Clemson. Yeah, we get it. They're good. They're really good. So good it would surprise no one if they met in the College Football Playoff for the fifth straight year.
But what's the fun in that? As Wilt Chamberlain best put it: "No one roots for Goliath."
So this exercise is about finding the gate-crashers for the 2019 college football season. There is always one team that starts on the outside looking in, whether it is unranked to start the season and methodically works its way up the AP Top 25 and into the CFP Rankings. There may be a Group of 5 School that makes the most of its non-conference schedule and runs through its league play like a hot knife through butter, making its case to be included as one of the four teams.
Here are the ground rules used in finding five potential teams who can liven things up for 2019:
No school in the Top 10 of the AP Preseason Top 25 Poll. That rules out all four of last season's CFP participants in addition to Georgia, Ohio State, LSU, Michigan, Florida, and Texas.
At least one school from the "Group of 5" conferences.
At least one school not coming off a 10-win season.
Everyone knows these teams are longshots, and the odds offered by FanDuel reflect that. But it's fun to dream a little dream, and at the very least, you may be able to find a team you can use as a value pick at a level or two below the national title and get a good return.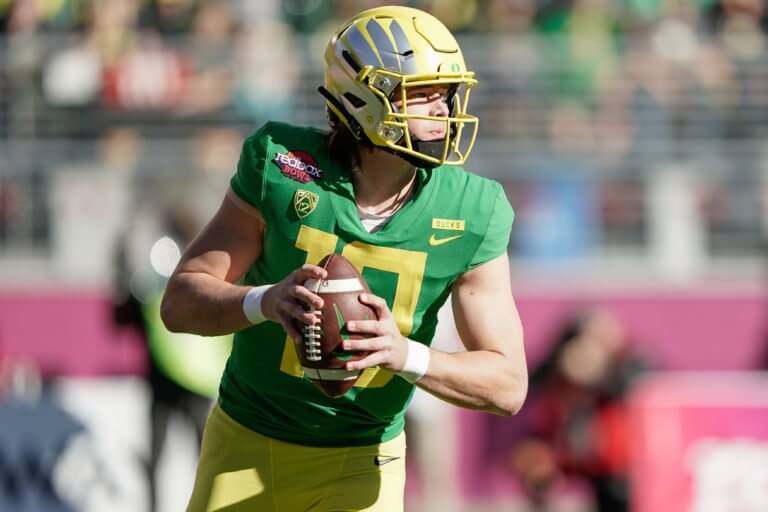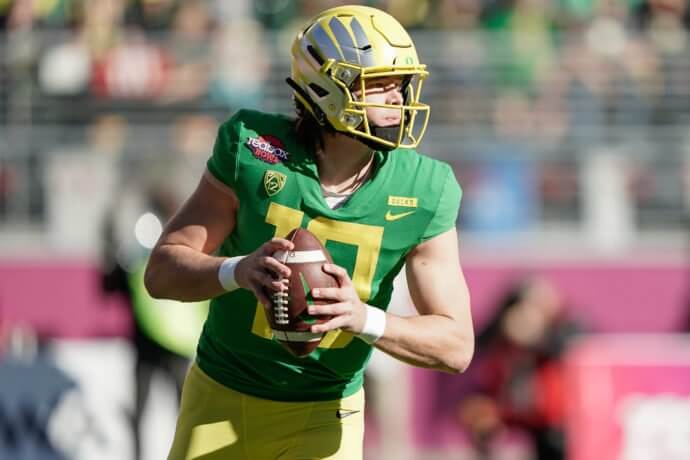 Oregon (+4,800) – The Ducks barely meet the first criterion as they are ranked 11th in the AP Top 25, though it should be noted there is a sizable gap between them and No. 10 Texas. Oregon has the one key thing for a sleeper to have legitimate College Football Playoff hopes – a Heisman Trophy candidate at quarterback.
Justin Hebert could have been selected in the first round of the 2019 NFL Draft had he opted to forego his senior year. Instead, the NFL's temporary loss is Oregon's and the Pac-12's gain for national relevancy as the 6-foot-6 senior returned to Eugene after throwing for 3,151 yards and 29 touchdowns while leading the Ducks to a 9-4 record and win over Michigan State in the Redbox Bowl.
Mario Cristobal's team will be challenged right out of the gate as they open the season Aug. 31 against No. 16 Auburn at AT&T Stadium in Arlington, Texas. Win that game, and the Ducks are players in the national picture heading into a wide-open Pac-12 race that does not feature a dominant team.
Lose it and start hoping Oregon is capable of running the table in the Pac-12 to have a shot at being in the playoff picture come late November.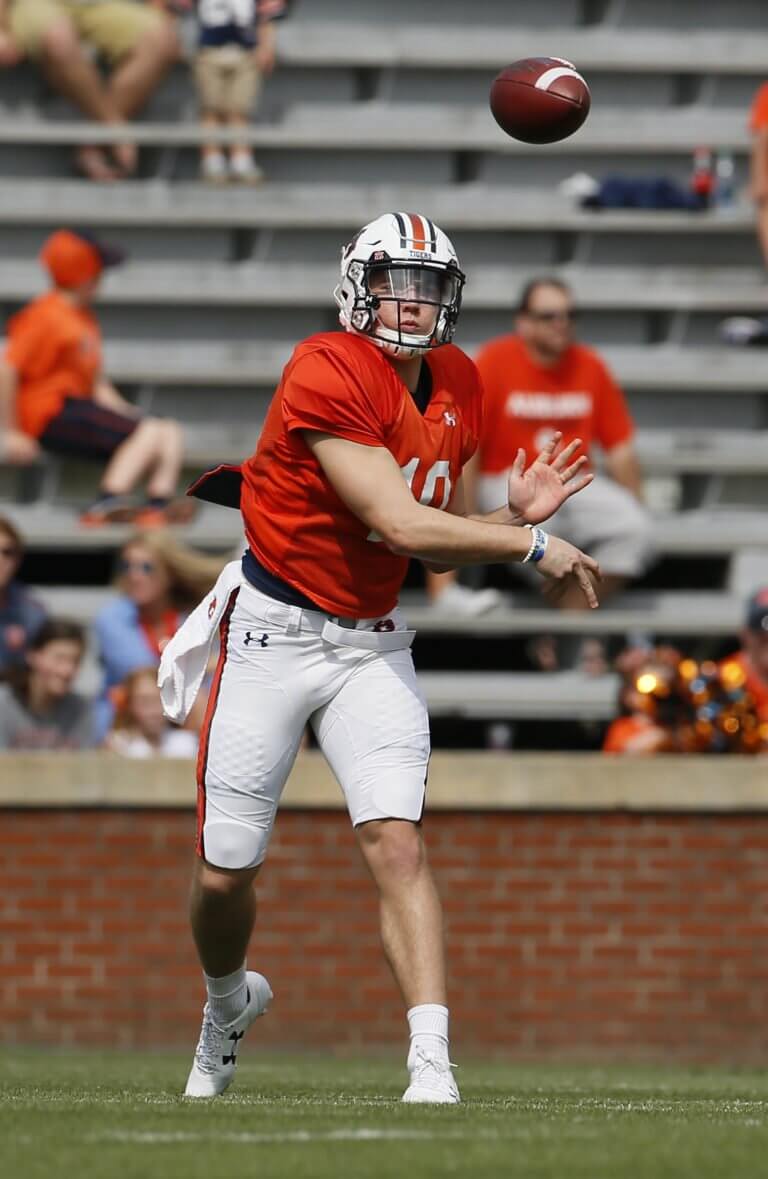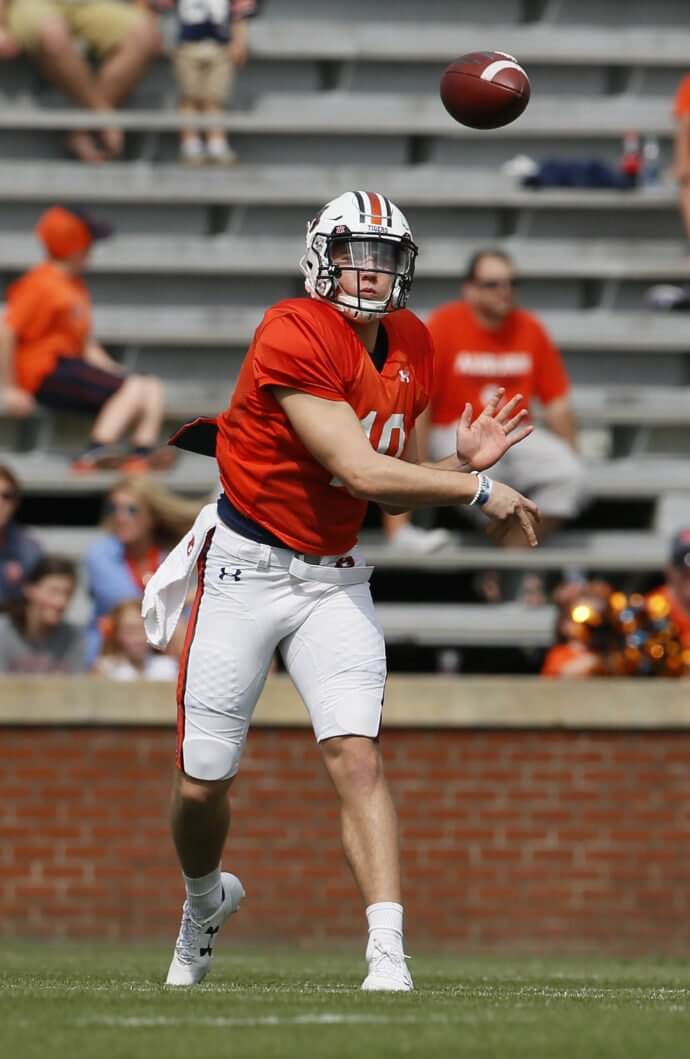 Auburn (+8,000) – Speaking of those Tigers, forget for a moment that they reside in the same division as Alabama. Also forget for a moment that coach Gus Malzahn – on the hot seat entering this season – has given the starting quarterback job to true freshman and five-star recruit Bo Nix, who arrived on campus in January to get a jump on learning the offense and beat out redshirt freshman Joey Gatewood.
Instead, dream of the possibilities that could happen if they upend Oregon in Texas. If Auburn uses that victory as a stepping stone, it could be 3-0 heading into its first road game at No. 12 Texas A&M. If the Tigers survive that trip to College Station, there's a three-game road gauntlet through Florida, Arkansas, and LSU in a four-week span.
Now dream bigger. After the Tigers get through those games unscathed, they are 8-0 entering a regular season-closing four-game homestand that includes Georgia and their annual Iron Bowl showdown with Alabama. The Crimson Tide have lost twice in their last three visits, and payback for last year's 52-21 beatdown would be sweet.
By this point, Auburn would be in the SEC title game against likely a team it beat in Georgia or Florida, or a fellow upstart from the East Division. It's a huge leap of faith, but so was believing a missed field goal could be returned 100 yards for a touchdown as time expired six years ago.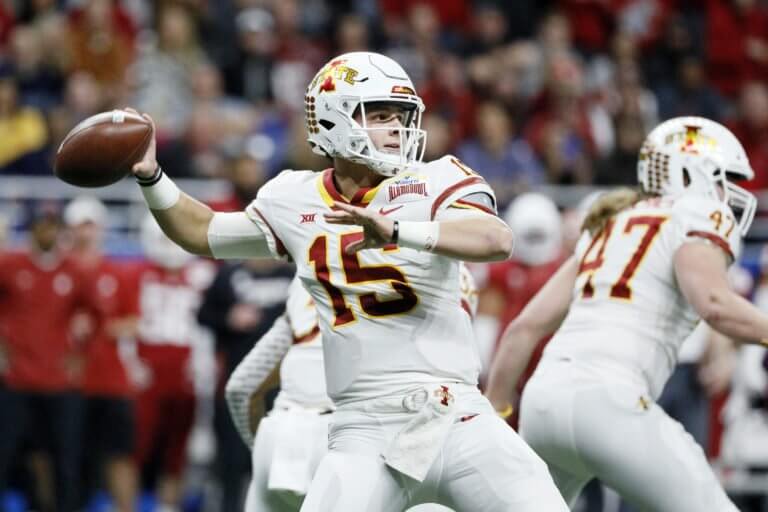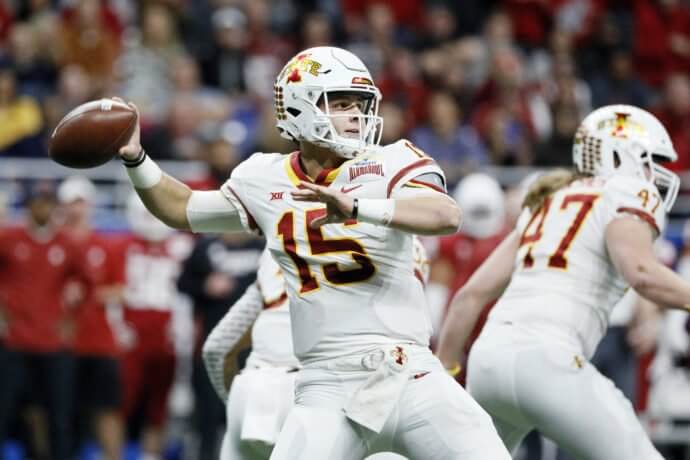 Iowa State (+20,000) – Now we're getting into Sleeping Beauty-sleeper territory. The 21st-ranked Cyclones are a cut beneath Oklahoma and Texas in the Big 12, and they are even second banana to eternal rivals Iowa (No. 20) in the AP Top 25). But Iowa State returns the best defense in the conference and one of the best linemen in the country in defensive end JaQuan Bailey, who had 14.5 tackles for loss and eight sacks in 2018.
The challenge for coach Matt Campbell is to replenish his supply of skill players to complement quarterback Brock Purdy, who showed uncommon poise as a mid-season replacement his freshman season and guided Iowa State to its second straight eight-win season. Running back and two-time all-big 12 selection David Montgomery and big-play wide receiver Hakeem Butler both entered the NFL Draft and were selected early, but tight end Charlie Kolar has been tipped as potentially the best at his position in the conference.
Iowa State has a manageable non-conference schedule that includes playing Iowa at home for the Cy-Hawk Trophy. If the Cyclones win that game, they could very well be 8-0 heading into a showdown at Oklahoma on Nov. 9, with Texas looming at home the week after.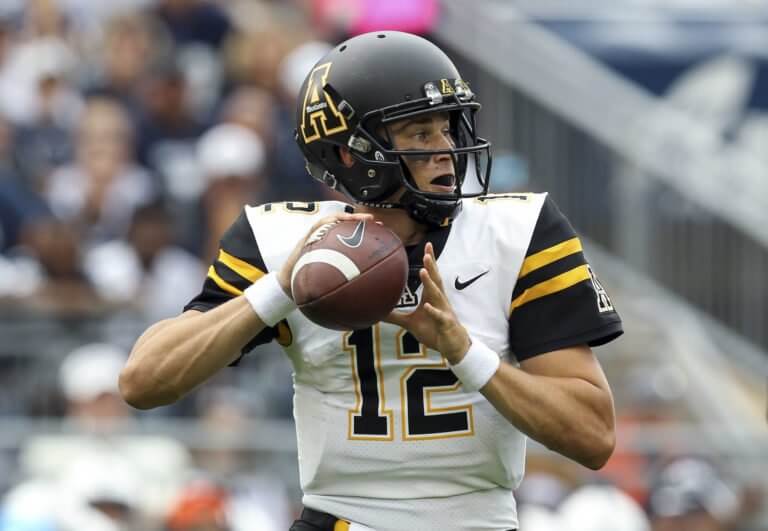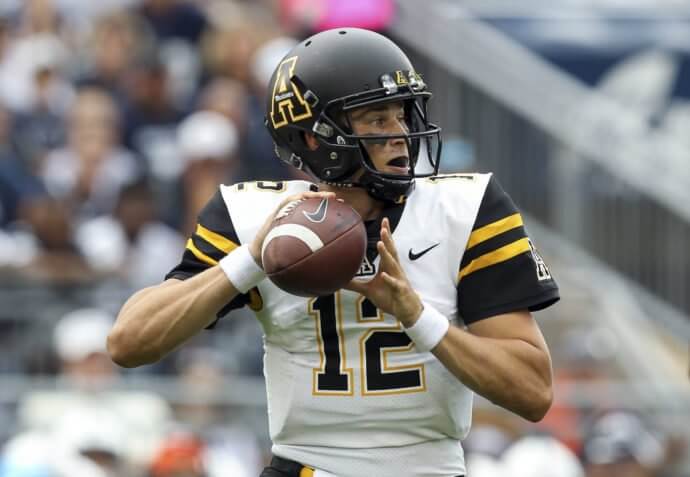 Appalachian State (+25,000) – Remember when Appalachian State was the feel-good story of college football in 2007 and went to the Big House in Ann Arbor and stunned then-No. 5 Michigan as a Division I-AA school? Yeah, this is not those Mountaineers, who have won at least a share of the last three Sun Belt Conference titles and return 15 of 22 starters on both sides of the ball.
The Mountaineers have a new coach in Eli Drinkwitz, who was offensive coordinator at North Carolina State. He is expected to give more freedom to senior quarterback Zac Thomas, who completed 62.6 percent of his passes for 2,039 yards and 21 TDs. Appalachian State also has a returning 1,000-yard rusher in Darrynton Evans and all the key pieces of its receiving corps returning.
The defense, which ranked fourth nationally in scoring and sixth in yards allowed, will be anchored by returning linebackers Akeem Davis-Gaither, Jordan Fehr, and Noel Cook as new coordinator Ted Roof has opted to stay with the 3-4 formation that allowed Appalachian State to find success moving up from the since renamed FCS level.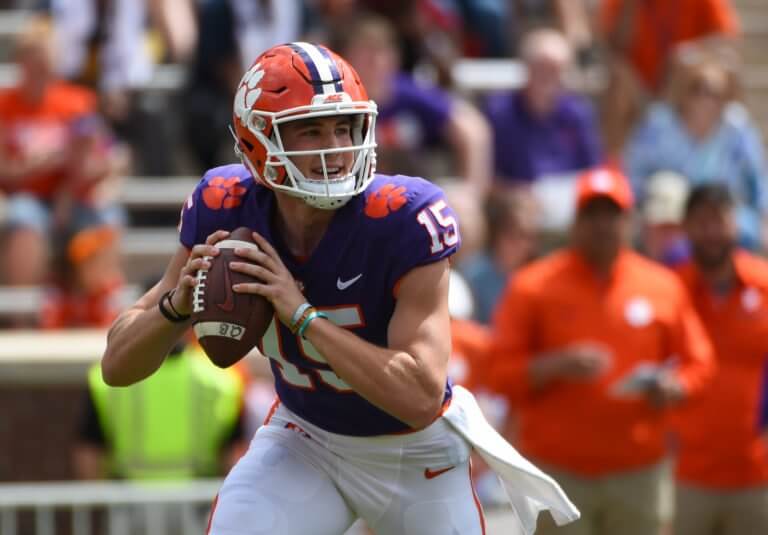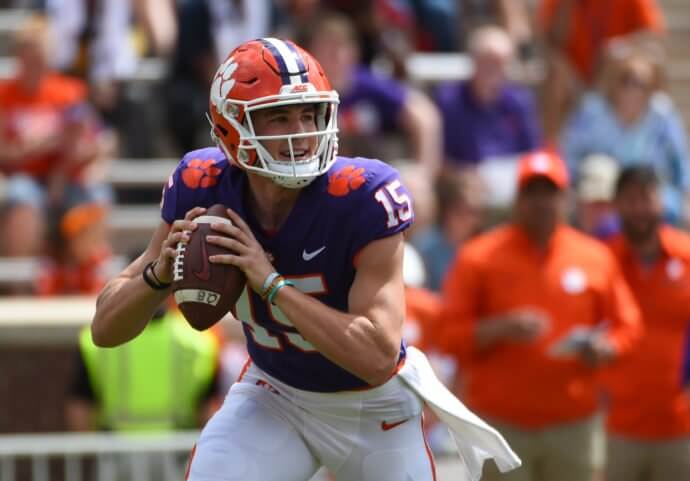 Northwestern (+30,000) – First, let's talk about the national disrespect from AP voters – the Wildcats are not even in the preseason Top 25 despite coming off a season in which they won the West Division of the Big Ten by three games. They received fewer votes than Army, who is usually losing the Army-Navy game, for crying out loud.
An offense that made vanilla look exciting last season is expected to get a jolt from Hunter Johnson, who is eligible after sitting out last season following his transfer from Clemson. A five-star recruit coming out of high school, Johnson is the type of player that rarely lands in Evanston, yet coach Pat Fitzgerald has tasked him with lifting an offense that ranked 99th out of 129 FBS schools in scoring at 24.2 points per game and in the bottom 10 for yards per play and percentage of plays gaining 10 or more yards.
On the defensive side, Northwestern may have the deepest front seven in the Big Ten, anchored on the first level by end Joe Gaziano and linebacker Paddy Fisher in the second. The defensive backfield may not have a standout player, but safety JR Pace and cornerback Greg Newsome II could emerge as standout players.