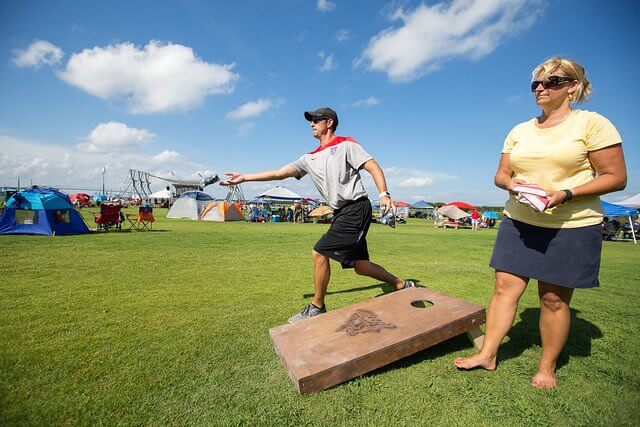 As a major player in the US sports betting industry, much of DraftKings' betting revenue is tied to the NFL as the biggest major professional sports betting league in the country. You could also add the NBA, MLB, and NHL to round out the mix.
Leaving no stone unturned in its quest to capture the biggest share of the US market, DraftKings is always looking for new strategic betting partnerships. To prove this point, the company's latest addition is a bit out of the box.
Earlier this month, DraftKings announced that it has become the official sports betting partner of the ACL, which is short for the American Cornhole League. The new agreement covers the 2021 season.
DraftKings will have exclusive access to team logos, league trademarks, and other aspects of the ACL that can be used as part of its marketing and promotional initiatives. The goal is to create a brand new betting experience for the sport through the company's sports betting app.
One of the biggest benefits is the grass-roots marketing aspect for the recreational end of cornhole as a very popular participation sport. Tie-ins with the ACL will give fans access to free entry into contests that are league-sponsored.
The goal of this partnership is to form a win-win relationship that broadens exposure to professional cornhole as a whole. The ACL on its own is extremely popular with existing fans. Bringing the sport to a whole new group of potential spectators and bettors can build on this base.
Ezra Kucharz is the chief business officer at DraftKings. His comments on the new partnership as part of an official company statement included:
He went on to add:
The popularity of cornhole has skyrocketed in general, and there is a real draw for fans to see the best in the world compete, so we're adding yet another dimension to the enjoyment of cornhole through odds and pools.
To further maximize its role as official sports betting partner, DraftKings also has plans to stream ACL content. This is in conjunction with other streaming services such as YouTube, Twitch, and Gamecenter.
The ACL's top stars will also be part of DraftKings' marketing plans. They will be incorporated into specialized promotions. This will include custom content and promotional events for league fans.
Stacey Moore also commented on this new partnership as the Founder and Commissioner of the ACL with:
First and foremost this is another way for our fans to experience and access the game and we're very much looking forward to how our partnership with DraftKings will help enhance their enjoyment of the sport.
The first major league event tied to this new partnership will be the ACL Bag Brawl in Las Vegas. This will take place at Westgate Casino and Resort from April 30 through May 2. Additional events include the ACL Final Chase in July and the ACL World Championships in early August.