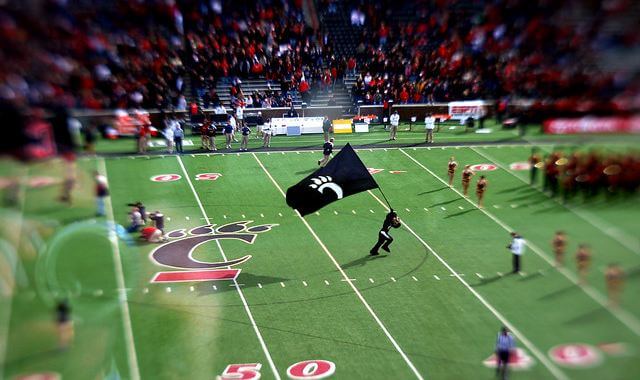 The Cincinnati Bearcats have reached the College Football Playoff, pulling off a feat that most believed was impossible for a team outside of the Power Five Conferences. Cincinnati is the lone undefeated team in college football this season, but there was still some debate about whether or not they deserved a spot in the CFP.
The Bearcats join a group of powerhouse teams in the CFP as the other three teams are Alabama, Georgia, and Michigan. Most people aren't giving Cincinnati much of a chance to compete against these teams, even though they did go on the road and beat Notre Dame earlier this season.
The Bearcats are 13.5-point underdogs against Alabama in the Cotton Bowl on December 31, and that has to feel disrespectful to a team that has yet to lose a game. Alabama gets some credit for being a perennial powerhouse, but Cincinnati has won every game on its schedule this season.
With a spread that large, it's easy to wonder if Cincinnati has a chance to even keep this game close, but the Bearcats will have plenty of time to prepare. Cincinnati does do some things exceptionally well, but Alabama will easily be their most formidable opponent of the season.
Jump to
CFP Future Betting Odds
A quick look at the CFP future odds show that Cincinnati is a massive underdog out of the remaining four teams. Here is a look at those futures odds:
Alabama +115
Georgia +140
Michigan +500
Cincinnati +1200
Clearly, a Cincinnati CFP Championship would be a major upset, but it would also result in a massive win if you bet on the Bearcats and they were able to do the unthinkable.
Cincinnati Must Defend
If Cincinnati is going to upset Alabama, then the Bearcats will have to lean on their defense to finish off the Crimson Tide. This season, Cincinnati is allowing just 16.1 points per game, and they have played some pretty good offensive teams along the way.
The secondary for Cincinnati has been the best weapon this season as they are allowing less than 170 passing yards per game. That unit will be tested in the Cotton Bowl, but that group has been able to pass every test thrown its way up to this point.
Young Looks to Be Unstoppable
The biggest problem for Cincinnati will be finding a way to stop Alabama quarterback Bryce Young. Young won the Heisman Trophy this season after throwing 43 touchdown passes to just four interceptions, and he also has hit on several big plays.
This season, the Crimson Tide have also run the ball well, but most of their big plays come in the passing department. Even though the Bearcats have been solid against the pass all season long, this is where Alabama will look to take control of the game.