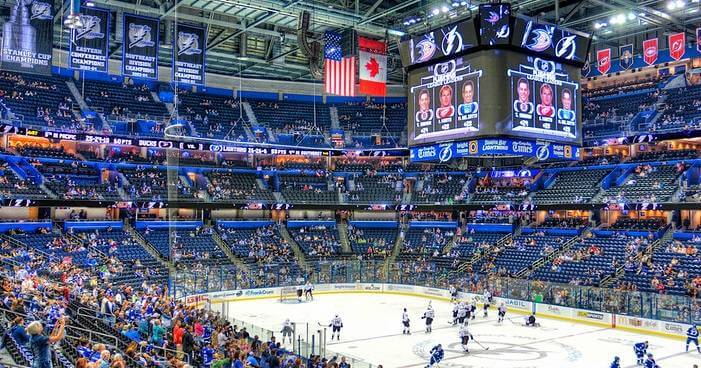 The weather and climate in Florida doesn't exactly scream hockey, but that state has been the center of NHL action for the last two years. Canada is more known for its hockey, but there are some professional teams in the Sunshine State that are playing extremely well in 2021.
The Tampa Bay Lightning and Florida Panthers are both near the top of the league standings, and both are also Stanley Cup betting favorites. These teams both compete in the Atlantic Division, and that means plenty of head-to-head matchups are coming.
Tampa Bay has picked up 42 points through their first 29 games, while the Florida Panthers are right behind with 40. Both the Lightning and Panthers look like locks to make the playoffs this season, but there is still a long way to go.
The Toronto Maple Leafs have also racked up 42 points in the Atlantic Division to keep things interesting. Still, most NHL experts would tell you that the Lightning and Panthers are two of the most talented teams in the NHL, and one team should represent the Eastern Conference in the Stanley Cup Finals.
Jump to
No Surprise With Tampa Bay
It's not a big surprise to see the Tampa Bay Lightning at the top of the NHL standings based on what has taken place the last two years. Tampa Bay has won two straight Stanley Cup titles, and they return much of the same roster from those title runs.
Tampa Bay is loaded with offensive talent, but they also know how to completely shut down an opponent. The Lighting are a team that knows how to win battles on both ends of the ice, and they also know the importance of having a top seed when the Stanley Cup playoffs begin.
Panthers Still Lack Experience
It has been an interesting season for the Florida Panthers off of the ice, including losing head coach Joel Quenneville. That could prove to be a huge blow later on in the year because Quenneville provided some much-needed experience.
Florida has been stockpiling young talent for the last few seasons, but there are still some questions about their ability to win in the playoffs. This team is talented enough to win a title, but winning in the playoffs is something that has to be learned.
Western Conference Has Challengers
The Western Conference standings don't really make much sense at this time because some of the top teams are currently struggling to hold on to a playoff spot. This should even out as the season moves along, but it will be a fun race to follow.
The Colorado Avalanche continue to be the betting favorites to win the Stanley Cup, but they are in fourth place in the Central Division. Teams like the St. Louis Blues and the Vegas Golden Knights are also full of exciting talent and have a shot at winning the Stanley Cup.