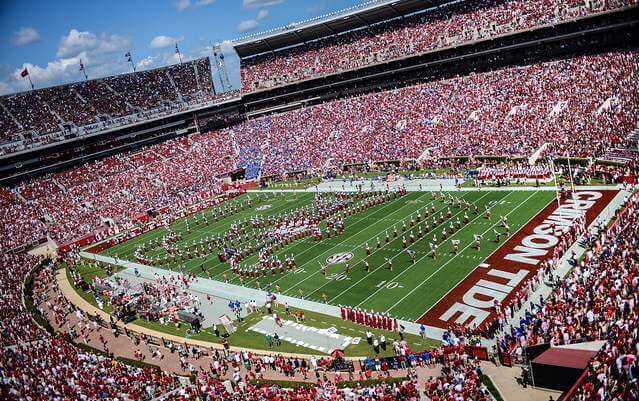 The College Football Playoff begins on New Year's Eve, and there are four very deserving teams in the field. Cincinnati joins as the first-ever team from the Group of Five, but they are also the lone undefeated team in the country.
The Alabama Crimson Tide are once again the betting favorite to win it all at +120, followed by Georgia at +140. This is not the first time that the SEC has a pair of betting favorites, and this doesn't feel like the year of the upset.
The Michigan Wolverines are the final team in the CFP, and they have odds set at +700.
For Michigan to emerge as the champions, they would have to pull off a pair of upset wins and they certainly have enough talent to make it happen.
Jump to
Crimson Tide Roll Over Cincinnati
The Alabama Crimson Tide are 13.5-point favorites over Cincinnati, and that spread actually feels a bit low. Even though the Bearcats come into this game with a perfect record, they haven't really been playing against tough opponents.
The Bearcats don't have the offense to keep up, and they aren't going to be able to slow down Bryce Young and the rest of the Alabama offense. It's been a great run for Cincinnati, but this game could get out of hand in a hurry.
The first CFP semifinal game has the potential to get out of hand in a hurry.
Michigan Being Disrespected
Michigan has been playing the "underdog" role throughout the season despite winning the Big Ten Championship this season. The Wolverines are averaging more than 200 rushing yards per game, and Hassan Haskins will have to prove his worth.
Georgia was holding opponents to less than seven points per game before the loss to Alabama in the SEC Championship. The Bulldogs are still going to use that ferocious defense and think that it can run don't ever turn the ball over on offense.
Michigan is going to make some mistakes, but they have enough talent to keep this game close. Georgia survives the epic battle, but it will be Michigan that can cover this rather large spread for a 2-3 matchup in the CFP.
Hard Betting Against 'Bama
Georgia was clearly the top team in the country for much of the season, but Alabama proved to be the better team in December. Now that the Crimson Tide are the betting favorites, it's hard to bet against Alabama.
There is certainly plenty of value in making a bet on one of the other three teams set to take the field in the CFP, but Alabama is the right pick. The Crimson Tide just continue to prove that they are the best program in the country, and they win another title this college football season.