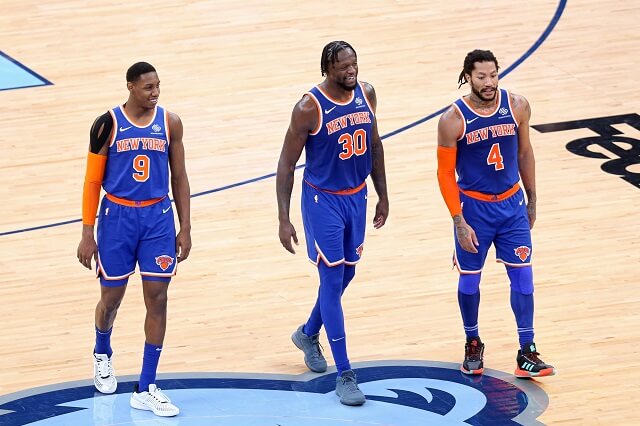 The NBA is always more fun to follow when the New York Knicks are a playoff contender, especially now that Madison Square Garden is back at full capacity. It's one of the best sports venues in the world, and the fan base absolutely loves rooting for the Knicks.
The Knicks used to be a guaranteed playoff contender, but things haven't exactly gone well in the 21st Century. Even in the years that the Knicks did make the playoffs, bettors and analysts didn't consider them a legitimate threat to win the NBA Championship.
New York came out of nowhere a season ago to make the playoffs. They did it with a young but promising core. There are now expectations in New York once again. With weighty goals in mind, the Knicks are trying to get back to the postseason for a second straight year.
Jump to
Atlantic Division is Loaded
Winning the Atlantic Division is always the number one goal for the New York Knicks. While the division title would be nice, that's a tougher challenge than making the playoffs. The Atlantic Division is full of talen, and finishing higher than fourth is going to be a challenge.
The Brooklyn Nets are the clear favorites to win the division, but Philadelphia and Boston are terrific teams as well. New York has what it takes to beat these teams on any given night. That said, the Knicks will have a hard time keeping up with them in the standings.
The Knicks are off to a 7-6 start to the season. However, that's still only good enough for fourth place.
Barrett, Randle Must Lead
The Knicks have a solid core of young players, led by Julius Randle and RJ Barrett. If the Knicks are going to be an even better team this season, both players will need to have to have big seasons.
Barrett appears to be taking his game to another level this season, and that is going to be a fun story to follow in New York. Randle knows how to lead a team in crunch time, but he has to remain healthy throughout the entire season.
The pieces are there for New York, but it's up to the two biggest stars to lead the way.
New York Knicks Barely Sneak In
Outside of the Atlantic Division, several other teams in the Eastern Conference have gotten significantly better this season. The Chicago Bulls and Washington Wizards feel like playoff teams this season. They'll take up two more spots.
The Knicks could be staring at the play-in tournament this season as this seems like their only real option. Even if the Knicks play a little better than expected, it's going to be hard for them to challenge for a top four seed.
The Knicks are going to be in the playoffs again this season. But don't expect them to go on a big run.