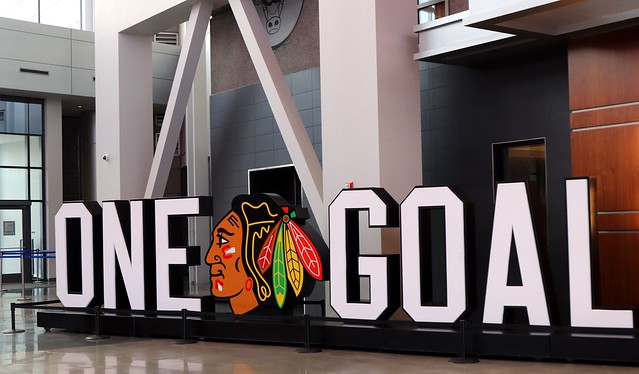 The fans expected Chicago Blackhawks to turn things around this season and make a return to the Stanley Cup Playoffs. The front office made some big moves this offseason, and it appeared that Chicago was one of the more talented teams in the Western Conference.
The start of the season could not have gone any worse for the Blackhawks, both on the ice and off of it. Chicago was one of the worst teams in the league through the first ten games, and the franchise was also dealing with a lawsuit from years ago.
Things changed for the better since Chicago fired coach Jeremy Colliton, as the team rattled off four straight wins. The Blackhawks are obviously buried in the standings at this time, but can they make a stunning run and get back into the postseason?
Jump to
All About Goaltending
If the Blackhawks are going to find a way to turn their season around, then it will have to come in the blue paint. Chicago is allowing just 3.31 goals per game, but they have shown the tendency to get blown out by some of the better teams on their schedule.
Marc-Andre Fleury is the leading goaltender for the Blackhawks, and he has now improved his record to 4-7 on the year. Fleury still has the talent to be one of the best goaltenders in the league, and Chicago is going to need him to be at his best if they want to make a run to the playoffs.
Central Division Won't Help
Playing in the Central Division is not going to help the Blackhawks any, considering this is one of the better divisions in hockey. Minnesota and Winnipeg currently lead the Central Division, but the St. Louis Blues and Colorado Avalanche are going to be playoff teams as well.
Chicago is currently just seven points out of a playoff spot, but they don't have much margin for error. Winning games in the Central Division is key, but the Blackhawks are going to be underdogs in a large majority of these games.
It's going to take a number of surprising wins for Chicago to make a serious run at the postseason, and the schedule doesn't do them any favors.
Blackhawks Sneak In
Blackhawks reaching the postseason by the end of the season shouldn't surprise you, despite what you just read. Chicago needed to change their coach, and the team has taken its play to another level since they made that move.
Patrick Kane is still one of the best players in the NHL, and he will do whatever he can to get the Blackhawks back in the playoffs. There is some young talent as well, and Chicago should be one of the better offensive teams in the league.
The Blackhawks aren't going to make a run at a Central Division title, but they should be good enough to sneak into the postseason.