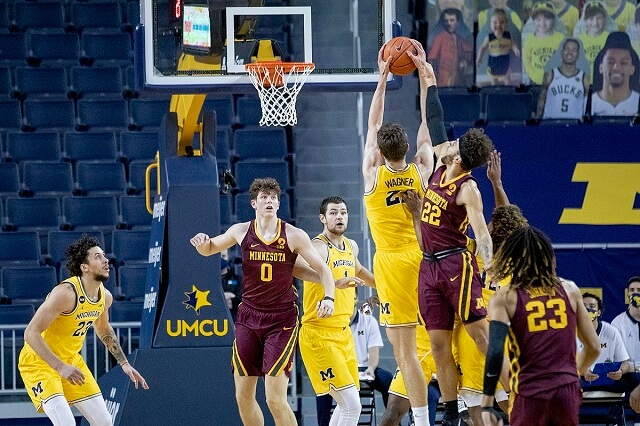 Despite not having much success in the NCAA Tournament, the Big Ten Conference is absolutely loaded for college basketball. This conference should have at least one number 1 seed in the NCAA Tournament, but there is a chance that two teams could earn that recognition. Big Ten Basketball will be a dogfight all season.
Big Ten teams will be great on a national level. But there should also be plenty of competition within the conference. Though betting odds have been out for months, you'll see plenty of changes in coming weeks.
Jump to
Big Ten Basketball: Loaded Teams at the Top
Most college basketball conferences are going to have one or two teams with a realistic chance to win the crown. But Big Ten basketball is much deeper than that. There appears to be a clear gap between the top eight teams and the rest of the league. Despite that, there's still plenty of depth and high skill at the top.
There's a ton of value in making a bet on a number of teams. But value increases the further you get down on the list. This isn't going to be a conference with an undefeated regular season champion. Still, three or four losses might get the job done.
Michigan +275
Purdue +325
Ohio State +425
Illinois +600
Michigan State +900
Maryland +900
Indiana +1600
Wisconsin +2500
Iowa +5000
Northwestern +6600
Penn State +6600
Nebraska +15000
Minnesota +30000
Michigan/Purdue Are Loaded
The betting odds reflect the overall talent on the roster. With that in mind, Michigan and Purdue clearly have the two most talented teams. Michigan is led by center Hunter Dickinson while Purdue has a team full of young and talented athletes.
Michigan made a deep run in the NCAA Tournament a season ago. They should be even better this season. The Wolverines continue to bring in great recruiting classes, and they are going to have plenty of depth.
Purdue wasn't a threat to win the Big Ten last season, but they'll be in the mix this year.
Don't Sleep on Illinois
You are going to find more value in making a bet on teams outside of the top-two teams on the list above. There are a number of good options, but one team that can't be ignored is the Illinois Fighting Illini.
Illinois was the Big Ten Tournament champion a season ago, and they arguably have two of the best players in the league. Center Kofi Cockburn and point guard Andre Curbelo give the Illini a terrific 1-2 punch, and this team won't be fun to defend at all.
You can go a number of different ways with your Big Ten Conference prediction, but taking Illinois at +600 is a great play.