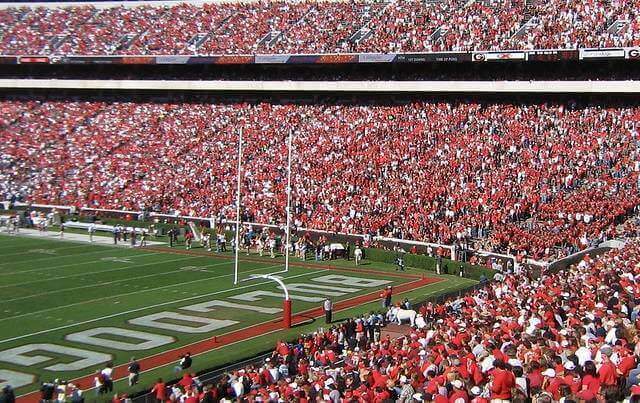 The Mountain West Conference is usually one of the better leagues in the Group of Five, and that should be the case again in 2022. Boise State always seems to be a team that shows up in the Top 25 each year, but there are other terrific teams in this league.
Now that a Group of Five team (Cincinnati) has been able to reach the College Football Playoff, that is going to be the goal for every team in this conference in 2021.
Betting odds are out, and this race is shaping up to be another close battle in 2022.
Jump to
Two Teams Standing Out
It's hard to really say that there is a definitive favorite when looking at the Mountain West Conference betting odds, but there are two teams that stand out above the pack.
The Boise State Broncos are the current betting favorites to win the MWC at +200, and the Fresno State Bulldogs are next on the list at +250.
Boise State has struggled with consistency over the last few seasons, but they have always been in the mix at the end of the season. If the Broncos are finally able to get some stops on defense, then they could easily be at the top of the Mountain West Conference.
Fresno State does not have as strong of a football tradition as Boise State, but this is a team that should be loaded with talent this season. The Bulldogs will have to prove that they can live up to the hype, but they look ready to contend.
Teams Ready to Make a Run
Outside of Boise State and Fresno State, there is a long list of teams ready to make a run at the conference title. Here are the odds for teams that could be in the mix:
Air Force +500
San Diego State +550
Utah State +1000
Wyoming +1800
Colorado State +2200
San Jose State +2500
Nevada +3000
Air Force and San Diego State are the two biggest contenders that could jump into the title race, but Utah State is lingering as well. Even if these teams aren't able to win the conference, they are likely going to pick up some wins, and that will impact how the race plays out.
Utah State blew out San Diego State in the 2021 MWC Championship Game, but those rosters took a pretty significant hit after the season. San Jose State is a recent MWC Champion as well, but they were not the same team in 2021.
Bad Teams at the Bottom
Every conference in college football has some bad teams at the bottom of the league, and that is definitely the case in the Mountain West Conference. This conference always seems to have teams that struggle with consistency, and that could hurt some teams in 2022.
These three teams are not going to factor into the MWC title race in 2022:
Hawaii +5000
UNLV +10000
New Mexico +20000