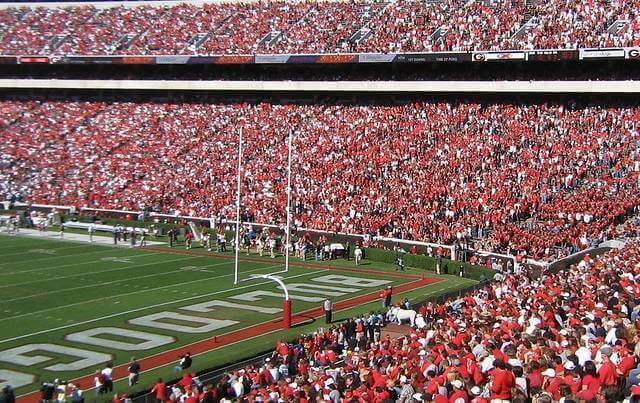 Even though the Big Ten Conference always seems to come up short on the national stage, it's still one of the best leagues in the country. This is a conference that is always extremely competitive. Some of the best players in the country choose to play football there every year.
The betting odds to win the Big Ten Conference are out, and you are going to see one team clearly ahead of the pack. That doesn't mean that there is a guaranteed winner. There will be some pretty big upsets that take place in every conference at the FBS level.
Jump to
Buckeyes Leading the Way
The Ohio State Buckeyes are the clear favorites to win the Big Ten Conference this season as they have odds set at -250. That shows just how talented the Buckeyes roster is this season, but it's also pretty disrespectful to the other teams in the Big Ten.
Ohio State didn't win the conference a season ago as they were finally upended by the Michigan Wolverines. The Buckeyes do return a ton of talent from that team, though, led by quarterback CJ Stroud.
Stroud is the popular pick to win the Heisman Trophy this season, and it's hard to argue with how talented he is. Ohio State will have to go out on the field and prove that it can be done, but the odds are pretty favorable that it will happen.
Some Serious Contenders
Even though Ohio State is the clear betting favorite, there are other teams in this conference that will be among the best in the country. Here are the odds for some of the top contenders:
Michigan +900
Penn State +1400
Wisconsin +1400
Nebraska +2000
Iowa +2500
Minnesota +2500
Purdue +2500
Michigan State +2500
The pundits view Michigan as the top contender to the Buckeyes this season. Michigan is looking for a second straight win in that rivalry. Penn State is another team in the East Division that could contend for a conference title, but they would be a big underdog to win the title.
The West Division appears to be wide open, but it's the Wisconsin Badgers that currently have the best odds from that league. That division always seems to come up with a random winner every year, and it will be a fun battle to watch play out.
Count These Teams Out
There are five teams in the Big Ten Conference that are going to struggle to even become bowl eligible this season, let alone contend for the Big Ten Conference title. Life in the Big Ten Conference can be a grind if you aren't full of talent and some programs just aren't ready to be on that level.
Here are the odds for the five teams that are expected to be at the bottom of the league:
Maryland +10000
Indiana +15000
Illinois +25000
Rutgers +30000
Northwestern +30000