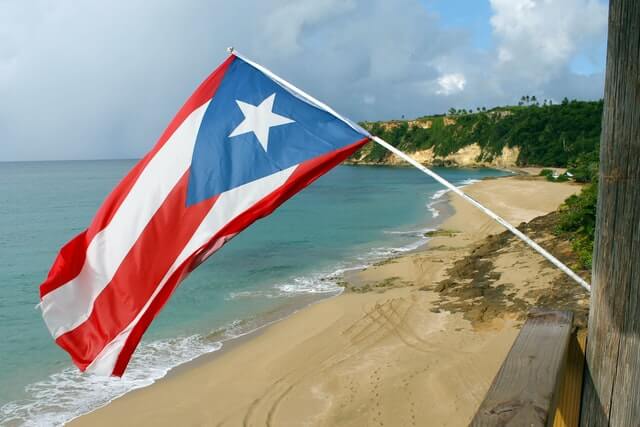 As more and more US states legalize mobile sports betting, a US territory is following suit. Retail sports betting is already legal in Puerto Rico. Island sports bettors are eagerly awaiting the arrival of legal online sportsbooks through the use of mobile sports betting apps.
Jump to
Legal Retail Sports Betting in Puerto Rico
The total population of this Caribbean island is more than 3.2 million with San Juan as the capital city. Puerto Rico sits about 1,000 miles south of Miami in the Caribbean Sea. To date, the only legal form of sports betting consists of one retail sportsbook.
Once the proper laws were passed, the Casino del Mar at La Concha Resort in San Juan made plans to open a retail sportsbook. As one of the largest resorts on the island, this was the perfect location to test the waters.
The sportsbook at La Concha offers betting markets powered by BetMGM lines and odds. On-site registration of a betting account in required. However, you do not have to be a guest of the resort to place a bet. The casino at La Concha is famous for its selection of slots along with blackjack, craps and three-card poker table games.
Puerto Rico's Plans to Add Legal Mobile Sports Bets
BetMGM will expand its current partnership with La Concha to offer online sports betting through its mobile sportsbook app. There is no set timeline to go live as Puerto Rico works through the regulatory process.
As chief executive officer for BetMGM, Adam Greenblatt as referred to the partnership in Puerto Rico as a "major milestone" for the company. This would be BetMGM's first mobile sports betting market outside of the US mainland.
Once BetMGM and La Concha receive the green light to go live, island sports bettors would have to register for a mobile betting account at the casino. There may be other designated locations to sign up as well.
Nevada remains one of the few states in the legal US market that still requires on-site registration for an online sportsbook account.
DraftKings Seeks Entry Into Puerto Rico Market
BetMGM's monopoly on legal sports betting in Puerto Rico may be short lived. Boston-based operator DraftKings is trying to obtain a license to offer both retail and mobile sports betting.
The company originally partnered with the Mashantucket Pequot Tribe to enter the legal Connecticut sports betting market in late 2021. This gaming tribe owns and operates Foxwoods Resort Casino in Mashantucket, CT.
That partnership has been extended to the Foxwoods El San Juan Casino in Puerto Rica. The casino is located inside the Fairmont El San Juan Hotel in Carolina. This gaming venue is located slightly east of San Juan.
Part of the plan is to add a DraftKings retail sportsbook to the overall gaming mix. The 15,000 square-foot casino floor offers table games and close to 300 slot machines. The addition of the sportsbook is underway with no set date for completion. This would pave the way to launch the DraftKings mobile sportsbook app once final approval has been received.