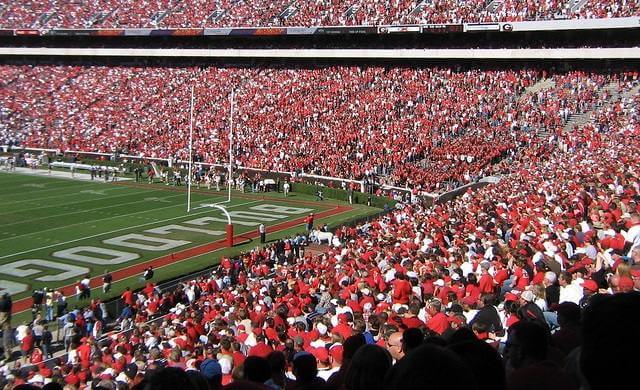 With so many 2021 college football bowl games now on the schedule, it can be hard to keep up with what teams are playing in which games. The action officially starts on December 17, but for some of the best games, you will have to wait until later in the month.
There are some terrific matchups on tap in the bowls, and there are also some games that come with plenty of storylines. Each bowl game will attract plenty of attention, but there are only a handful that are can't-miss television.
Here are some 2021 college football bowl games to follow over the next few weeks.
Jump to
UCF Finally Gets Florida in Gasparilla Bowl
The Union Home Mortgage Gasparilla Bowl isn't a game that usually gets much attention, but that is going to change this year. That is because the UCF Golden Knights will finally get a chance to take on the mighty Florida Gators.
Florida has opened up as a 6.5-point favorite, but you can expect this game to be close throughout. A large portion of the stadium is going to be filled with fans that are hoping to cheer UCF on to an upset victory.
UCF has been trying to get Florida on the schedule for years, and the matchup will finally happen on December 23 in a bowl game.
Alamo Bowl Will Be Explosive
The Alamo Bowl should be another game that is fun to watch as it will feature two dominant college football programs in Oregon and Oklahoma. Both of these teams spent some time in the top-five this season, and it looked like each was going to be a lock for the College Football Playoff.
Since this is the final game of the season, you can expect each team to be taking some deep shots and looking to score in a hurry. There will be some top players choosing to sit out and get ready for the NFL Draft, but this game will still be full of top athletes.
This game takes place on December 29, and it should be one of the better matchups of the bowl season.
CFP Semifinal Games
Even though there are some terrific college football bowl games taking place over the next few weeks, it's all just a warmup before the main event. The College Football Playoff semifinal games are going to take place on December 31, and that will have the attention of the entire country.
The Alabama Crimson Tide take on the Cincinnati Bearcats in the Cotton Bowl to kick off the semifinals. The Orange Bowl will feature the Georgia Bulldogs and the Michigan Wolverines in the second of two games.
A champion of the College Football Playoff won't even be decided until Monday, January 10, and that will easily be the biggest game of them all.