NASCAR is one of the most popular motorsports in the country! Though it has a large Southern following, there are tracks located throughout the US. Read this guide for the lowdown on NASCAR betting.
Jump to
Legal NASCAR Betting Online
Despite the rise in legal sports betting and the recent addition of online components, NASCAR betting is still only legal in some states. If you're looking to bet on NASCAR, here are some things you should know.
Since not all online sportsbooks and apps have legal NASCAR betting, it's important to do your research. Safety and security are the biggest reasons to bet legally. When you're including your banking information on a website, you want it to be accredited.
Perhaps most importantly, you want to take out your winnings! As the industry has grown and adapted, banking options are what separate the average betting sites from the great ones.
Something to look out for is a site that offers a wide range of deposit options as well as withdrawal options. From credit cards to checks and wire transfers, the more options a site offers, the easier you can make deposits and get your payouts.
Another important point to be aware of is the speed of these banking transactions. The best NASCAR betting sites offer a variety of safe, trusted, and speedy banking options.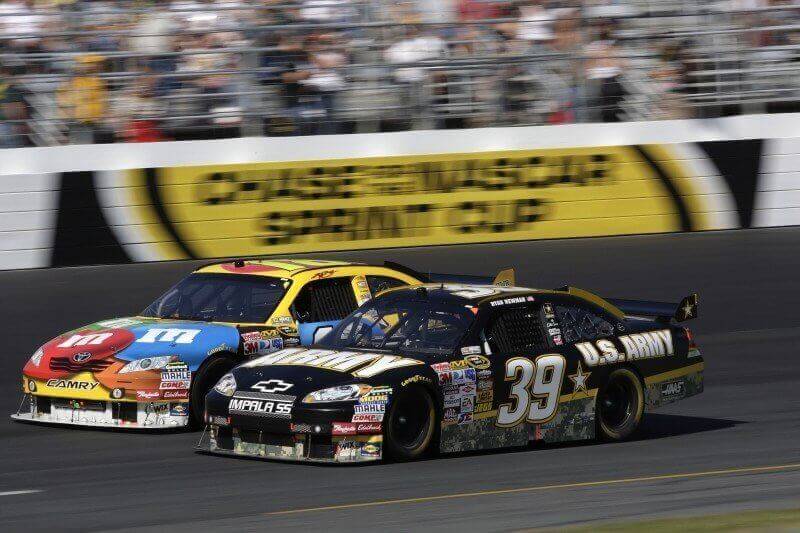 Types of NASCAR Bets
One of the best parts about NASCAR betting is how many different types of bets you can place. Betting on the overall NASCAR winner is just the tip of the betting iceberg.
Whether you're looking to put your money on a driver or a car manufacturer, there are plenty of options. Your NASCAR picks can stand to win you some serious cash if you know what bets are best for you.
Race Winner
This is one of the more straightforward NASCAR bets and involves simply picking which driver you think will be crowned the race's NASCAR winner.
Betting on the NASCAR winner, though simple in theory, is a hard bet to make. Since every race includes around 40 drivers, NASCAR betting odds can be stacked against you.
Podium Finish
A podium-finish bet, also known as a top 3 finish, refers to a bet on which drivers will finish in the top 3 of the race. The NASCAR betting odds are a bit better for this type of bet but be sure to consult the NASCAR predictions before you place your bets.
Driver Matchup
The driver matchup bet is a bet between which of two drivers will be crowned a NASCAR winner. It's an exciting bet to take part in if there are multiple NASCAR picks for favorite.
Prop Bets
A prop bet is a bet that is not dependent on the outcome of the race. For instance, in NASCAR betting, this could be a bet on how many caution flags will be thrown or how many crashes will occur. These types of bets can get interesting and creative.
Futures
Futures bets are essentially a type of prop bet. In NASCAR betting, a futures bet is a bet on an event in the future. For instance, NASCAR picks on who will have the most points or wins in a season.
One of the more popular futures bets in NASCAR betting is who will win the NASCAR Monster Energy Cup Championship. Since this bet depends on future events and, potentially, the entire season, NASCAR picks can often change from race to race.
How to Read Odds for Motorsports Betting
Reading NASCAR betting odds is pretty straightforward. Generally, in the US, NASCAR betting functions around moneyline odds.
These NASCAR betting odds are expressed with a positive or negative number. A positive number represents how much you stand to win per $100 staked.
A negative number represents how much money you need to bet in order to win $100 on your NASCAR picks. So, a positive number would refer to an underdog, someone not favored to win.
A negative number identifies someone who is favored to be a NASCAR winner. So, you stand to win more money betting on an underdog if you're right.
For example, if Driver X is listed in NASCAR predictions at +200 and you bet $100, you would win $300 if you're driver wins.
If Driver Y is listed in NASCAR predictions at -150 and you bet $150, you'd win $100 if you're right. In NASCAR predictions, if your driver is listed at -225, you have to bet $225 in order to win $100.
So, if you plan on taking part in NASCAR betting, make sure to look over the NASCAR predictions. Consulting NASCAR betting odds can help you stay on top and be aware of what you stand to win or lose.
Upcoming NASCAR Races
One of the best parts of NASCAR betting is the sheer number of races to choose from. Unlike other sports, NASCAR's season runs from February to November. This means that there are plenty of opportunities to bet on the sport pretty much year-round.
There is also a Monster Energy NASCAR Cup Series with a variety of events that are perfect for NASCAR betting. Below is a list of some of NASCAR's more notable upcoming races. Be sure to check them out!
Bluegreen Vacations 500 – November 10, 2019
The Bluegreen Vacations 500 is a 312-lap race on a one-mile oval track held at the ISM Raceway in Arizona. In 2020, this race will be the championship decider for the Monster Energy NASCAR Cup Series. It will also function as the end of the NASCAR season (which begins again in February).
Ford 400 – November 17, 2019
The Ford 400 is part of the Monster Energy NASCAR Cup Series and is held at the Homestead-Miami Speedway in Florida. This series used to mark the end of the season and the final race in the Monster Energy NASCAR Cup Series. However, in 2020 it will be moved to March and the Bluegreen Vacations 500 will be the new finale.
Federated Auto Parts 400 – April 18, 2020
The Federated Auto Parts 400 is held at the Richmond Raceway in Virginia. It's part of the Monster Energy NASCAR cup series. Formerly known as the Chevy Rock & Roll 400, this race represents.
Geico 500 – April 26, 2020
The Geico 500 is part of the Monster Energy NASCAR Cup Series and is held at the Talladega Superspeedway in Lincoln, Alabama. It is known as the fastest face in the series run at an average speed of about 188 miles per hour.
Monster Energy NASCAR All-Star Race – May 16, 2020
The Monster Energy All-Star Race is held at the Charlotte Motor Speedway in North Carolina. This is an interesting race because it includes winners from the beginning of the current season as well as the past season — even past event winners are eligible. There are four segments adding up to 120 miles over 85 laps.
Coca-Cola 600 – May 24, 2020
The Coca-Cola 600 is the longest race in the NASCAR premier series. It's a 600-mile race (opposed to the other 500 mile courses). Held at the Charlotte Motor Speedway in North Carolina every year, the Coca-Cola 600 offers bettors a truly unique race.
Beginning at 6:20 pm, the track conditions change throughout the race as the sun sets and the track lights come on. Since the other premier series races are shorter, there is more room in this race for unexpected winners and varied bets.
Brickyard 400 – July 3-5, 2020
The Brickyard 400 is another Monster Energy NASCAR Cup Series event and it's held at the Indianapolis Speedway in Indiana. The track is commonly referred to as the "Brickyard" because it was once repaved entirely with bricks. Some remnants of the brick remain in one-yard strips at the start and finish line.
Foxwoods Resort Casino 301 – July 19, 2020
The Foxwoods Resort Casino 301 is a 301-lap race in the Monster Energy Series. Held annually in New Hampshire at their Motor Speedway, this race sets the stage for the final Cup races. A loss here is hard to overcome. So, it's incredibly important for drivers to do their best.
Coke Zero Sugar 400 – August 29, 2020
Held at the Daytona International Speedway in Florida, the Coke Zero Sugar 400 is also part of the Monster Energy NASCAR Cup Series. Traditionally, it had been held around the 4thof July but was given a new August day for 2020. It is known for having extremely close finishes keeping audiences and bettors at the edge of their seats.
Southern 500 – September 6, 2020
The Southern 500 is also a Monster Energy NASCAR Cup Series event and is held at the Darlington Raceway in Darlington, South Carolina. This event is known as the oldest superspeedway race.
It's also widely considered to be the hardest track in the premier series. Due to the track's unusual shape and rough pavement, it has gotten an interesting nickname as the "Track Too Tough to Tame". Though the title suggests 500 miles, it actually works out to 501 with 367 laps around the track.
Bass Pro Shops NRA Night Race – September 19, 2020
Held at the Bristol Motor Speedway in Tennessee, the Bass Pro Shops NRA Night Race is another event in Monster Energy NASCAR Cup Series. It is one of two events held at this speedway (Food City 500 is the other).
Of the two, Bass Pro Shops NRA Night Race is by far the most popular for NASCAR betting. There's a good reason for that. This short, half-mile track pushes drivers to fight their way to the front making for a great show.
1000Bulbs.com 500 – October 2, 2020
Held at the famous Talladega Superspeedway in Alabama, this is another Monster Series race. Known for being the most competitive race of the series, it has broken records for lead changes. The driver with the most wins in this race certainly earned the reverence of these wins; Dale Earnhardt.
Daytona 500 – February 16, 2020
One of the more popular races, the Daytona 500, is known throughout the sport as being the richest race in NASCAR. That is because the Daytona 500 has the largest winner's payout. Likewise, Daytona 500 betting is one of the biggest NASCAR betting events of the year.
The Daytona 500 takes place in Daytona Beach, Florida. In 2020, it will be held on February 16thand, as the name suggests, it is a 500-mile race on a 2.5-mile circuit track.
---
Interested in other motorsports? Check out betting on the Indy 500.