The 2023 March Madness bracket is available now! Print a copy for your friends and family, then come back here to learn the best strategy to fill it out.
There are several different strategies and tips for filling out a great March Madness bracket, and we are going to share some of the tips with you below. Everyone has their own strategy that they use, but these are definitely things to keep in mind before you start filling out your own bracket.
Jump to
The annual NCAA Men's College Basketball Tournament always brings an extraordinary amount of excitement and intrigue, and filling out brackets is the biggest reason why. "March Madness" and filling out a bracket has taken on a life of its own in recent years.
Hopefully, some of these tips will help you win your office March Madness bracket pool contest and put some extra cash in your wallet. Brackets are also a good casual start for those learning how to bet on basketball.
Try to Find the Upsets
The NCAA Men's Basketball Tournament is called "March Madness" because of the crazy and unpredictable nature that usually unfolds. Teams spend all regular season working hard to get a top seed in the NCAA Tournament, but seeds rarely matter once it comes to March.
The NCAA Tournament is always filled with upsets, and some years the upsets are much bigger and much more shocking than others.
One of the most important things to do when filling out a March Madness bracket is to locate the potential upset games, and then make a correct pick. There are a few matchups that have been more prone to have upsets and other games where upsets rarely occur.
A No. 1 seed has only been upset by a 16 seed one time in NCAA Tournament history, and that occurred in 2018. Top three seeds are usually safe in the first round of March Madness, but they are prone to suffer upsets after the opening game.
The 5-12 matchup has historically been the most common spot on the bracket for an upset, but not all 5-12 matchups are created equal. Don't just pick a 12 seed to pull off an upset because of their number, but instead try to find the best matchups.
After picking your first-round matchups, you will then have to decide just how far you want to take your Cinderella team. Are you going to take them all the way to the Final Four, or will the top seeds bounce back and eventually show their strength?
Upsets are going to happen, and you need to try to find them when filling out your March Madness brackets.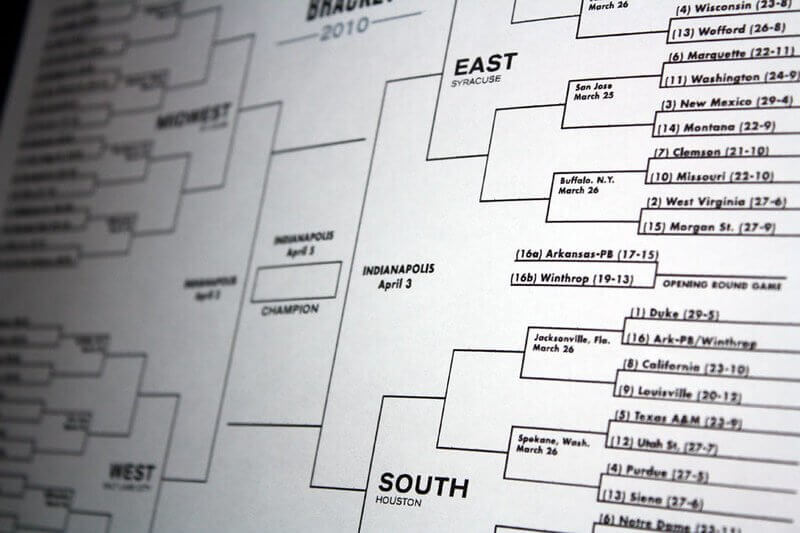 Power Conference Teams As A Lower Seed
If you aren't a big college basketball fan, then this betting tip might not make a ton of sense to you. There is a group of conferences that are known as the power-five, and there is another group known as a mid-major conference.
The power conferences have lost their hold over college basketball of late, but they are still dangerous.
Most of the time, power conference teams will be top seeds in each region, but sometimes, they are just able to sneak in the field. If you see a major conference team seeded at a 10 or higher, it might be worth taking a close look at their matchup.
Most people love the underdog story in the NCAA Tournament, but an underrated power conference team is dangerous as well. Some other people in your office bracket pool likely won't think of this, and this can help you get a step ahead with your March Madness Brackets.
Bet With Your Mind
Hopefully, your favorite college basketball team is in the field of 68, but that could definitely make things more difficult for you. You will likely be faced with the question, "Just how far am I going to take my favorite team?"
This can put you in a very awkward and difficult position, but there is one betting tip that can help you make your March Madness picks even if your favorite team is in the field.
It is always good practice to bet with your mind and not your heart. Try to take the emotions out of it and stick to the research that you have done.
Your most favorite team could win it all, but you had better have the research and information to back up that plan. Or, if you aren't worried about winning your office pool, then go ahead and take your favorite team, and throw reason out the door.
Of course, this also applies to Sweet 16 betting as well as Elite 8 betting.
Do Some Research
It might seem like filling out a March Madness bracket is an easy task to complete, but it should not be done without plenty of research. It is important to research before placing any bets, but it can be extremely beneficial in the month of March.
Research comes in many different forms, but there are several easy and convenient ways to get information about matchups in the NCAA Tournament, especially if you plan to bet on March Madness.
ESPN and other sports networks spend a ton of time breaking down the tournament leading up to the games, and that is the best way to do some quick and easy research.
Even the most dedicated college basketball fan probably didn't watch every single team in the NCAA Tournament play, and the casual fan has likely never heard of some of the teams in the field. It's hard to make a good pick if you have never seen a team play.
You don't have to watch any film before making a pick, but you do need to get some information.
Look For Veteran Teams
It is extremely hard to win college basketball games, and it gets even harder when those games are played in the NCAA Tournament. One thing to look for when deciding on which team to choose is for the team that is loaded with veteran or senior players. Experience matters in March, and it should play a role when you fill out your March Madness brackets. What teams have done the best for Final 4 betting in the past?
The trend lately has been for college coaches to bring in a bunch of future NBA stars and try to win a championship with them when they are on campus for a year. Some coaches and teams have been able to pull off this feat, but national champions are usually teams that have proven veterans leading the way.
Players get just as nervous as you do about the games, and it helps to have some senior stars that can help settle things down. Don't just pick a team because they have a bunch of seniors on the roster, but it's definitely something to consider when filling out a March Madness bracket.
There are several ways of how to make a March Madness bracket, but choosing the oldest team in each matchup isn't a bad way to go.
Fade the Public
This is a betting strategy for how to bet on basketball that is important to keep in mind all year round, but it's especially true during the month of March. It seems that the whole country is full of the biggest and best college basketball fans in March, and all of them "know" what team is going to win it all.
You will likely receive plenty of unsolicited advice when filling out your bracket, and it's best to ignore all of them.
You need to make your own decisions when it comes to your Final Four teams as well as which team you think will win the National Championship. Don't poll your friends or office buddies, and don't just choose the most popular vote online.
The sportsbooks across the country have likely convinced the public to vote a certain way, and that is why you should go the opposite way.
Vegas and the sportsbooks are right more than 50 percent of the time, and it should be a warning sign if everyone in the public is on the same team. The best way to avoid the outside noise is to fill out your March Madness bracket in peace, but if you do hear some things, go the opposite direction.
Quality vs. Quantity
This is one of the most important questions that you must answer before beginning the bracket-making process. Are you going to fill out one bracket that you spend some time on, or are you going to be the person that fills out several different brackets, with each of them having different outcomes?
Unless you are someone that is great with technology or probability, then it is just too hard to go the route of filling out several different brackets.
The best strategy to use when filling out brackets is to have one bracket and just repeat the same picks in each of them. Even if you plan on entering several different office pools, the best route to take is just doing your research and feeling great about your picks.
Trying to change up your Final Four teams or National Champion pick might sound like a fun thing to do, but it will likely just leave you more confused. Trust your gut, make your best decisions, and then use that bracket in all of your contests.
Conclusion
Now that you know some of the tips to use when filling out a March Madness bracket, it's time to wait for the Selection Show and then start making some picks. We suggest using a pencil because you will probably want to make some corrections or changes several times during the process.
Filling out a bracket can be a stressful process, but remember that there is no proven method that works every year.
Do plenty of research on each team, but also trust some of the top experts and listen to their picks. There are going to be several upsets, and you can't get down on yourself if some of your top picks bow out early.
It's called March Madness for a reason, and the month of March is full of surprises. It's best to just make your picks, submit your bracket, and then sit back and enjoy the greatest tournament and month in all of sports.
'Draw no Bet' Meaning | How to Bet on NBA | How to Bet on NFL | 10 Fantasy Football Tips | How to Bet on Tennis | How to Read Odds | Moneyline Betting Explained | Football Parlays and Odds Explained | What is Live Betting