Football Prop Bets
Commercial Content | 21+ | T&Cs Apply
Football fans may enjoy betting on Super Bowl winners and predicting the over/under and planning to beat the spread. But there is a whole other category of football betting that sometimes gets overlooked – but it is always a lot of fun. We're talking football prop bets.
We will be taking a look at what football prop bets are, what to look out for with prop bets markets, and some of the wildest and craziest prop bets in football history.
Read on to find out more about the wonderful world of football prop bets. Assuming, of course, you're an expert on how to bet on football and can already read football odds.
What is a Football Prop Bet?
A prop bet – or proposition bet – is a wager on anything that is unconcerned with the actual result of a game. So total over/unders, points spreads, and moneyline bets are all out.
A good way to look at prop bets is to think of them as side bets. Although they can be hugely popular, especially around Super Bowl time, prop bets are not selected as much as game wagers. But that is not to say that there is no money to be made from them. In fact, as bookmakers tend to spend more time working out the odds of the betting line prices, experienced gamblers can consider prop bets as a steady stream of profit.
For example, major sportsbooks offer special Super Bowl props. The FanDuel Super Bowl odds on the result of the coin toss is currently set at -103 for both heads and tails. Likewise, bet365 Super Bowl props have the same toss at -105.
Sometimes referred to as 'fun' wagers, there is undoubtedly a different feel to prop bets. But apart from the jokey prop bets that spring up around major sporting events, these wagers can return some decent winnings. More importantly, you can work out the value of these football prop bets and consistently win.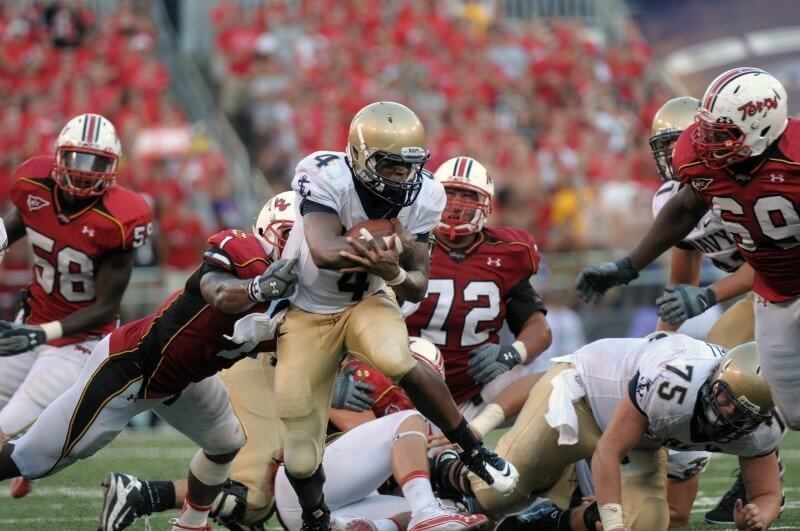 What Kinds of Prop Bet are Available?
The scope of what a prop bet can entail is virtually endless. You can sometimes be betting on the smallest detail of a game – and in a three-hour event, there are a lot of details!
We are now going to go through a few of the more common football prop bets that you will find offered by bookmakers.
Yards Totals
A favorite prop bet when it comes to football is kind of like the totals wager you get with every game. But these over/unders refer specifically to one player rather than the team total.
The most popular is an over/under on the quarterback's passing yards. But you will also be able to find receiving yards and rushing yards props as well. Individual player yards props can be easily figured out by looking at averages and totals form the season – and rating how well they will do against the opposing team.
You could also find prop bets covering a team's total yards passing, rushing and receiving.
Points Totals
Although more common in basketball, the same logic can be applied to individual player points totals in a game. Again, if you do your research you can work out quite quickly whether there is some value in a particular prop bet. For example, if a particular team record most of its points by passing the under on a running back's yards may be the way to go.
Yes/No Prop Bets
You will find that many football prop bets – and for that matter, prop bets in general – take the form of a question. For example:
Will the New England Patriots score first?
There is no in-depth research to do concerning the yardage here, just a straight-up decision on whether you think the Pats will get on the score sheet first. You can, of course, look at whether the Patriots have been scoring quickly recently, but each game is unique.
You will probably find that the odds for yes or no are very similar – if not the same – when it comes to yes/no prop bets. Unless it is very unlikely that one of the outcomes will occur, prop bets can be like tossing a coin sometimes (also a popular prop bet!).
Super Bowl Prop Bets
If you are used to outright winner wagers and now like the look of some of these football prop bets then you will absolutely love Super Bowl time!
When the big event comes around there are literally hundreds of prop bets to choose from – and the bookmakers seem to be on a quest to come up with even more outlandish ones every year.
As with any NFL game, there are the kinds of prop bets that we have gone through so far – looking at individual player performances. But the Super Bowl brings out some very special prop bets.
Here are a few of our favorites from the last few years:
How long will the national anthem be?
What color Gatorade will be poured on the winning coach of the Super Bowl?
Will the coin toss be heads or tails?
These prop bets seem very inconsequential to the game – and that is because they are. Super Bowl prop bets typify the 'fun' element. You can win money on these bets, of course, but they are supposed to be enjoyed.
But even these kinds of bets can sometimes be thought through rationally. For example, the national anthem singer is always known in advance so their style is well known. The national anthem is always the same words so you can make a decision on an over/under time.
To be perfectly honest, the Gatorade and coin toss examples are just pure guesses on random events. However, they go to show that just about anything can be turned into a football prop bet.
Prop Bets from Super Bowl LIII
To explain the process of football prop bets we thought we would run through some examples from Super Bowl LIII. The New England Patriots ended up beating the Los Angeles Rams 13-3 in what was an unexpectedly low scoring championship game.
There will have been a lot of people losing on totals and points spread wagers with this game – but the prop bets might have saved the day when it came to overall profit.
Which Team Will Score First?
Patriots (-120)
Rams (Even)
The thinking behind these odds was that the Patriots were favorites for the Super Bowl, had worn down its opponents in the previous playoff games and scored after a long drive.
The clever money was on the Pats to repeat that in the Super Bowl. This didn't work out quite as expected – although the Pats did score first, with a field goal in the second quarter. The odds are not fantastic – but this is a good example of building up a slow and steady profit.
What Will the First Score of the Game Be?
Touchdown (-190)
Any other score (+160)
Usually, teams score touchdowns before field goals – but the playoffs can be different. The Rams had been kicking for points early during its playoff run. So, a possible defensive start from the Pats made the 'any other score' option at +160 a good bet.
As you can see, there are a lot of football prop bets out there.
The Pros and Cons of Prop Bets
Football prop bets are a great way to expand your chances of coming away with a profit. Also, they use your knowledge of the details of the game. Here are some of the pros and cons of betting these markets.
Harmless Fun
We like to take our betting seriously but you should be enjoying yourself as well. With the kinds of prop bet odds offered, you can't retire on any winnings. That said, you will have a good time waiting for the bet to pan out.
Make Some Money
If you concentrate on football prop bets you can actually analyze – like the examples above – you might get lucky. Bookmakers don't spend so much time working out the prices for prop bets so you can find some excellent value.
Adds Excitement
If you stick to just game odds and points spreads you don't actually have to watch a game at all. Just check if the wager won or loss after the event. But with prop bets, you can make a number of wagers throughout a game – reacting to the action. The excitement levels don't drop either as everything that happens may well affect your bet.
Avoid Novelty Bets
Without wanting to ruin anyone's fun, a lot of prop bets are just too silly to invest in. Yes, it raises a smile that you can place a bet on the length of a national anthem. But, ultimately these are for more of a lark than anything else.
Don't Chase Wins
As with all betting, you should not try to make up for losing bets by making more. Chasing a profit can lead to losing more money – and unfortunately prop bets can be very easy to go for. With updated markets and odds throughout a game of football, there is always a new prop bet to go for. Make sure you are still enjoying your betting.
Football Prop Bets Verdict
Prop bets are a great way to enjoy individual plays and smaller details in the game. Hopefully, you can make a little money in the process.
It is best to stay away from the really silly bets and go for the ones that you can analyze. Use your football knowledge and do a little research. This way, prop bets can be a great way to enjoy a game even more.