NCAAF: Power Five Conferences
Commercial Content | 21+ | T&Cs Apply
In college football, the Power Five conferences represent the highest collegiate level competition in the sport. Belonging to the larger National Collegiate Athletic Association or NCAA conferences, the Power Five conferences represent some great betting opportunities.
The Power Five conferences include the ACC football conference, the Big Ten football conference, the Big 12 football conference, the Pac 12 football conference, and the SEC football conference.
And who's got the best chance of winning the National Championship this year?
ACC
The Atlantic Coast Conference or ACC as it's more commonly called is an eastern collegiate conference. This conference, which is headquartered in Greensboro, North Carolina, includes 15 member universities. Currently, the members are as follows:
Boston College
Clemson University
Duke University
Georgia Institute of Technology
Florida State University
North Carolina State University
Syracuse University
University of Louisville
University of Miami
University of North Carolina
University of Notre Dame
University of Pittsburgh
University of Virginia
Virginia Polytechnic Institute and State University
Wake Forest University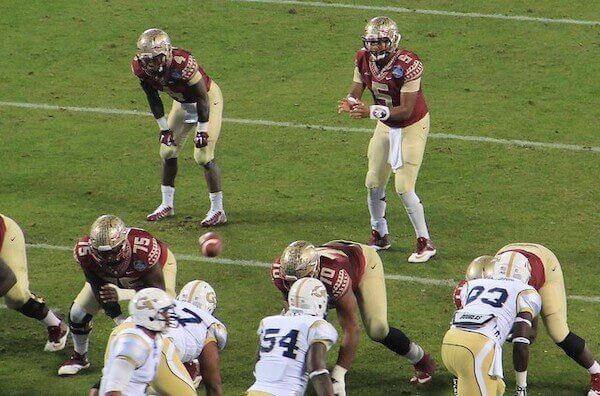 Clemson Tigers
The Clemson Tigers hold three National Championships and 25 bowl wins. Located in Clemson, South Carolina, they hold a staggering 25 ACC Championship titles; the most of any ACC school. Some of their more notable players are Sammy Watkins, Deshaun Watson, and C.J. Spiller.
Florida State Seminoles
Located in Tallahassee, Florida, the Florida State Seminoles have won three National Championships, 29 bowl victories, and 18 conference titles. Some of their more notable players are Deion Sanders, Chris Weinke, and James Winston. 
Big Ten
Part of the Power Five conferences, Big Ten football is the oldest Division I collegiate conference. Based out of Rosemont, Illinois, this conference currently consists of 14 members though it had 10 for decades which is where it got its name.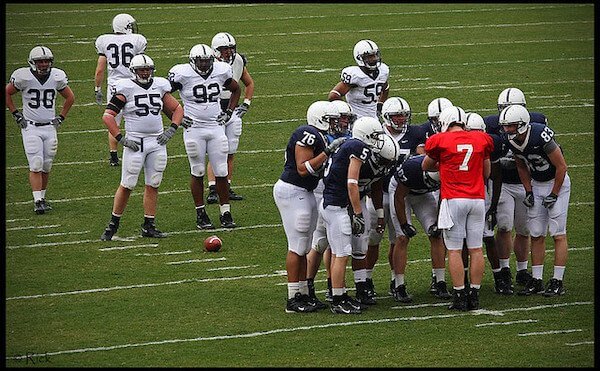 Iowa Hawkeyes
Located in Iowa City, Iowa, the Hawkeyes have five national titles and 13 conference titles. They've also had 17 bowl victories. Some of their more notable players include Adrian Clayborn , T.J. Hockenson, and C.J. Beathard. 
Ohio State Buckeyes
Located in Columbus, Ohio, the Ohio State Buckeyes have won eight National Championships and 40 conference championships. They have the highest valuation of any football program in the country. Some of their most notable players over the years have been Archie Griffin, Orlando Pace, and Vic Janowicz. 
Big 12
Part of the Power Five conferences, Big 12 football consists of ten universities as a Division I NCAA sport. Based in Irvin, Texas, its universities are located in Iowa, Kansas, Oklahoma, Texas, and West Virginia.
Oklahoma Sooners
Located in Norman, Oklahoma, the Sooners have seven National Championships and have 29 bowl victories; the fourth most among college football programs. They also have 41 conference championships including every big seven championships ever awarded. Some of their more notable players have included Baker Mayfield, Adrian Peterson, and Sam Bradford.
Texas Longhorn
Located in Austin, Texas, the Longhorns have won nine national championships and 32 conference championships. They also have 30 bowl wins. Some of their more notable players have included Colt McCoy, Vince Young, and Earl Campbell. 
Pac-12
Part of the Power Five conferences, this conference has had a ton of former names. Currently known as Pac-12, it is headquartered in San Francisco and includes 12 members. They are located in Arizona, California, Colorado, Oregon, Utah, and Washington.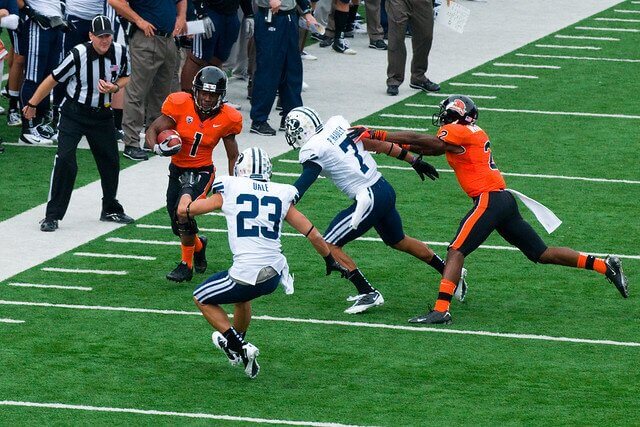 USC Trojans
Located in Los Angeles, California, the USC Trojans have 39 conference championships – all within the PAC-12 football conference. However, most impressively, they've won 17 national championships. They've also had 25 bowl wins. Notable players have included Marcus Allen, Reggie Bush, and the ever famous OJ Simpson. 
Washington Huskies
Located in Seattle, Washington, the Huskies have won five national championships including four NCAA football championships. They have seven bowl championships and 17 conference championships. Notable players have included Steve Emtman, Napoleon Kaufman, and Mark Brunell. 
SEC
Otherwise known as the Southeastern Conference, the SEC includes fourteen members. Based in Birmingham, Alabama, these universities are located in Florida, Georgia, Kentucky, Missouri, South Carolina, Tennessee, Alabama, Louisiana, Mississippi, and Texas. 
Alabama Crimson Tide
Located in Tuscaloosa, Alabama, they have won 17 national championships and 42 bowl wins. They also have 31 conference championships. Notable players include Derrick Henry, Julio Jones, and Tua Tagovailoa – one the Top Picks of the 2020 NFL Draft. 
LSU Tigers
Located in Baton Rouge, Louisiana, the Tigers have won four National Championships and 16 SEC championships. They also are a founding member of the SEC football conference and have 28 bowl wins.  
National Championship Favorites 2021
Though anything can happen, currently the Clemson Tigers are favored to win the 2021 National Championship. Also highly favored are Ohio State Buckeyes, Alabama Crimson Tide, and Georgia Bulldogs. However odds change every day, so be sure to keep an eye out!