Connecticut Huskies defeated San Diego State Aztecs (76-56) in the 2023 NCAAB tournament finals.
The March Madness parlay is often a huge draw for bettors during the annual NCAA Men's Basketball Tournament. March Madness betting offers up some terrific opportunities, from filling out brackets to betting on each individual game. There are plenty of betting options available, and one of them is called parlay betting. This article will explain parlay betting as well as break down how to make the perfect March Madness parlay.
Here you can see the top 4 Fanduel favorites for the 2023 NCAA March Madness tournament:
Jump to
IUPUI Jaguars
Spalding Pelicans
Odds are not currently available.
Odds are subject to change. Last updated
September 5, 2023 7:49 am
.
What Is A March Madness Parlay?
A parlay is a combination of a bunch of smaller individual bets that is wrapped up and packaged into one, much larger bet. Basketball betting apps offer their own version of parlays for large sporting events, and the NCAA Tournament definitely fits that criteria.
Parlay betting is not usually something that is recommended for someone breaking into the sports betting world, because it can be incredibly difficult to win.
There are certain ways to manipulate the parlay bets in your favor, but we are going to stick to a straight parlay bet for the purpose of this article.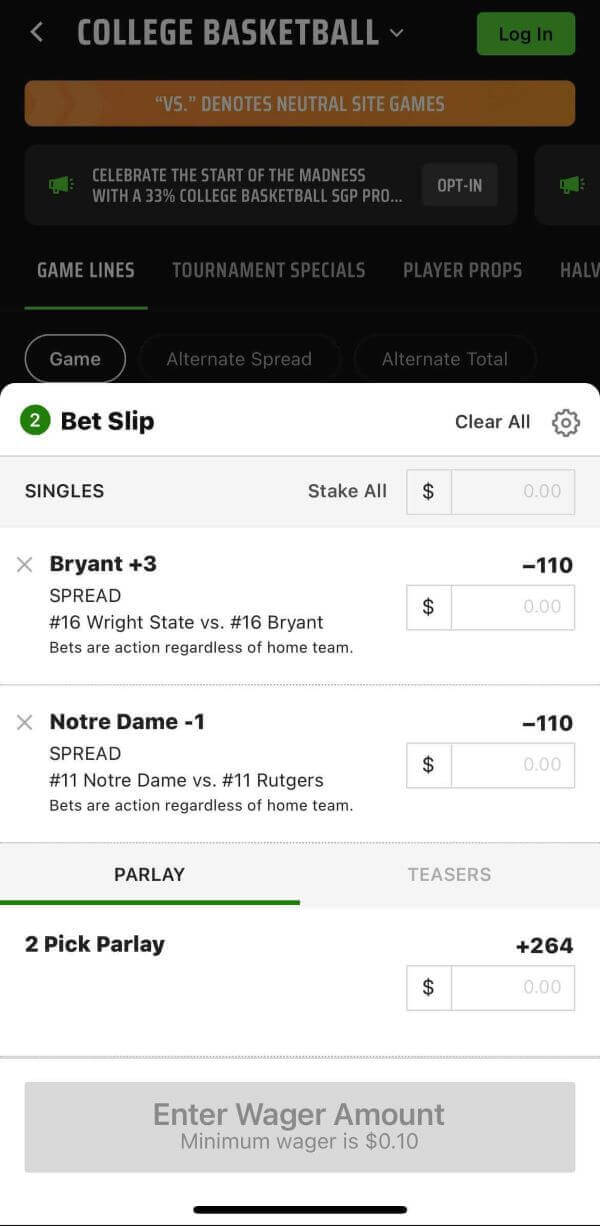 Advantage: Huge Payouts
One of the biggest advantages of making a March Madness parlay bet is the chance for a huge payout if you win the bet. March Madness odds are stacked on top of one another when it comes to parlay betting, and the payout can be large, even if it is just a two-team parlay.
The reward of a parlay bet is what makes it attractive to most sports bettors, but that doesn't mean that it is an easy bet to win. Winning one parlay bet could make up for a bunch of other losses if you are able to put together a great parlay.
Disadvantage: One Upset, You're Out
The biggest disadvantage of parlay betting is that one loss and your entire bet is ruined. March Madness is full of upsets – no sports bettor is safe. It's very hard to make accurate March Madness predictions.
You might think that you have put together the perfect parlay bet, but there is always a chance that an upset will ruin it all. Betting on the NCAA Tournament is not for the faint of heart, and that can throw a huge wrinkle in your plans to win big by putting together the perfect parlay bet.
Tips For A Perfect March Madness Parlay
There is definitely plenty of luck involved in parlay betting, and there is plenty of luck involved when it comes to betting on the NCAA Tournament. Take a look at some of the tips below in hopes of putting together the perfect March Madness parlay that will win big during the NCAA Tournament.
Bet the Moneyline
There are several different types of bets that can be included in a parlay bet, but we recommend betting on the moneyline when putting this together. The main reason is that betting on the NCAA Tournament is hard enough, and trying to bet March Madness spreads adds complications.
Picking the winner of each game is no small feat, but it can be much easier than betting on which team wins, and by how much.
Look For Underdogs
When you are putting together the perfect March Madness parlay, it pays to look for underdog teams to win. Betting on an underdog will increase your winnings if you nail the parlay, and there are sure to be plenty of upsets along the way.
There really isn't a ton of value in putting together a slip and betting on all the favorites, but include at least one "lock" in your parlay.
Brackets and Betting Are Different
When trying to put together the perfect March Madness parlay, be sure to take your brackets out of the equation. Selecting a team to reach the Final Four while making a March Madness bracket is one thing, but it is different when including that team in a parlay.
Your bracket could be a mess by the end of the first weekend, but putting together smart bets could win you a ton of money on the NCAA Tournament.
Current March Games Bonuses
These offers expire at the end of the 2023 NCAA March Madness Tournament and are not applicable in all 50 states
March Madness Parlay Betting Summary
Making a parlay bet might not be a wise choice, but it can be profitable. This doesn't mean that you should make a long bet slip for the NCAA Tournament, but there is a chance that it can be profitable.
Be sure to do some research and try to find the most value when looking to make the perfect parlay bet. March Madness is extremely unpredictable, but doing plenty of research can help you put together the perfect parlay.
Once you feel ready to make your first March Madness Parlay check out DraftKings March Madness offer where you can bet $5 and win up to $200 in free bets.
Best of luck with your March Madness parlay, and enjoy the greatest three weeks of sports!
March Madness Parlay FAQs
How many bets can I add to a parlay?
Parlay bet slips are not unlimited, however most sportsbooks will let you compile parlays with 10-20 legs if you wanted to. Warning, the more bets you add the more difficult it will be to win.
Can I parlay college basketball with another sport?
Yes. You can mix and match sports with parlays.
What is a same game parlay (SGP)?
A same game parlay is when you make multiple bets on one game. For example, you bet Duke -18.5 and the total points over 145.5.