Forecasting the Big 5 Conferences in the FBS for 2019
Commercial Content | 21+ | T&Cs Apply
For three of the past four seasons, college football has culminated with Alabama and Clemson vying for the College Football Playoff Championship, with Clemson winning two of those matchups – including a 44-16 pasting this past January – and the Tide once. Alabama won the CFP the year Clemson did not reach the final in 2018, outlasting conference rival Georgia in overtime.
And there is a good chance this season will end with a fourth meeting in five years, but this space is not here to forecast the College Football Playoff. Instead, the focus will be on the Power 5 conferences – ACC, Big Ten, Big 12, SEC, and Pac-12. The winners will likely comprise the CFP field, though there is always the chance an interloper via conference title game, a perfect or near-perfect season by Notre Dame, or undefeated Group of 5 could claim one of those four spots.
Atlantic Coast Conference
The pick: Clemson (-700). Barring a season-ending injury to quarterback and Heisman Trophy candidate Trevor Lawrence, the ACC is Clemson's to lose. While the Crimson Tide have at least had to fend off at least one other elite team in the SEC en route to the conference title game, the rise of Dabo Swinney's program to near-dynasty status has yet to lift all ACC boats in the tide of college football.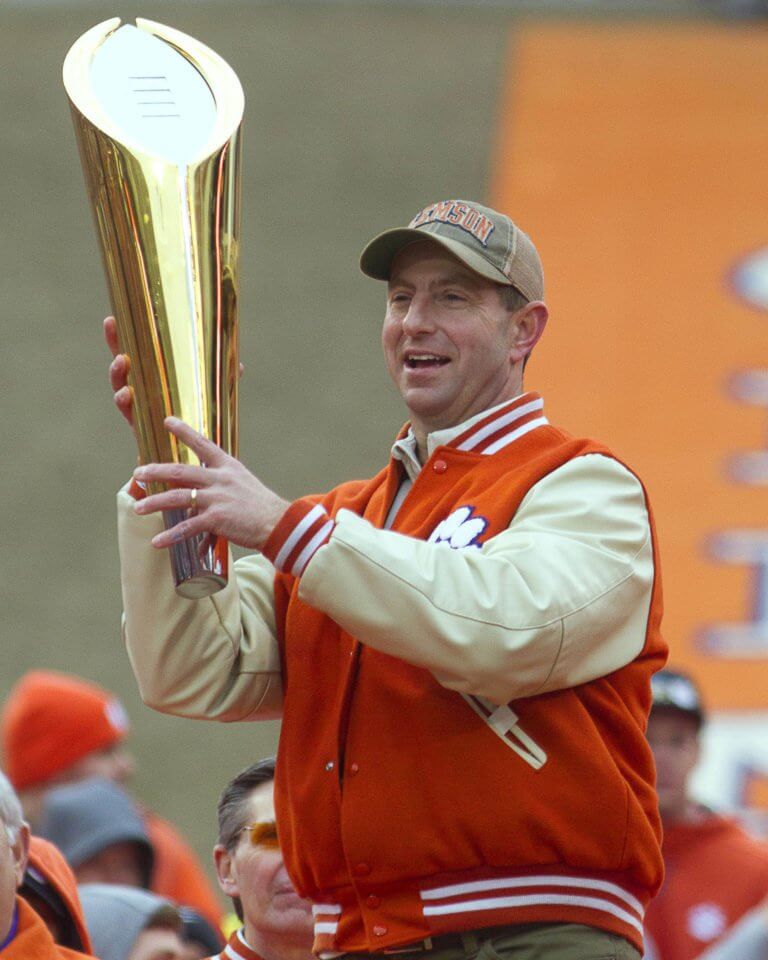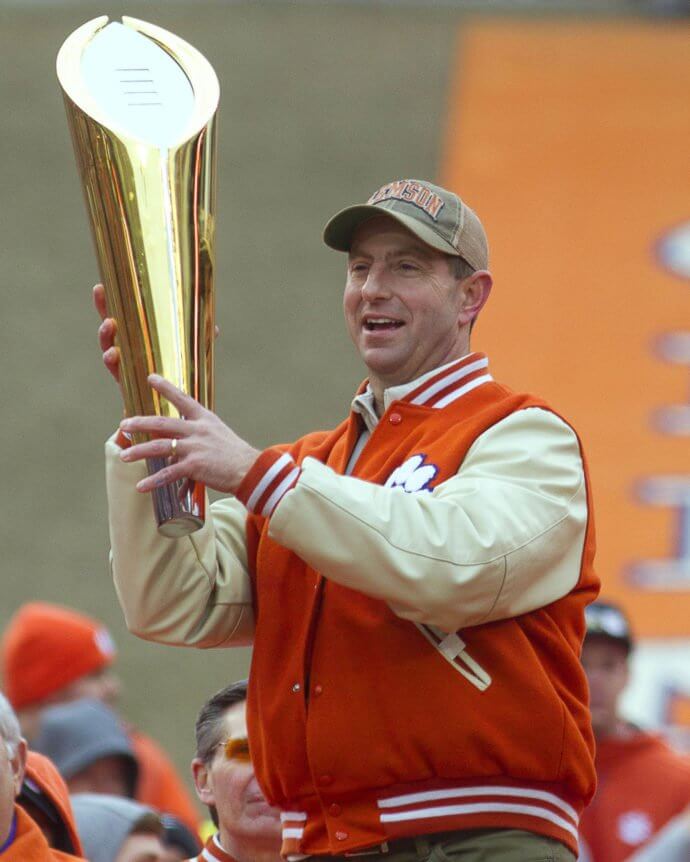 The Tigers have gone 30-2 in conference play the last four years before winning each ACC championship game. No other team in their division has recorded more than 17 league wins in that span, and no team residing in the Coastal Division has had a winning record in conference play all four years.
The only potential pitfall for Clemson in conference play appears to be its conference opener at Syracuse on Sept. 14 in a matchup of the top two teams in the Atlantic Division. The game also comes following a high-profile non-conference home game for Clemson against Texas A&M without a bye week. Lastly, the Orange are the last team to deal the Tigers a loss in conference play, stunning them 27-24 at the Carrier Dome in 2017.
Clemson had to rally from a 10-point fourth-quarter deficit to beat Syracuse 27-23 at home last year, so Orange coach Dino Babers clearly has worked out some schemes to his team's advantage. But a lot will be asked of quarterback Tommy DeVito as he inherits the offence following the graduation of Eric Dungey, and the game may be too early for Syracuse to be firing on all cylinders to take down the Clemson juggernaut.
Big Ten Conference
The pick: Michigan (+250). With Urban Meyer retired again (for the time being at least), it is time for Jim Harbaugh to put up or shut up in Ann Arbor. The Wolverines did everything but the most important thing in the four years the khaki-pants wearing coach has been stalking the sidelines at Michigan – beat Ohio State.
While beating Meyer is no longer a possibility, the Wolverines have the capability to unseat the Buckeyes this year to claim the East Division of the Big Ten and a spot in the conference title game in Indianapolis. The Maize and Blue also have their two toughest Big Ten games at home against the aforementioned Buckeyes and intrastate rival Michigan State.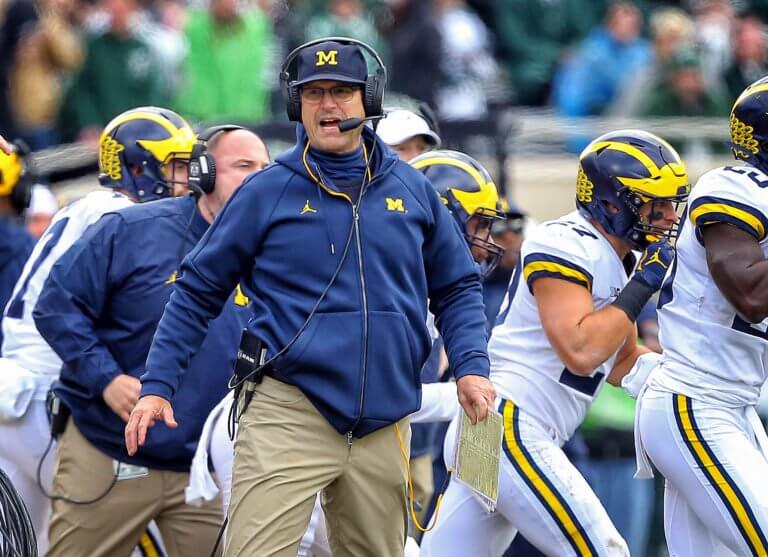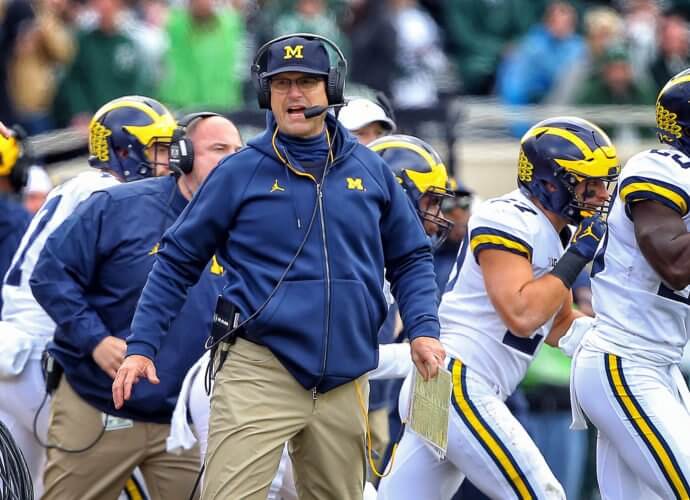 Quarterback Shea Patterson is expected to thrive in a high-octane spread offence under first-year coordinator Josh Gattis, who was co-offensive coordinator and wide receivers coach at Alabama last year. He has a promising prospect in 6-foot-4 flanker Nico Collins, who is expected to easily surpass his 2018 totals of 38 catches and 612 yards, the latter of which led Michigan.
The Wolverines do have questions to answer on defence, most notably who will replace NFL first-round pick Devin Bush and three other high-profile starts. But if they can survive an early season road game at Wisconsin and not look past a road game at Penn State prior to its Oct. 26 showdown versus Notre Dame, "The Game" at high noon Nov. 30 versus the Ohio State University may swing Michigan's way for just the second time in 16 meetings.
Big 12 Conference
The pick: Oklahoma (-125). Once more, the Big 12 will run through the Red River Rivalry when Oklahoma faces Texas, but the Sooners are reloading at quarterback for the third straight year as Jalen Hurts looks to follow the footsteps of Heisman Trophy winners Baker Mayfield and Kyler Murray following his transfer from Alabama.
Hurts — who threw for 5,626 yards and 48 touchdown passes over three seasons with the Crimson Tide, went 26-2 as a starter, and was on the 2017 CFP winning team — lost the starting job to Tua Tagovailoa last season. The graduate transfer will have the chance to showcase his talents in Lincoln Riley's potent offence, which Mayfield and Murray directed to averages of 45 points and 570 yards in each of the last two seasons en route to winning college football's most prestigious individual player award.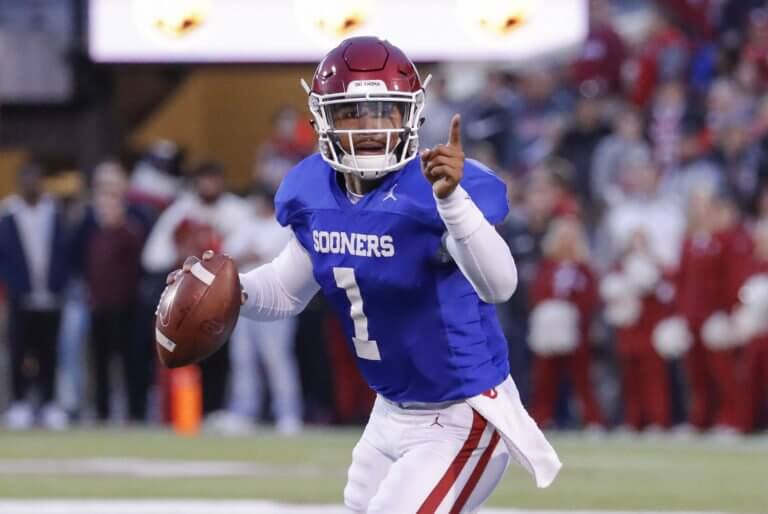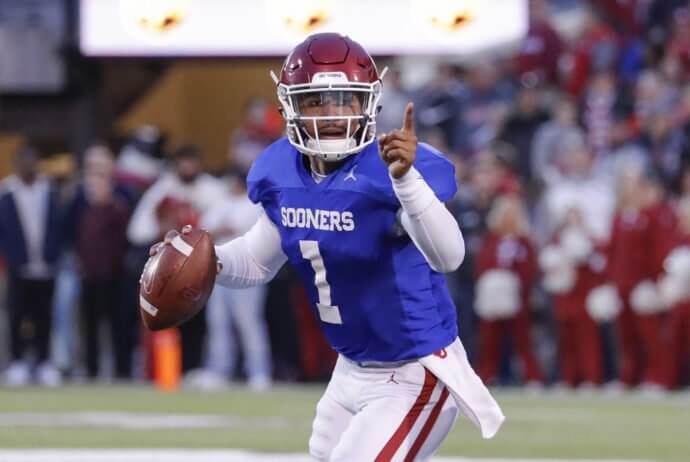 Oklahoma does have to replace four starters on the offensive line, but its skill players at running back and wide receiver will help ease Tagovailoa's transition. Running backs Trey Sermon and Kennedy Brooks combined for more than 2,000 yards, with Brooks rushing for 1,053 as a freshman. CeeDee Lamb, who had 65 catches for 1,158 yards and 11 TDs, will be the unquestioned No. 1 wide receiver after Marquise Brown was taken in the first round by the Baltimore Ravens.
The Sooners have plenty of issues on defence – it cost them a shot at the CFP final in losing to Alabama. They also allowed 40 or more points on six occasions, including last year's 48-45 loss to Sam Ehlinger and Texas. Oklahoma, though, should be 5-0 overall and 2-0 in conference when it faces the Longhorns on Oct. 12, and if Tagovailoa can guide the Sooners to a win in that contest, the Big 12 is theirs to lose.
Pac-12 Conference
The pick: Oregon (+400). The Pac-12 is the most wide open of the Power 5 conferences, with the Ducks among five legitimate hopefuls that include both Washington schools, Utah, and Southern California. What makes Oregon stand out – after its endless supply of cutting-edge Nike apparel — is quarterback Justin Herbert.
Had Herbert decided to enter the NFL Draft after last season, he would have been a top-five selection and possibly the heir apparent to Eli Manning with the New York Giants. Instead, he returns to Eugene as a bona fide Heisman Trophy candidate after throwing for 3,151 yards and 29 touchdowns last year in helping Oregon averaged 35 points and 427 yards.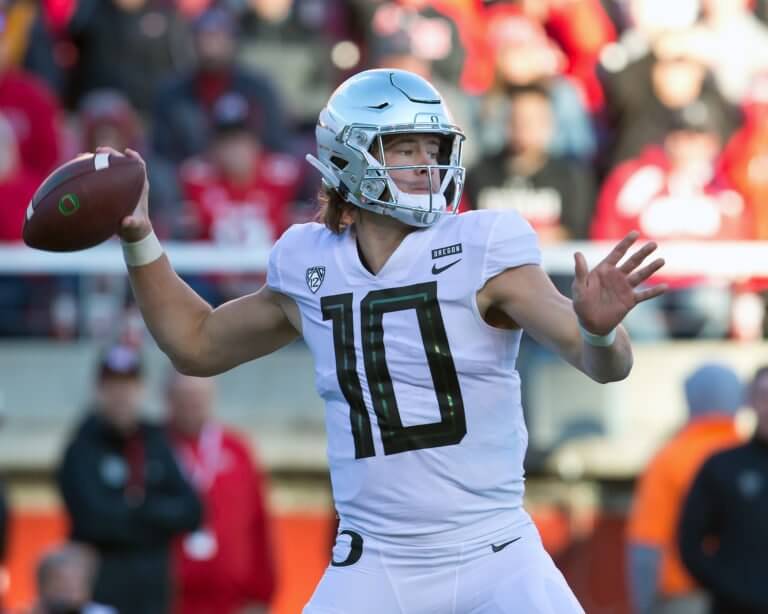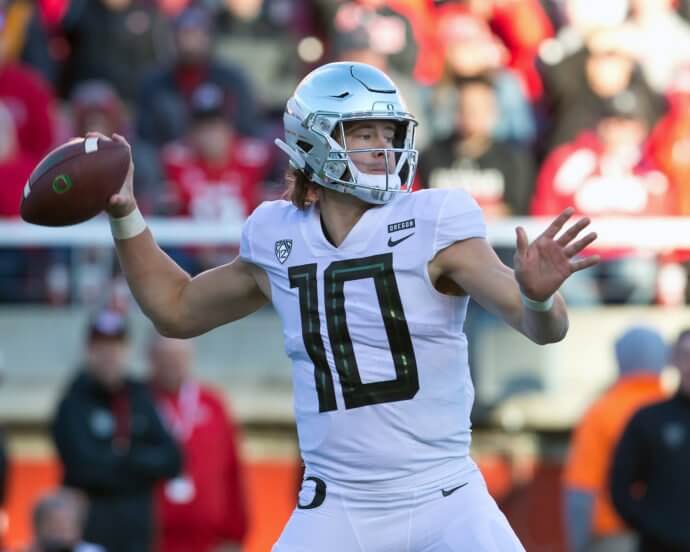 Offensively, the Ducks lost only receiver Dillon Mitchell, but have a solid replacement in Penn State transfer Juwan Johnson. The other key for Oregon's offence is continuity – all five starting offensive linemen return, as do running backs CJ Verdell and Travis Dye. They combined for 1,757 yards and 14 touchdowns while each averaging five yards per carry or better.
Oregon's schedule does not do it many favours – the Ducks will play at USC and Washington while hosting Washington State – but Utah is not on the schedule unless the Ducks face the Utes in the Pac-12 title game.
Southeastern Conference
The pick: Alabama (-180). Come on, are you really going to pick against Nick Saban? Especially at only -180? Another year in Tuscaloosa, another Crimson Tide team loaded with blue-chip talent and seemingly two-deep at every position.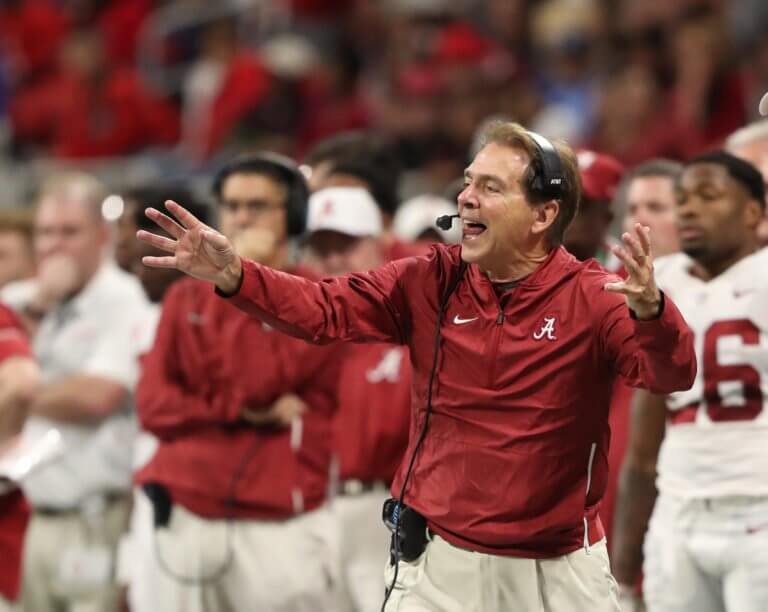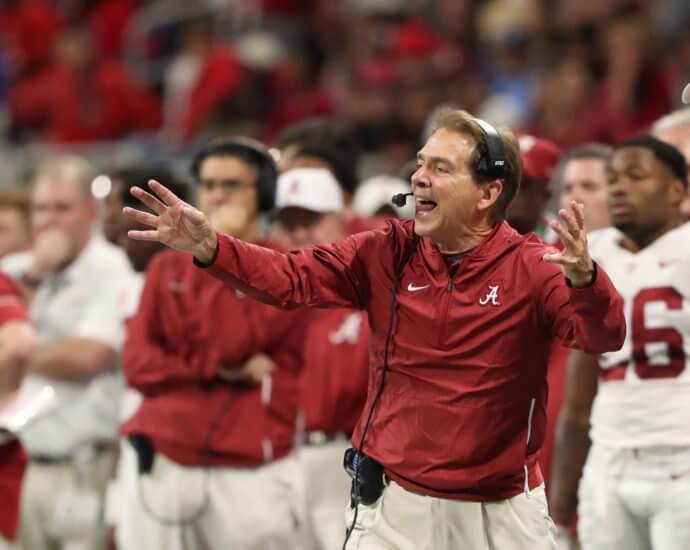 There is no longer a quarterback controversy for the Crimson Tide as Tagovailoa will no longer be looking over his shoulder after every missed pass or interception. Tagovailoa, though, has to stay healthy and avoid injury – something he did not do in the SEC title game as Hurts transferred to Oklahoma in the offseason.
Alabama is deep at every position, but for all the talk about the power of its offensive and defensive lines, the Crimson Tide have also been cranking out top-end wide receivers in recent years. Julio Jones, Amari Cooper, and most recently Calvin Ridley have all made a name for themselves at the next level, and poised to join that trio is junior Jerry Juedy, who had 68 catches for 1,315 yards last season.
Jaylen Waddle should be a more than capable No. 2 wideout, and the assembly line at running back moves to Najee Harris and Brian Robinson as they fill the roles of Damien Harris and Josh Jacobs. Alabama quietly rang up averages of 45.6 points and 522 yards last season, and it would not be surprising to see Tagovailoa and company exceed those numbers.
The defence was elite last season until it played high-end offences, giving up 106 of its 271 points in the final three games as Jake Fromm, Murray, and Lawrence all threw for over 300 yards and combined for eight TD passes without an interception. The secondary has a bevvy of high-end recruits expected to add depth and size that will fluster opposing receivers and help take some pressure off a line needing to replace No. 3 overall pick Quinnen Williams.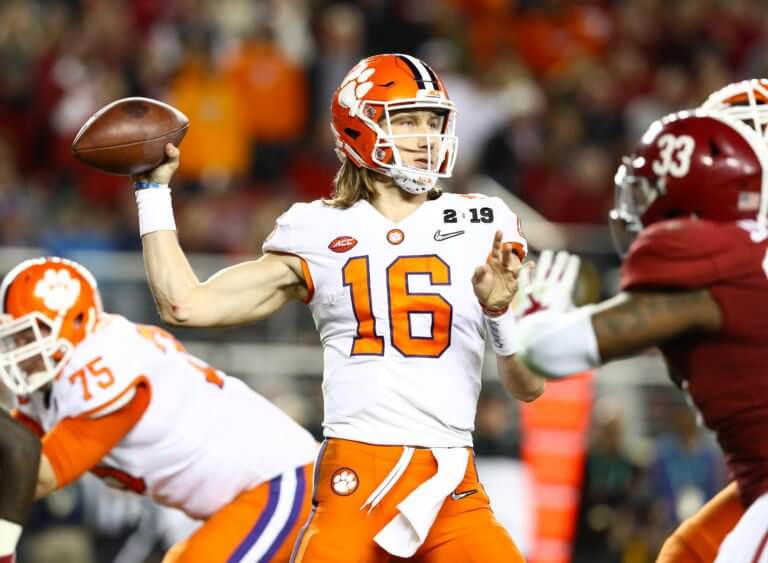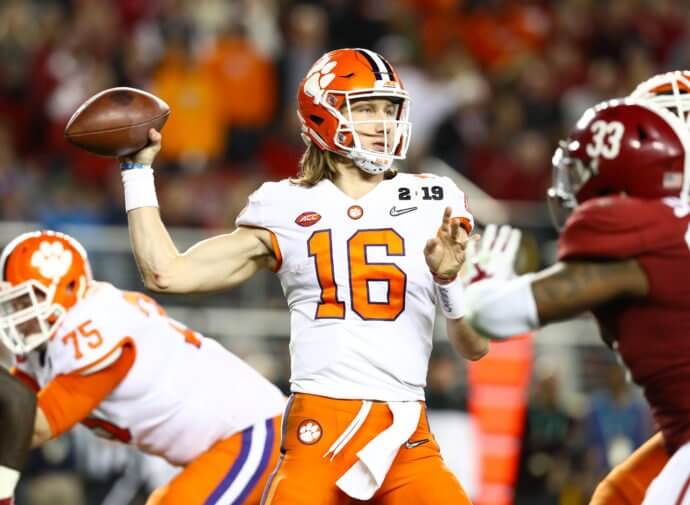 Alabama will play its usual meat-grinder schedule in the West Division of the SEC but can only face fellow preseason conference favourites Georgia and Florida in a potential conference championship game. The Tide have won five of the last seven SEC title games, missing out in 2013 and 2017, but there is every reason to believe they will be back to make it six in eight.
(All odds from FanDuel Sportsbook)