After almost five years of work, PokerStars VR is changing to Vegas Infinite. Flutter recently came out with a statement that says that the rebranding will come with a full-scale overhaul as the free-to-play social casino gets its bearings.
The step that they have decided to take will represent the next part of the game's evolution. Upon launch, players will be treated to a new bespoke 3D virtual cityscape as they explore all the luxury casinos available in the game.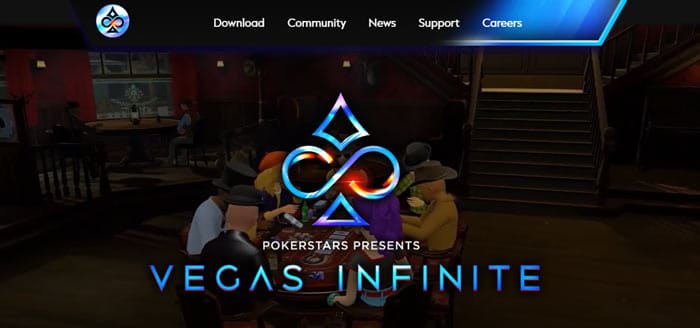 The Ultimate Free-to-Play Social Casino
Vegas Infinite social casino is designed in a way that it offers its users a fully virtual environment where players can step onto the casino floor and pick the games that they want to play. They can do it on their own by playing games such as blackjack or roulette or even decide to shoot some craps or play some slot games.
This way, players can challenge their friends by participating in Spin & Go, Sit & Go, or various multi-table poker tournaments. You also have the option of sitting down with your friends at a private table and playing against people you know.
The full VR experience allows players to step into a new reality that features exclusive rooftops, private suites, a luxury casino floor, and even a galactic space station where you can play.
| Aspect | PokerStars VR | Vegas Infinite |
| --- | --- | --- |
| Launched | 2018 | September, 2023 |
| Game Experience | Virtual poker, social casino | Virtual poker, blackjack, roulette, slots, craps, and more |
| Cross-Platform Availability | Oculus Store, Steam, PlayStation Store | Oculus Store, Steam, PlayStation Store, Steam VR, Meta Quest VR |
What Players Need to Know
Being that from September 10, the brand will be officially known as Vegas Infinite, there are certain things that current players should be aware of. Since changes are still happening, you might come across the old name in certain promotions. But rest assured that this is not the case anymore and that the rebranding is happening.
Creators have decided to take their game to a whole new level. Over the years, it has become much more than mere gaming and much higher than plain VR. You also need to know that all of the games on the platform are still powered by the PokerStars engine. It should provide a safe and authentic experience for all users.
Also, from now on, users can download the game at the Oculus Store, Steam, and PlayStation Store. No headset is required. If you are an older user and already have the game, you can continue from where you left off and simply load the game to continue.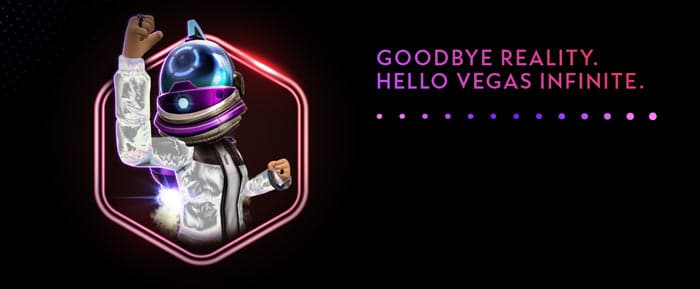 Worldwide Social Interaction
Vegas Infinite social casino now puts a specific emphasis on the social aspect of their game. You still get to interact with the chips, cards, and everything as you would in a real casino, but now you get to do it with friends. Or you can even meet new people who have the same preferences as you.
Besides the fabulous multiplayer experience that the game had, you will now be able to interact in real-time with other people who are a part of the game. Let's now forget all the accessories and the customization option, without which this game won't be the same.
A Growing Portfolio and Player Safety
The evolution of the platform also comes with the addition of a completely new roster of games. So, besides regular ones, it will be updated with new ones that you will get to play. Not only that, you will be able to play them in all kinds of exclusive surroundings.
Being able to handle all the items in the game the same way as in real life is only a small part of the game's offering. The captivating environments make a world of difference and is where the evolution of the game lies. Add to that a near endless supply of items and accessories and you will get how this game affects users.
Conclusion
The move that they made in rebranding their product was a solid one. Not only have they been able to improve it, but they also made both the old and new players happy.
The transition for the current players is seamless as they will continue where they left off. But in an enhanced setting. New users will definitely be attracted by all the sparks and innovations that the platform comes with. These are, without a doubt, its main highlight.