The Oneida Nation has paired with Caesars Entertainment to open the Lounge by Caesars Sports at Turning Stone Resort Casino.
So, of course, many sports betting fans in New York were eager for this new sportsbook. Now that is finally live, here is all the information we know about this new Caesars Sportsbook NY. One day, you'll also be able to get the Caesars bonus code here too.
Jump to
New York Sports Betting
Firstly, you may be wondering if sports betting is legal in New York. Now, after PASPA, the Professional and Amateur Sports Protection Act was overturned in 2018, it paved the way for legal sports betting in the US. So, states have been able to legalize and regulate sports betting on a state-by-state basis.
Recently, New York state passed legislation to allow for New York casinos to allow for licenses to open and operate on-site sportsbooks. That means that existing casinos can open their own on-site retail sportsbooks. That means a lot of existing casinos are partnering with existing sportsbook operators.
Caesars Entertainment has partnered with Turning Stone Resort Casino to introduce The Lounge sportsbook. Caesars Sportsbooks were already up and running in other states, online and in person. Finally, the Turning Stone Sportsbook opened this summer. However, since NY Online Sports Betting is still not legal, it is hard to say when an online betting platform can be expected.
Things are moving fast for the Empire State and hopefully, when land-based sportsbooks launch and prove their success, online and mobile sports betting platforms will be available. The Caesars app is already available in many states already although not yet NY.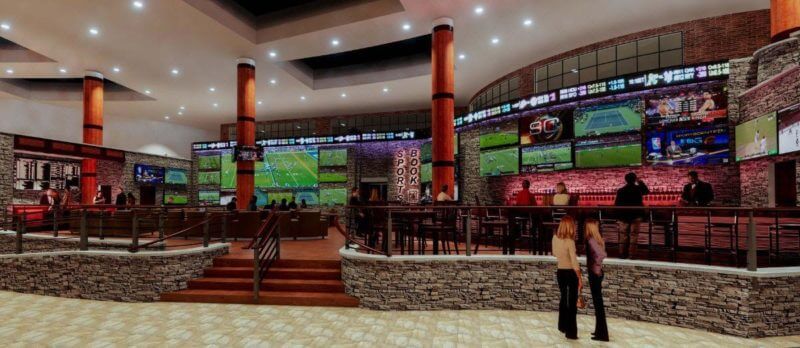 The Lounge with Caesars Sports
The Lounge with Caesars Sports is the name of the Caesars Sportsbook at Turning Stone Resort Casino. And, there will be two other Caesars Sportsbook NY locations opening through Caesars partnership with the Oneida Nation. So, here is what we know about this retail sportsbook.
The new sports betting is furnished with LED terminals. The LED terminals have televisions with high definition resolution as well as the newest boards. These boards constantly offer updates as well as opportunities for in-game bets.
And, the venue also has a full-service bar. Plus, ticket windows, extra comfortable seating, as well as VIP areas that have their own personal TV screens. So, the retail sportsbook has many luxuries available.
The Look of the Caesars and Turning Point Sports Betting Lounge
The Caesars Sportsbook at Turning Stone Resort Casino is located at the current site of the Season's Harvest Patio. The sportsbook lounge has a large 48 by 9-foot curved screen that will be reminiscent of Times Square. There is also twelve sixty five-inch screens. And, it has five eighty five-inch screens.
Plus, there will be a renovation to expand the gaming floor to accommodate the new sports betting lounge. The plan is for the primary video wall to have a 24 by 6.75-foot screen. This will be in addition to twenty-three sixty five-inch screens and eleven eighty-five inch screens.
Caesar Sports Betting
So, now that the sports betting lounge opened at the Turning Point Resort and Casino, customers are eager to check it out. But, they will want to make sure the sports they want to bet on will be offered. Here, you can find the list of the sports offered at this Caesars Sports Betting lounge.
So, here is a list of the sports featured:
Keep in mind, the major sporting events of the year will usually be featured heavily at sports betting lounges. So, you can usually expect to be able to bet on the biggest events of the year at any sports betting lounge. And, you can usually find promotions for these sporting events.
Live Streaming at the Lounge
Now, most sports betting lounges have live streams. These live streams are of the major sporting events that will be happening live. So, customers can place bets on sporting events and games and then watch the events unfold live.
And, the live stream offers another benefit. Customers will have the option to place in-game wagers as the sporting event is going on. So, they will know what is happening during the sporting event before they place an in-game wager.
Caesars Sportsbook at Turning Point Resort Casino Conclusion
Now, the Caesars Sportsbook at Turning Point Resort Casino looks to be a very promising retail sportsbook. Being one of the first sportsbooks that opened in New York along with Rivers Schenectady, Tioga Downs, and Del Lago, it is definitely worth checking it out.
The sports betting lounge is state of the art. And, they seem to know what sports betting customers want. So, New York state residents should be very excited about this new retail sportsbook.