Looking for a SPARKET promo code? We just might have the answers you are looking for. SPARKET's the Social Betwork is a unique gaming platform that essentially allows users to wager on limitless betting types.
They offer a unique, never before seen in the industry concept and one that might already start to shake things up in the USA and beyond.
You can check here some of our other sportsbook offers!

| Welcome Bonus | Bonus Details |
| --- | --- |
| SPARKET Welcome Offer: | TBA |
| Key Terms: | TBA |
| General Bonus Conditions: | TBA |
| Minimum Deposit: | TBA |
| SPARKET Promo Code: | TBA |
Jump to
How does SPARKET Work?
SPARKET recently joined up with WagerWire to create an ultimate B2B platform that should shake up the online sports betting industry. What came out was the SPARKET peer-to-peer platform and its Social Betwork model.
The idea behind it is that users can use this bet-on-anything platform to create their own prompt bets and allow other customers on the site to wager on them. The SPARKET pari-mutuel betting system can be employed in such a way that you can create a bet on almost anything, not only sports and e-sprots.
When creating your bet type, you can set the odds and will then receive a commission as a percentage of the winnings taken directly out of the pool. The gamification system also provides an incentive to some players by rewarding them for their participation.
Registration Process – Step by Step
To be able to use the Social Betwork, you will need to create an account on the platform. It is a simple process that requires you to complete a few steps.
Open the main page of the site.
Find and press the SIGN UP button.
Create an account either by Google account, Facebook, or email.
At the current moment, the site has still not made any welcome offers available, nor is there a SPARKET promo code field. Hopefully, we get them soon.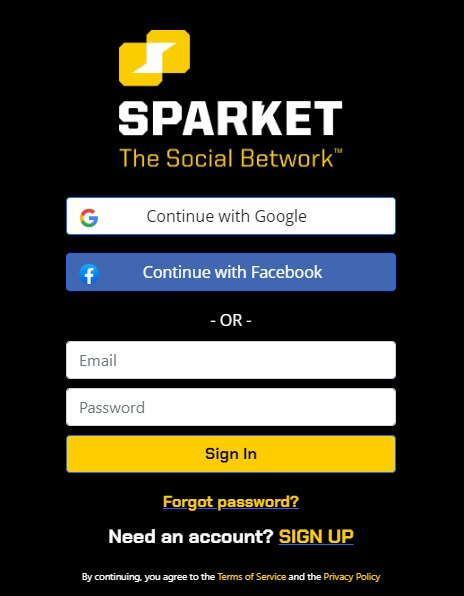 The Social Betwork
The SPARKET Peer-to-peer model works on the basis that users can essentially bet on anything. It offers limitless betting types as users are allowed to create their own customer wagers. At the same time, they can set their own odds, while other users can decide whether they want to participate or not.
The offer of free-to-play and pay-to-play betting opportunities is very versatile and much wider than on traditional betting sites. Making this one potentially more appealing ot the masses.
SPARKET App
You might assume that a platform like this already has an app. However, the SPARKET app is still under development and users are left to use the web-based platform instead.
The absence of the SPARKET app is not hurting the user base as customers are quite content using browsers like Chrome, Firefox, Edge, and Safari to access the site and use the offered services that way.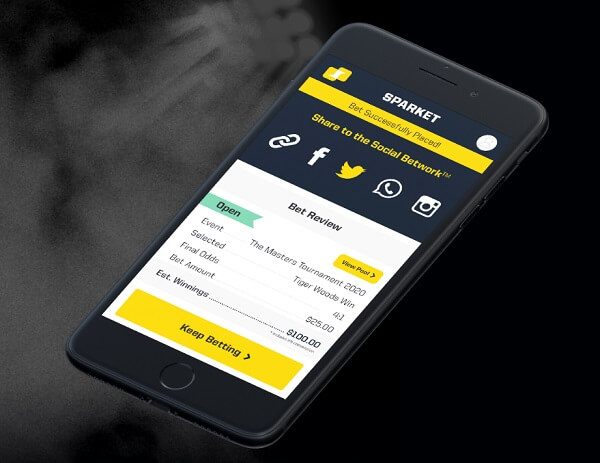 SPARKET Pros and Cons
Even though this concept sounds foolproof, some pitfalls do exist as no system is made to be completely perfect.
Pros
A very creative and unique approach to online betting.
They have partnered with some of the industry's giants, giving them added credibility.
The bet-on-anything platform allows for near-endless possibilities when it comes to wagering.
Cons
It requires a period of getting-used-to it. It is a novel concept that not a lot of people are familiar with or are willing to learn.
They should create an app to help the people that want to wager remotely.
More helpful articles about how to use the services should be created.
Available Payment Options
The operator has failed the specify exactly how the payment system works. When creating an account, you do have the Bankroll page available to you.
But the very existence of SPARKET pari-mutuel betting implies that real money is definitely going to be involved at some point, especially if they are to introduce a welcome offer or a SPARKET promo code.
Customer Service
At this point, the only way that you can reach the operator is through the mail – [email protected]. They might decide to set up other channels for contact, but at the moment, only one exists. Some useful tutorials and advice pages exist in the Help section, though.
SPARKET Promo Code Conclusion
The SPARKET peer-to-peer model is definitely one which is interesting to fans, and more and more traditional bettors are crossing to it or are at least interested in finding out what it is.
We don't think that it will still overshadow or completely substitute the current way of doing things, but it is a very peculiar alternative that allows people who are fed up with the old to try something new.