No one wants an injured player. Sports injuries are something that no team or manager would like to experience. It costs the team much more than one would think. However, most would agree that having an important player sidelined for the majority of the season can have a devastating blow not just on an individual but also on an entire team.
One of the current examples is the hamstring injury of Manchester United's midfielder Paul Pogba. The French star started off the season on a tear and even led the league in assists made. Man Utd were at the very top of the league as well. However, his injury has limited him to only 13 appearances this season, with nine of those in the Premier League and his team dropping significantly down the pecking order.  
Another soccer start that has been mostly out this season is the Brazilian captain Neymar Jr. The ankle injury that is keeping him off the field has also limited him to only 10 appearances for his club PSG this season. The MLS is not immune to similar types of injuries as there are a number of players that have been struck by ACL problems with Eddie Segura of the FC Los Angeles being out by late March and Kevin Molino from Columbus Crew till early May. But the Toronto FC midfielder Ralph Priso might have gotten the worst out of it as he suffered a broken ankle.
Although devastating for the player's mental state, most people are also asking themselves – How much do these injuries cost? Expenses can rack up and can accumulate to a small fortune and could be problematic, particularly if one does not have insurance.
Most Common Injuries in Soccer
While people like you and me that occasionally play recreational soccer can get away with sore muscles or sprains, professional soccer players are liable to much more devastating injuries than that. Players put their bodies to the test each time they rush to the field and sometimes suffer horrible career-ending injuries.
While most soccer players usually end up with an ankle sprain or a knee injury, some can go through shoulder dislocations or even leg breaks. We all remember Mo Salah's shoulder injury in the 2018 Champions League finals that probably caused Liverpool the trophy. Also, we can't forget Roy Keane's tackle on Alf-Inge Haaland, which eventually forced him to retire from soccer.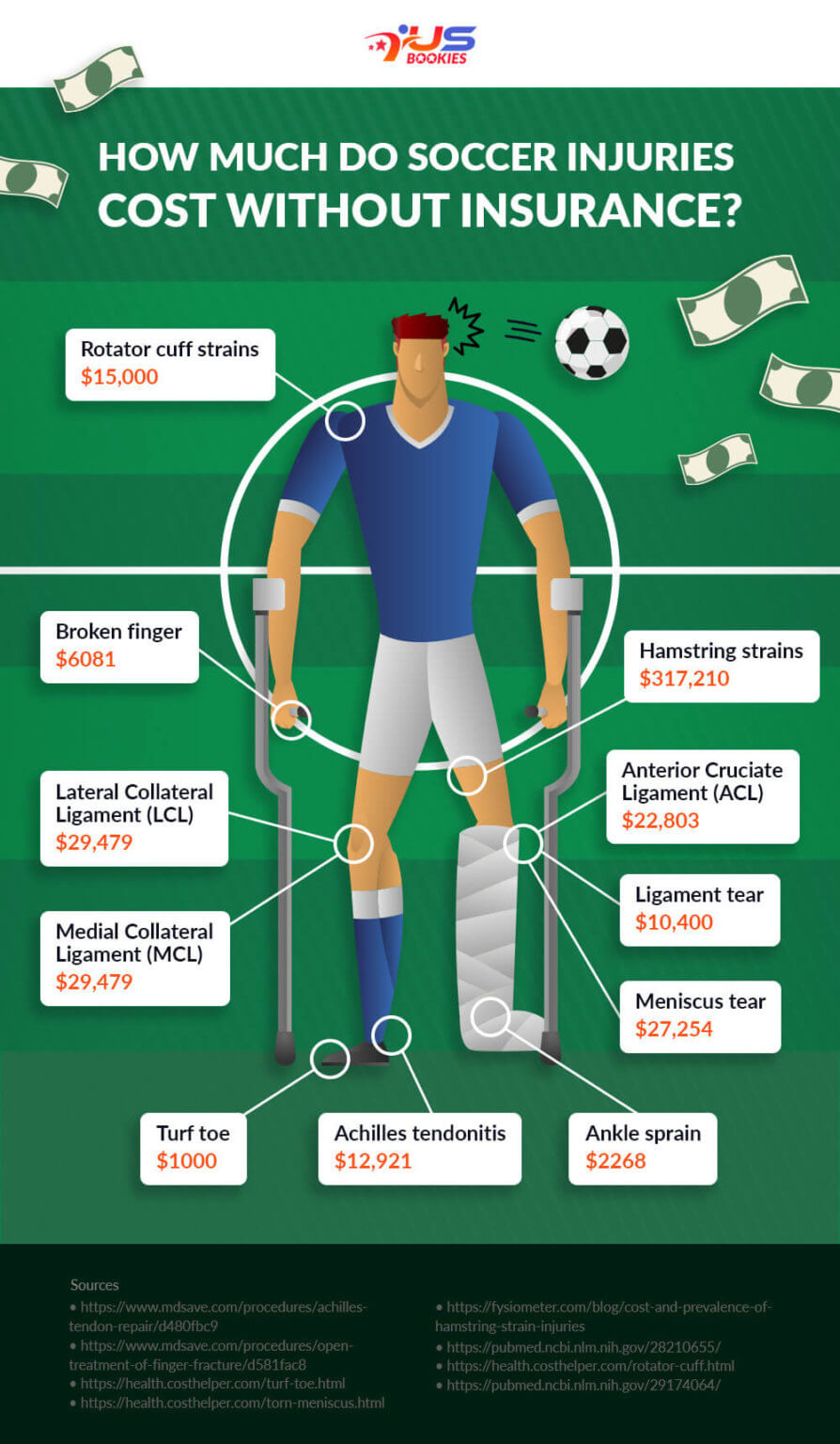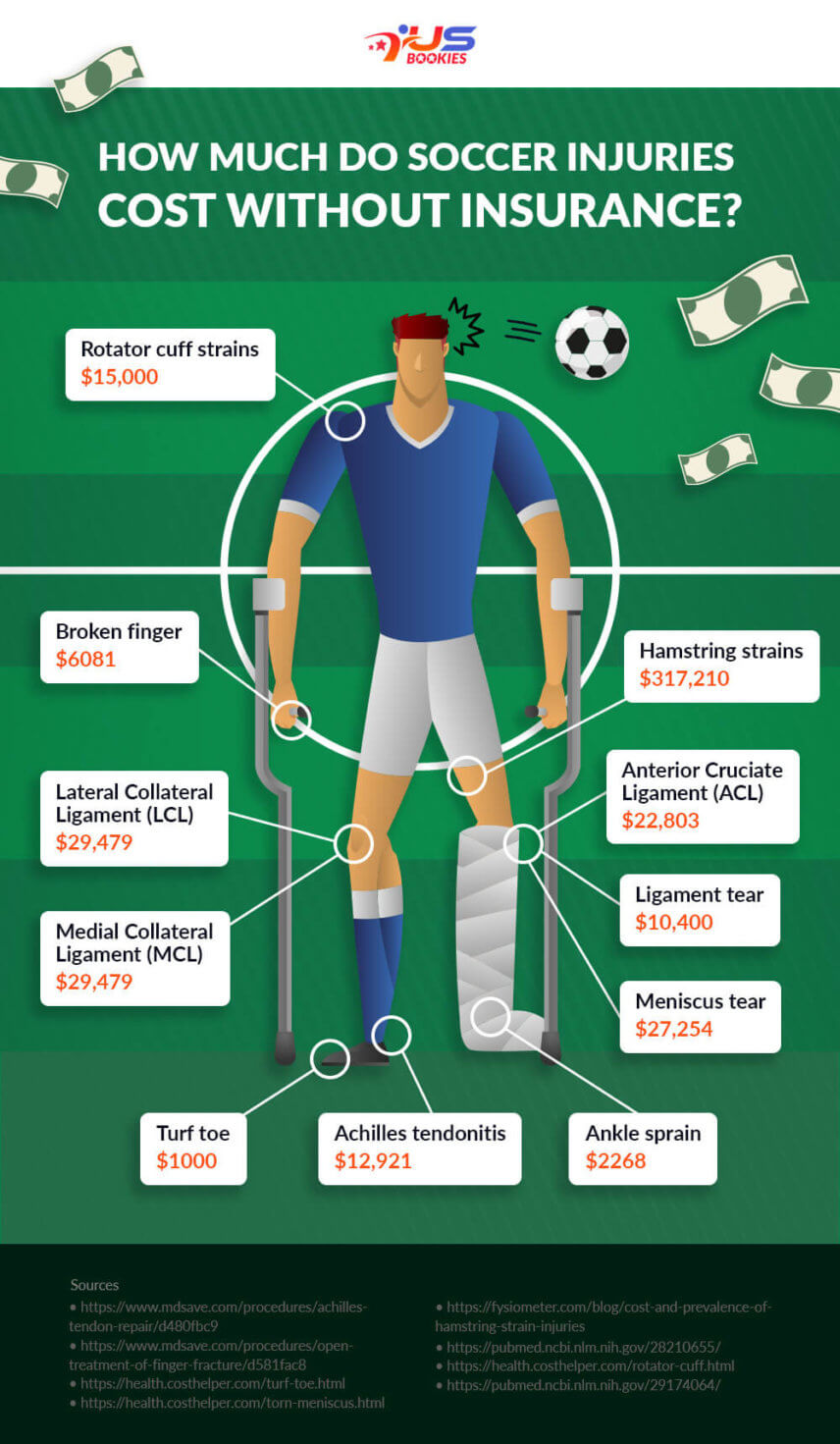 But some injuries do have a happy ending. The Swedish international Henrik Larsson went through a devastating leg break during Celtic's matchup against Olympique Lyonnais as part of the 1999 UEFA Cup game. Larsson was carried off the field with his leg broken in two places becoming the stuff of nightmares and many memes. Fortunately, he was able to return better than ever and managed to score 35 goals in 38 league games and win the 2000 European Golden Boot the very next season.
Cost of Soccer Injuries Without Insurance
Read the approximate cost of some of the most common soccer injuries here.
Hamstring strains – $317,210
Anterior cruciate ligament (ACL) – $22,803
Medial collateral ligament (MCL) – $29,479
Lateral collateral ligament (LCL) – $29,479
Rotator cuff strains – $15,000
Ankle sprain – $2,268
Achilles tendonitis – $12,921
Broken finger – $6,081
Turf toe – $1,000
Meniscus tear – $10,400
Ligament Tear (Avg of ACL,MCL,LCL) – $27,253.66
As you can see, the hamstring injury is not only the most expensive one among running based sports, it is also the one that happens the most often. Hamstring injuries account for 12% to 16% of all injuries related to soccer. This means that during a regular season, one of five soccer players will face this injury.
Even with advanced sports technology and medical knowledge about the conditions, HSI's presence among soccer players is only increasing. It makes the planning of the season for the manager and the team fairly complicated and presents a critical problem for the health staff of each team.
Methodology and sources
We researched the most common soccer injuries and how much their treatment costs.