Smarkets will soon be offering a sportsbook site. This will allow customers to place wagers on their favorite college and professional sports In the following review, you will learn more about this brand and its future in the US.
They have operated as a sports exchange for years. Now with the new Smarkets app pivots toward a true sportsbook site that will offer the opportunity to bet on almost any sport. This will include basketball, baseball, football, hockey, as well as tennis, cycling, cricket, boxing, and much more.
This should open the door for customers who have found the site's information invaluable. No longer will they have to use the site to find brokers to make Smarkets matched bets. Now they will be able to place bets directly through the site. This takes away Smarkets as the middleman and makes its betting markets even more valuable as customers can soon place their bet directly on the site.
Continue reading this Smarkets sportsbook review to learn more about this brand. We will go over all the important details.
Jump to
What can we expect from the Smarkets Sportsbook?
Smarkets has already established themselves as one of the leading betting exchanges on the market today. So, it was no surprise to see that they are transitioning to the idea of creating a sportsbook site. The infrastructure is already in place.
This includes the Smarkets fixed odds, betting odds, insider information, and much more. This has provided customers with a wide range of services and information that can assist them to make smart bets.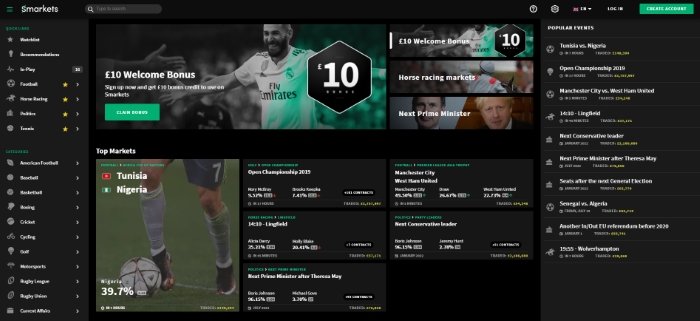 Screenshot taken from the UK website
At Smarkets horse racing, boxing, baseball, football, and other major sports information and betting opportunities have already been available. The site also already provides champions league information for news and odds from other international events. Soon, customers will be able to take that information and place wager directly on their site.
About $5 million has been spent on the new app, platform, and promotion related to the new sportsbook. So Smarkets betting has now gotten a whole lot better. You will receive all of the previous features provided by the site. Plus, you get the ability to use the sportsbook feature.
In the next section of our review, we will explain what Smarkets is.
What is Smarkets?
This review found that the site is a betting exchange service. They offer the ability for customers to 'bet' and trade on sports, politics, and even current events.
As a betting exchange, Smarkets has not actually taken bets but acts as a go-between. In this capacity, they create connections between sportsbooks and consumers.
This allows them to be able to place bets through those using the service.
In addition, Smarkets provides a great deal of information related to odds and information on sporting events and current events.
The bookmaker's betting information is up-to-date and quite thorough. Smarkets provides the latest results on sporting events from across the globe. Also, election results and other important international events information is also provided.
They have established themselves as a premier location for sports news and odds. Customers can also find information related to the odds of national and international events. They have established themselves as the premier company for information related politics.
Customers can get predictions and information related to political information. This can include who will win elections or which parties are most likely to control legislatures. They also can see how referendums and laws may turn out.
Is Smarkets legal in the US?
This is a very important question. It is why we have decided to include it in our Smarkets sportsbook review.
In their current function, there has been no problem with Smarkets operating in the United States. To this point, they have been nothing more than a betting exchange. This means that they are not violating any law at all.
With the Supreme Court ruling that sports wagers should be allowed throughout the country, this has opened the door for Smarkets. Now, they will be able to accept bets directly. This is the reason why they have opted to create their Smarkets app. It will enable people to make bets and wagers.
What has complicated the process is that Smarkets must get a license from each individual state to operate legally. That will likely mean that they will provide its wagering in a handful of states initially. Then, they go through the licensing process in others.
Remember to stop by and check our review, since we will keep it updated with the latest news.
Customers in states where Smarkets is not authorized to provide bets will find that they are locked out from this feature. This is to prevent any legal ramifications for the customer or the site itself.
Smarkets Sports betting
It is expected that Smarkets will offer many of the standard bet types found on any other sportsbook site.
This will include but is not limited to:
Moneyline bets
Betting on the spread
Prop bets
Performance betting
Futures betting
In our review, we've decided to take a closer look at each of these betting types.

Screenshot taken from the UK website
Moneyline
The simplest bet of all. Customers can simply bet on who will win the game without odds being a factor. Over/under is also included in this type of wager. The moneyline can also include quarter and halftime scores. This allows you to make wagers based upon what the score will be after the first quarter or the half.
Spread
Betting on a contest where a winner is expected to prevail by a certain number of points. For example, if Miami is expected to defeat Detroit by 10, the spread would be Miami -10. If Miami wins by nine, a person taking Detroit would win.
Prop Bets
These types of bets can include almost anything. Like which television commercial will be shown first during the Super Bowl. This like if there will be a 60-yard field goal attempt in the game are also common.
Performance Betting
You can also wager on performance by athletes in a game. This can include how many saves a goaltender will have. You can be on how many yards a running back will have during the contest. You can bet on how many points a certain player will record.
Futures
A type of wager where you bet on such things as who will win the championship. Things like how many victories a team will have at the end of the season are common. As are who will be named the MVP.
To this point, the policy has been that when you use Smarkets commission is paid to the site. This is for brokering the partnership between the customer and the sportsbook site. It is expected that they will still be accepting some form of commission on their new sportsbook site.
Smarkets Betting Markets
Smarkets has already been launched in a beta platform. This means that it is being tested to see if there are any bugs that need to be worked out.
Recent reports have concluded that Smarkets is attempting to get into markets by following the same track as some of the other more common sportsbooks. This will mean that they will likely provide their app to casinos and horse racing venues. These are places that are likely to receive a license before the NFL season gets underway.
This could mean that the market could move rather quickly for Smarkets. That is should they make agreements with casinos to provide a sports wagering application immediately. Then the new app could be out for Android and iOS within weeks.
They have already reached an agreement to partner with Squawka to provide additional statistics to customers.
We will update our review as we have more information about the Smarkets betting markets available.
Smarkets Mobile
The Smarkets app is already available through both iOS and Android. However, it is only providing a betting exchange. Until they have been officially approved to offer sports betting the new app will not be available.
However, according to most reports, this app should be available sometime during 2019. That is when it is expected that they will receive a license in a few states to accept sports wagers.
Will there be a Welcome Bonus?
Exact details have not been provided as to how the site will operate. It would only be natural to suspect that there will be a Smarkets sign up bonus. Most sportsbooks offer some kind of incentive to entice customers to use their site. This can include promotional bonuses such as:
1-to-1 deposit bonuses
Bonus betting
No deposit wagering
Referral bonuses
1-to-1 Bonuses
One of the common types of sign-up bonuses is to allow customers to deposit an amount that is matched by the sportsbook. This would mean that if you deposit $250, the site would match that amount. The total amount of the match usually does not exceed $500. Some are as low as $250.
Bonus Betting
This allows you to place wagers without suffering any losses initially. You are in essence playing with "house money." This allows customers to get familiar with the site and to earn some money if they are successful in the bets they place.
No Deposit Wagering
No deposit wagering allows you to begin wagering without having to deposit a certain amount. Either a line of credit is established or deposits are taken in as needed.
Referral Bonuses
It is quite common for sportsbook sites to offer new customers one of the three previously mentioned bonuses as well as referral bonuses. This means you can make a profit by referring others. Referring people like friends, family members, neighbors, or others you know can earn you money.
It seems inevitable that the relationships and partnerships will make Smarkets a success in the U.S. sportsbook market. They could just be a few weeks away from legally being able to accept sports wagers. We hope that this Smarkets sportsbook review has provided you with answers to all of your questions. Remember to stop by in the future, when we will have more updates for you.