RushGames is an easy, free-to-play, and fun website offering about every kind of table game, slot machine, and casino-style card game under the sun! RushGames is also starting to offer real sports betting in some jurisdictions.
Either way, the site a great way to get your spin fix with virtual slots, table games like blackjack, Bingo, and more. A new option to make play bets on your favorite sports teams is also included!
Want to play for real money? Then check out SugarHouse Casino or Hollywood Casino Online!
What are the RushGames offers?
This is a free-to-play game where you win virtual credits that keep you spinning, placing bets, and winning! While this is not a real-money app, the thrill of victory is the most valuable reward on RushGames. However, this website keeps you engaged with plenty of fun games, daily bonuses, and more. The AEW Casino is a very similar concept as well.
| | |
| --- | --- |
| RushGames | RushGames Review |
| Free Credits Daily! | Check-in every day with Rush Games to get free virtual credits! Free spins, free bingo games, and more daily bonuses are offered! |
| Free Daily Games And Spins! | RushGames offers bingo and free spins of the wheel for more Virtual Credits! |
| System requirements | Any web-enabled device with a working browser, for example, Mozilla FireFox. No mobile apps as of yet. |
| Payment options | You can purchase more VCs (virtual credits) if you run out by visiting the VirtualCredit store. Most major credit cards, ACH, and PayPal are accepted. There are no cash-out options because this is a free-to-play game. |
| Customer service | RushGames offers a great FAQ section. It also has a pretty good response time when contacting their email help department. There's no 24/7 Live Chat support as of yet. |
Jump to
RushGames: How it works
This RushGames review is going to give you the honest skinny on whether or not the website is worth it. Here's a spoiler — it is. The customer service has a little bit to be desired, but more than anything else RushGames is a great place to get plenty of bonus points that will keep you playing.
First of all, the platform offers so many slot options, you'll have plenty to choose from. In addition, with Video Poker and Video Bingo, you can play live games with other folks and a live dealer. This is always one of the most exciting game types to play. Table games, roulette, Blackjack, poker, and more games including a brand new sportsbook await you– and as any card shark will tell you, practice makes perfect. The same is going to be true for your sports bettors out there– RushGames offers a sportsbook option as well! The Sports section lets you place fun, bonus bets (no real money). Bet on everything from college ball to golf to soccer to snooker, now on RushGames.
Keep in mind that it is entirely free-to-play! Although you're not going to be winning any real money,  getting a feel for the games and an idea of the variances in certain hands, as any professional player will tell you, is half the battle. Here's an excellent chance to enhance your poker skills without any personal risk, and there are numerous bonuses and daily rewards to keep you engaged. The game is free to play for everyone in the US who is of gambling age (21+) because some of the games can border on the racy and even simulated gambling is illegal for minors in most jurisdictions.
Payment Options For RushGames
Playing on RushGame is free and you receive Virtual Credits every four hours plus a special daily bonus. Yet if you run out of credits, you can always add more. Getting more Virtual Credit (VC$) is super easy with RushGames. Just log in to the Virtual Credits store and use your preferred method of payment. You can add credits with the following:
Credit Card
PayPal
eChecks
ACH transfers
Remember, this is just simulated gaming, so you don't have to spend any of your hard-earned money to get playing with RushGames today. Add more virtual credits to your account easily and securely to keep playing using everything from ACH to PayPal and more. Plenty of daily bonuses and extra spins will get you playing casino games and your favorite poker types on RushGames today. You'll also get a free game of bingo every day, just for playing.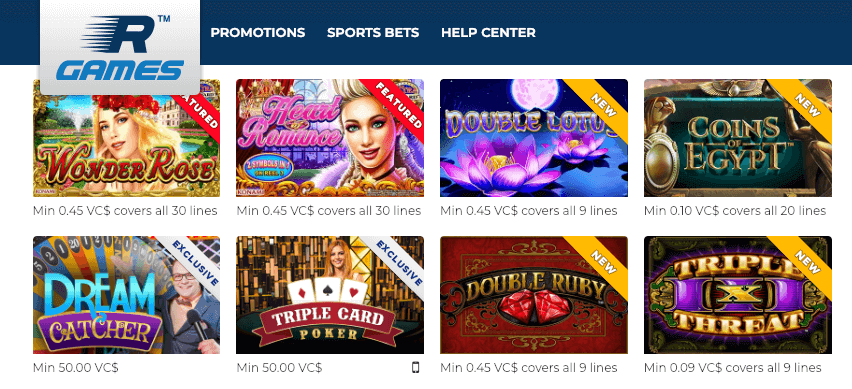 Dozens Of Game Types On RushGames
With over 50 different slot machines, the site lets you learn your way through different covers and minimum wagers using virtual credit. Hundreds of players getting on the tables and poker mean you'll always have a chance to get online and play with real people. Work on your bluffing technique and get a feel for your odds — there are always players and new game types. The key to getting a competitive edge in your real poker games is playing. RushGames offers you an excellent opportunity to do so with minimal risk involved. Poker is all about knowing the odds for each hand, and the only way to get that feeling is to play as many games as possible. RushGames makes playing and learning easy, fun, and most importantly of all, free.
Free live casino games
Like slots? You're more than covered, with over 50 different slot games to choose from. More into table games? Bingo and roulette, Slingo, video bingo, and other table games waiting for you. Also, you can play video poker with live dealers, baccarat, Texas Hold'em, three card draw style poker, and more. Get online and playing today and get daily point bonuses, free spins of the wheel, and ridiculous jackpot bonuses when you sign up today.
Bored with your current selection of games on RushGames? That seems unlikely because there are over 50 slot types alone and more card games than you could play in a lifetime. But if you feel a little stagnated, don't worry– RushGames offers new casino games all the time. Plus, with new game types like Slingo– which is essentially a mashup of video slots and bingo– and exciting, live games like Video Poker and Video Bingo with live models as your dealers, we doubt RushGames will leave you wanting. Video Poker is also one of the more exciting game types offered by RushGames. It gives you a chance to practice your technique with the sound and feel of an actual casino around you, which as any pro player will tell you, can be a big distraction when getting your mind around the cards.
RushGames Review Of Customer Support
The site has an extensively written FAQ section that can usually answer any support or billing questions you may have. If not, email support is usually quick enough to get at your answers within a day or two. Just make sure you send a clearly worded query to the folks at RushGames and they will get back to you with an equally clear, helpful response. You can also give them a ping on Facebook or Instagram, but we've had the best luck with email.
Some other websites offer full-time, 24/7 live chat support, but RushGames does not, so you might have to wait a day or two if your question is sufficiently complex. Never fear, because RushGames tends to make things right, so if you air a grievance or have a complaint, they'll usually credit some VC$ to your account just to keep you happy.
RushGames Is Super Easy To Hop On And Play
It took us about thirty seconds to sign on and start playing our favorite slots, table games, and more. Signing up just requires a valid email address; no credit card or banking details are required to get online and start playing. Daily credits and bonus play give you new reasons to play every day, and there are new and exciting casino games and live video games to keep you playing and learning.
Whether you're trying to learn about the world of table gaming, video slot machines, and poker, or just looking to blow off some steam and see some points piling up, RushGames is the place for you. With an easy account set up, no apps to install, and more than one way to add points and keep playing, RushGames is an excellent option for both beginners and experienced players seeking a safe environment to enjoy poker, table games, and more. Practice your poker edge, get a better feeling for how the odds play out in roulette or practice your hits in Blackjack. Any way you play, RushGames will give you more reasons to start and keep playing!
Our Final Verdict On RushGames
| What we like | What we don't like |
| --- | --- |
| No apps mean any browser-enabled device can play Rush Games | No 24/7 account support like with other websites |
| Daily bonuses mean every log-on means new chances for extra points | Video poker can have streaming issues |
| New game types added regularly | |