Sports fans will be thrilled to explore all that the Pointsbet Sportsbook has to offer. The Pointsbet online sportsbook offers users an opportunity to put their knowledge to the test and place wagers for potentially huge payouts with a wide variety of betting options available.
The site uses the latest and greatest in encryption software, so users can play with knowing that their data and personal information is safe and secure.
The Pointsbet Sportsbook offers traditional betting but also offers users the opportunity to engage in points betting–a type of betting where both wins and losses tend to be greater, as the points accumulate depending on how much is wagered and won or lost.
Sign up is fast and easy, and users can also take advantage of being able to play from their mobile devices.
Jump to
PointsBet Sportsbook NJ
When the Australian bookmaker PointsBet launched in the US, it is no surprise that it did so in New Jersey. The Garden State was the first to launch legal online sports betting with a multitude of online and mobile sportsbooks going live after the PASPA repeal in 2018.
However, PointsBet quickly stood out with its unique betting system, smooth interface and regular promotions. PointsBet NJ partnered with the Meadowlands Racetrack in Atlantic City.
PointsBet Sportsbook MI
At the time of this writing, PointsBet has recently been added to the line up of online sports betting in Michigan. Fans of any Detroit teams will be happy to use this top-tier sportsbook. It's making a huge name in other states.
PointsBet Sportsbook IA
In 2019, Iowa online sports betting went live and PoinstBet IA was one of the first online and mobile sportsbooks to launch there. While you still need to sign up in person at a retail establishment, and there are limits to where you can use the PointsBet IA site and app, this is a great opportunity for any sports betting enthusiast in the Hawkeye state.
PointsBet Sportsbook CO
PointsBet is now a staple for online Colorado sports betting. PointsBet has a variety of partnerships with NFL teams and it could also be a possibility that Denver Broncos become one of them as well.
How to place online bets with PointsBet Sportsbook
For users who are new to the concept of points betting, let us quickly run down how it all works. Unlike traditional betting, users will be placing wagers and bets on points instead of the more traditional given odds. For example, if your bet wins one point (or unit), you win 1 x your bet amount (or stake).
If your bet wins by 2 units, you win 2 times your stake, and so on. On the flip side, if you lose by 1 unit, you lose 1 x your stake. A loss by 2 units results in 2 times your stake etc. As you can see with points betting, it is possible to wager and win a lot, but this type of betting can also result in big losses in equal measure.
To place points a bet via points betting, here is what you need to do:
Create and fund an online Pointsbet Sportsbook account (use a PointsBet promo code for an initial boost)
Select the market from the list of supported sports (NFL, Soccer, NHL, Rugby to name a few)
Choose the game or event that you wish to place a bet on
Select a team, and then select whether or not they will score over or under the amount listed
The amount won will depend on how many points the team scored over or under the amount bet on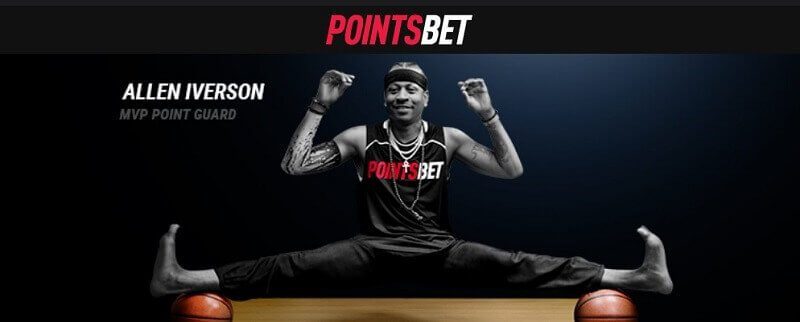 Pros and Cons of Pointsbet Sportsbook
As with a lot of betting options, points betting has a lot of pros and cons that it is important that you understand before getting started. It offers the opportunity to make a significant amount of money, but on the flip side there is always the chance of big losses.
The site does offer a range of great bonus offers, especially upon initial account creation, which can get you started playing and winning right away after your first PointsBet deposit.
The site does offer more traditional forms of sports betting for those wishing to partake in that instead. However you choose to play, the site is safe and secure making it a great option for any sports fans wanting to participate in sports betting. It is also worth noting that any players must be at least 21 years of age, and be within the New Jersey state borders when placing any bets.
| Pros | Cons |
| --- | --- |
| Large variety of sports to choose from | Potentially large losses |
| Large payouts for correct bets | No opportunities for round robins or teasers |
| Great bonus options | |