PointsBet is a legal and reputable online betting platform that is available in several US states. It has attracted lots of attention because of its signature "PointsBetting" system that differs from the fixed odds type of betting that you can typically participate in on an online sports betting site.
There is a PointsBet signup code for new players, a superb betting app, and a great selection of markets. To make the most of their PointsBet betting experience, players need to fund their accounts first.
Our article breaks down the most important information related to PointsBet deposit methods and payment options in general. Keep on reading to learn more about them.
Jump to
PointsBet Deposit Options
We'll begin by listing all the PointsBet payment options players have at their disposal. These include both PointsBet deposit and PointsBet withdraw methods.
ACH/eCheck
Cash
Credit/Debit Card
Online Banking
PayNearMe
PayPal
PointsBet MasterCard
First, we have to note that not all of these methods are available in all the states in which this brand is present. We'll explain which of them are available in Indiana, Iowa, and New Jersey (respectively) later in our article on PointsBet deposit options.

Let's say a word or two about all these options. Automated Clearing House payments (ACH) and electronic checks (eChecks) enable you to transfer your funds between bank accounts electronically.
Using cash as a PointsBet deposit option entails you going to this brand's land-based casino partner and making a deposit there in person. You can of course use them at the PointsBet online casino as well.
Credit and debit cards are another popular method, as the transactions are typical instant. You can apply for a PointsBet MasterCard and use it for your deposits and withdrawals. Online banking enables you to make online transactions by registering a bank card. You will need to register for the online banking-enabled card that your preferred bank provides.
PayNearMe is a convenient payment option. You need to select this payment option in the Cashier once you are logged into your account. Print your payment slip and take it to an authorized payment location (e,g., 7-Eleven) where you pay in cash, and your funds are immediately deposited into your account.
PayPal is also available. It's one of the most popular e-wallets, with more than 300 million users worldwide. All your details and transactions are protected, and all your payment details are safe on your account.
It's also important to know that crypto and cryptocurrencies like bitcoin, Ethereum, and dogecoin are not viable deposit nor withdraw options on this, or any, sportsbook.
Bonuses
One of the most common bonus promotions you will find on the PointsBet app and other online sports betting platforms is a matched deposit offer. This promo type applies both to new and existing customers. PointsBet is no stranger to such deposit offers. We've explained what you would need to do to claim one below:
Log into your account if you are an existing customer or follow the steps to open an account if you are a new player.
Opt in for the matched deposit promotion.
Make an eligible deposit using one of the available PointsBet payment options.
Make sure to meet the promotional terms and conditions.
Claim your deposit bonus.
PointsBet Withdrawal Options
Whenever you want to make a PointsBet withdrawal, you can do so easily using one of the options available. Here's what they are, depending on the state:
Iowa:
ACH/eCheck
Cash at Catfish Bend Casino
Online Banking
Indiana:
New Jersey:
ACH/eCheck
Cash at the Meadowlands Racetrack
PayPal
PointsBet States Availability
This brand is currently available in six US states– Colorado, Iowa, Indiana, Illinois, Michigan, and New Jersey. Hopefully, more states will follow soon and we'll update our content as quickly as we can. However, you should know that even though we are talking about the same brand in multiple states, this doesn't mean that the same payment solutions will be available in all of them.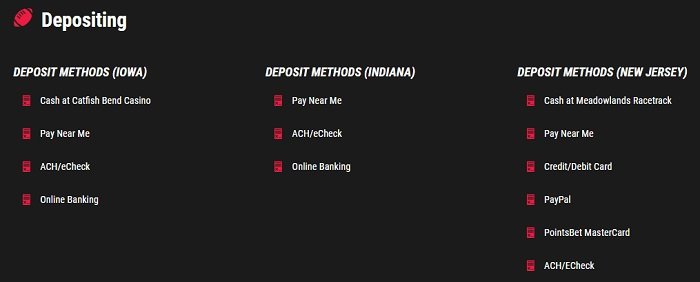 We have listed all the deposit options players have at their disposal in Iowa, Indiana, and New Jersey, respectively.
Iowa:
ACH/eCheck
Cash at Catfish Bend Casino
Online Banking
PayNearMe
Indiana:
ACH/eCheck
Online Banking
PayNearMe
New Jersey:
ACH/eCheck
Cash
Credit/Debit Card
Online Banking
PayNearMe
PayPal
PointsBet MasterCard
PointsBet Customer Support
In case you run into any problems when making your PointsBet payment, this brand's customer support team is on standby to help you out. You can get in touch with them using the live chat option or by sending an email. Alternatively, you can browse through the Support Center that covers a variety of common issues and try to find the solution on your own.