Are you looking for a Players' Lounge promo code? We just might have what you are looking for. Players' Lounge is one of a kind operator aimed at gamers. People who like playing games now have the ability to place bets on the matches that they are playing against other users.
Whether they are playing in solo H2H matches or they are participating in tournaments, users can play with or go up against their friends and wager at the same time.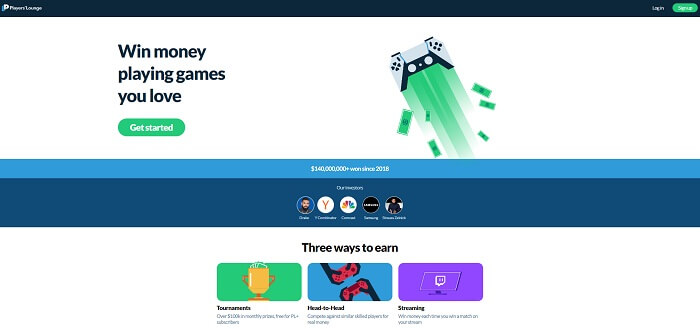 Players' Lounge Promo Code Offer
Gamers that want to play games and wager on them might also be on a hunt for a Players' Lounge promo code. Even though it is traditional for wagering sites to have a welcome offer for their users, this one still hasn't created one. But it does not mean that they are not going to add one in the future.
| Players' Lounge | Details |
| --- | --- |
| Features: | Tournaments, Head-to-head matches, streaming |
| Age Restriction: | Depending on the state |
| Players' Lounge App: | iOS |
| Players' Lounge Games: | Madden, NBA2K, Fifa, The Show, Call of Duty, Fortnite. |
| Last updated: | September 2023 |
| Welcome Offer: | TBD |
| Players' Lounge Promo Code: | CTA |
Bonus Terms and Conditions
Being that we are still waiting to see what the bonus code might look like, we can only assume what it could be. But what we can confirm is that it will certainly be limited to new players only. If they take the route of other traditional betting sites, this is the way to go.
Expect a signup offer or a deposit match bonus. As far as main requirements go, age restrictions will apply as well as geo-location restrictions to the states where the operator is live.
Players' Lounge Login
As far as the signup process goes, it is very much similar to what you see on other traditional sports wagering sites. You are going to have to complete a registration questionnaire before you can use the site features. Do it the following way.
Visit the operator's main page.
Press the Sign Up button on the main menu.
Provide the necessary information (name, date of birth, email, username, and password).
Hit the Create Account button to finish.
With a registered account, you can press the Players' Lounge login button and use the account credentials to enter the site whenever you wish to use it.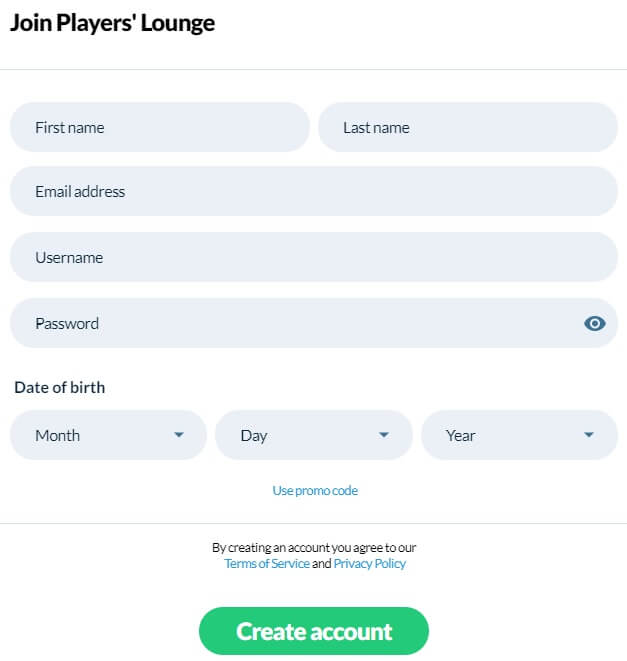 Players' Lounge App
If you would rather play games on a mobile phone and also place wagers that way, the operator has you covered with their very own Players' Lounge app. The app basically offers the same things and the same Players' Lounge games that you can find on the desktop site.
The app is available for download in the App Store, and for now, only the iOS version exists. We are still waiting for the Android one and might get it soon.
Players' Lounge Heat-to-Head
This type of model allows players to compete against other users in solo adventures and head-to-head battles. You are basically competing against another user, and you can also wager on the matchup as well. If you win the game, you might also get some money out of it as well.
Players' Lounge Games
Currently, there are six games available on the platform that users can play and wager on. There are four sports games and two shooter games. Players can indulge themselves by competing in:
Madden
NBA2K
FIFA
The Show
Call of Duty
Fortnite
Players' Lounge Tournaments
The tournament system involves multiple players competing in games in a longer run. After a user has participated in enough Players' Lounge tournaments, they will start climbing up the ladder, and if they are good, they will be able to win a certain prize pool depending on the final position they rank at. The same system is available via the Players' Lounge app as well.
Players' Lounge Streaming
Gamers and streamers basically go hand in hand together. People who are good at playing video games are usually streamers that want to show off their skills to other people and players. Therefore, Players' Lounge streaming allows you to earn something each time you win a match that you yourself are streaming.
Players' Lounge Promo Code Conclusion
Players' Lounge is a unique platform that mixes betting and gaming in one neatly tight basket. It is able to combine the best of both worlds and attract gamers to earn something based on their skills and how good they are. One can easily depend on how they perform, and that way, create wagers.
The offered games, the gaming concept, the available features like streaming, and the ability to earn a Players' Lounge VIP status are all pretty good additions as they help to reward regular gamers. All in all, a platform with an interesting gaming + betting concept that one should keep an eye out for.