Mountainview Thoroughbred Racing submitted a petition early in 2018 to request official and legal sports betting.
The application for a Hollywood Casino at Penn National sportsbook has been granted, with sports betting now live at the Hollywood Casino at Penn National.
| | |
| --- | --- |
| Monday – Friday | 11 AM – 12 AM |
| Saturday & Sunday | 10 AM – 12 AM |
| Location | Second floor near SkyBox Sports Bar |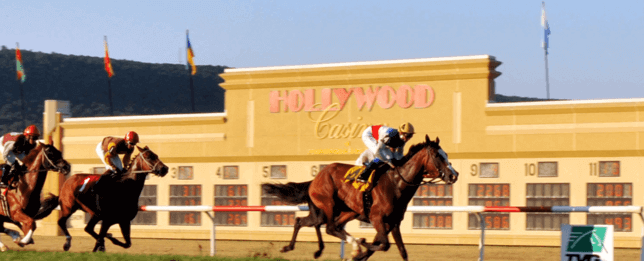 Jump to
The well-known and respected William Hill has partnered up with Hollywood Casino at Penn National to operate the sportsbook. This is the first sportsbook available to sports bettors in PA and is now open!
Legal sports betting was approved in the state of PA in 2017, so players can enjoy the betting services provided at Hollywood Casino at Penn National, which will be available just in time for the upcoming NFL season.
A number of other Pennsylvania Casinos and resorts have followed suit and are planning the opening of sportsbooks, including BetRivers Sportsbook and other former DFS companies. You can register at them by using a FanDuel promo code or DraftKings promo code.
Penn National Sports Betting Bonuses
There are already some great bonuses that are being offered at the Hollywood Casino Resort and with the new sportsbook open, we imagine players will soon be able to benefit from sportsbook bonuses and promotions.
Now with the online gaming platform available, you can also get a Hollywood Casino promo code and use it for a signup bonus.
With horse racing bonuses, players can earn bonus cash that can be used on wagers, increasing their chances to win. It is not known what specific bonuses will be available to sports bettors at Penn National, but members can be sure there will be some exceptional offers soon.
In addition to horse racing bonuses, bettors can benefit from loyalty programs that award points as wagers are placed. These points can then be redeemed for bonus cash or bonus bets, so there are many ways to take advantage of promos and bonuses that are featured.
Betting on Horses at Penn National Race Course
The race track located at Hollywood Casino at Penn National is one of the top tracks in the state of PA and is a one-mile track that features thoroughbred racing. The track operates 24 hours a day and to add to the betting excitement, there is also an amazing casino floor that offers almost 100,000 square feet of gaming machines along with table and poker games.
At Hollywood Casino, those who love the thrills of horse racing will benefit from some great betting options. There is a Daily Double offered on the 1st, 2nd, 9th, and 10th races along with Exacta bets on all races, Superfecta on the last race, Trifectas, and Twin Trifecta.
At this track, one can watch live racing and can also enjoy simulcast racing. One of the exciting things is that once the license is approved for Hollywood Casino at Penn National, one will be able to engage in mobile betting, where they can easily place their wagers without having to visit a betting window. With hundreds of bets that can be placed and super odds, betting on horse racing is about to become even more exciting for fans of thoroughbred racing.
Penn National bet types:
Daily Doubles
Exacta bets
Superfecta
Trifectas
Twin trifecta
Thoroughbred vs. Harness Racing
| Thoroughbred Racing | Harness Racing |
| --- | --- |
| Jockey rides horse 'normally' | Sulky (or cart) that holds the jockey is attached to a horse via a harness |
| Race speed at run or gallop | Race speed at trot or pace |
| Track conditions vary | Track conditions vary |
| Race distances range from 4 furlongs to 1.5 miles | Race distance usually one mile |
When it comes to horse racing, there are two main types of racing, Thoroughbred and Harness. There are some major differences between these two and anyone who wishes to start betting on horse racing events should be aware of these differences.
With Harness Racing, a sulky will be used, which is a cart that is attached to the horse via a harness. During Harness raced, the horses are able to trot or pace at any time during the race. Pacing is a bit faster than trotting, however, with both, there is a chance the horse will begin to gallop. If this happens, the horse has to be slowed down by the jockey to avoid being disqualified. The distance of Harness Races is typically one mile and the race will begin with horses behind a motorized gate.
Thoroughbred Racing is one of the exciting forms of racing and the jockey will be riding the horse during the race. All horses can maintain a run and gallop and the races can take place on a variety of surfaces that can affect the performance of the horse, so there are a number of things to consider when betting, including racetrack conditions. The distance of Thoroughbred races can vary and will range from 4 furlongs to 1.5 miles.