South Dakota Online Gambling 2021
Commercial Content | 21+ | T&Cs Apply
South Dakota boasts a colorful history and gambling has been a big part of it.
This is especially true of Deadwood in Lawrence County where a whopping 23 of the South Dakota casinos operate.
South Dakota features a mix of tribal and commercial casinos.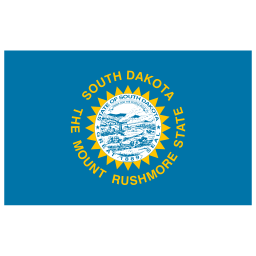 There are nine Native American casinos operating on tribal lands while the 23 commercial casinos are all located in Deadwood. There are a few other commercial casinos in other cities like Sioux Falls.
There are no legal online casinos operating in the state, which means that South Dakota online gambling is not allowed. However, that doesn't mean that those in favor of online gambling in South Dakota can't play their favorite online casino games at offshore sites. They can. Well, at least most people can. A decade-old law states that anyone employed in the gambling business is prohibited from placing any online bets. Even at offshore sites. It's actually a serious offense with penalties up to $10,000 in fines and up to a year in the slammer.
South Dakota Casino Gambling
As mentioned, South Dakota is home to several casinos that offer slots, table games, and casino card games like Let It Ride and Caribbean Stud. Many of these gaming venues feature the same type of fine dining, entertainment, and amenities that one would find in Las Vegas. Anyone who enters a South Dakota casino must be at least 21.
South Dakota Online Gambling
South Dakota online gambling is not regulated, so there aren't any online casinos operating within the state. Those who wish to partake in some online casino fun must turn to offshore sites. The only exceptions are those who work in South Dakota's legal gambling industry.
Employees of casinos and other gaming establishments are prohibited from placing any wagers online. While players aren't given the same protection when they play at offshore online casinos, there are several reputable sites out there.
South Dakota Sports Betting
There will be a voter referendum in this South Dakota to determine whether or not the legislature should move forward with drafting a sports betting friendly SD.
Despite having so many casino gambling options, sports betting in South Dakota remains forbidden fruit. Unlike several other states that have embraced sports betting in the wake of the reversal of PASPA, South Dakota has yet to move in that direction. 
This could all change as early as 2020 as the matter could be voted on soon. While a positive result would see sportsbooks operating out of casinos, the future of online sports betting remains a mystery. In the meantime, countless offshore sportsbooks accept South Dakotans.
Horse Race Betting
Parimutuel horse race betting has been legal in South Dakota for several decades. Sadly, there are no horse racing venues outside of a couple of state fairs that run for a few days in the spring.
One would think that South Dakota would have plenty of off-track betting venues. They would be wrong. The only OTB venue is located in Sioux Falls. Many horse race bettors are limited to wagering at offshore racebooks.
Online Poker
You shouldn't have too much trouble finding a poker game if you go to one of South Dakota's many casinos. As you may have already guessed, you won't find any legal South Dakota-based online poker. While the prospect of online casinos and sports gambling look moderately good, don't expect the state to change its position on online poker.
However, as with most other forms of South Dakota online gambling, poker players have numerous respected offshore online poker sites they can play at. They can also cash in on some great online poker bonuses.