Top NFL Draft Picks 2021
Commercial Content | 21+ | T&Cs Apply
The second biggest day on the NFL calendar is the pro football draft. Here are the top prospects and best draft picks that you can expect to see come off the board early in the first round.
#10. Andrew Thomas, OT, Georgia
A four-year starter and three-time All-American, Georgia tackle Andrew Thomas is ready to start in the NFL. He spent most of his college career at left tackle but has the power blocking in the run game that also makes him a fit on the right side. Thomas is easily the safest pick on the offensive line.
#9. Jedrick Wills Jr., OT, Alabama
A monster at right tackle for Alabama, Jedrick Wills Jr. does everything great. He shows technique in the passing game and kills defenders when run blocking. But as high as that upside is, there are some concerns about his effort. If he fixes that, he'll be an All-Pro at the next level.
#8. CeeDee Lamb, WR, Oklahoma
The wide receiver class of 2020 is loaded with potential draft picks. At the top of that class is Oklahoma's CeeDee Lamb. He doesn't have the greatest of speed, but has great hands, goes up for the ball with physicality, and seems to always find the end zone. Just 21 on draft day, Lamb still has plenty of room to grow and is a lock to become a team's No. 1 wide receiver.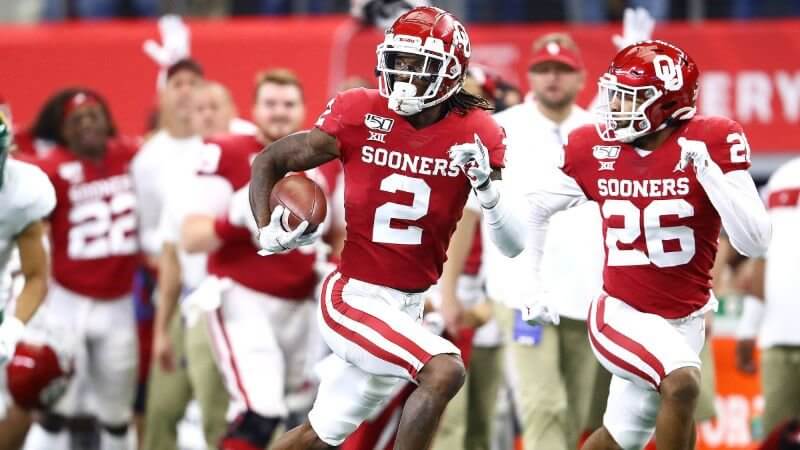 #7. Javon Kinlaw, DT, South Carolina
Having spent part of his childhood homeless in D.C., Javon Kinlaw is a great story. He's also a great player, and a giant of a man at 6-5, 324 pounds. He missed the combine because of knee tendinitis, and then his pro day was scratched because of coronavirus. So some teams might let him slide in the first round.
#6. Derrick Brown, DT, Auburn
How special is Derrick Brown? Some analysts have compared him to Rams All-Pro Aaron Donald. Brown is big, he's strong, he's fast, he's schooled on technique, and he has a high-intensity motor that is always running. The senior also plays with a maturity and attitude that NFL teams will fall in love with.
#5. Isaiah Simmons, LB, Clemson
Versatility is all the rage, and no defender in this football draft is as versatile as Isaiah Simmons. At 238 pounds he's big enough to play linebacker. With an eye-popping 4.39 in the 40-yard dash, he's fast enough to be a cover safety. And with eight sacks last season, he can also rush the passer. There really is nothing he can't do.
#4. Jeff Okudah, CB, Ohio State
Great character and team leadership make Jeff Okudah a great NFL prospect. The ability to shut down an entire side of the field makes him one of the top draft picks available in 2020. He has great foot quickness, patience in coverage, and isn't afraid to mix it up in run defense. He's going to be a great NFL player.
#3. Tua Tagovailoa, QB, Alabama
One of the most intriguing players in the NFL draft's first round is Tua Tagovailoa. He began 2019 as the unquestioned best quarterback in this draft. Then his hip injury happened. Then Joe Burrow happened. And even though Tua has been declared fully healthy in rehab, he's likely to be only the second quarterback taken.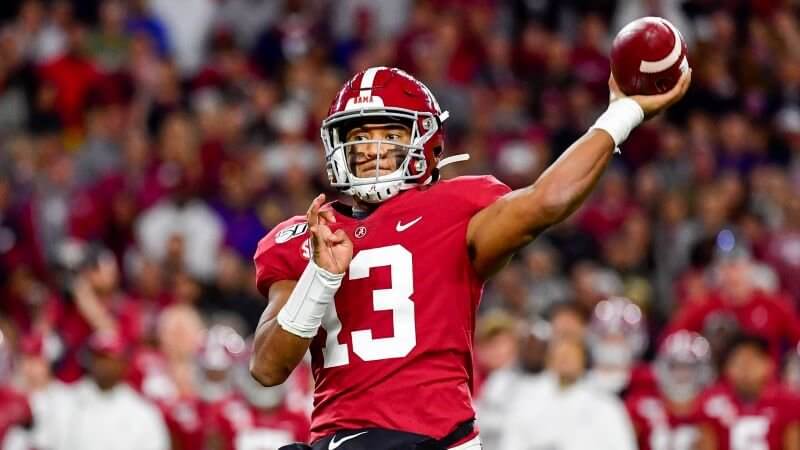 #2. Joe Burrow, QB, LSU
The Heisman Trophy winner, National Champion, and magician behind one of the greatest college football seasons we've ever seen. Joe Burrow is a generational prospect that will lock down the quarterback position for the next 15 years for whichever team is lucky enough to draft him. The Cincinnati Bengals right now have first dibs.
#1. Chase Young, EDGE, Ohio State
Joe Burrow is likely to go #1 overall because of his position. But Chase Young spent most of the 2019 season looking like the most complete college football player in the country. He is an elite pass rusher. He never misses a tackle. He is physical, smart, creative, and a surefire NFL All-Pro. Young is a can't miss draft pick.
How to bet on the NFL Draft
All of the top NFL Draft picks for 2021 are available to wager on, and in a variety of possible bets. Which quarterback will be drafted first? How many quarterbacks overall will be taken in the first round? Who will the Giants select in their first draft pick?
Sports may be on a hiatus at the moment, but thanks to the NFL Draft, sports wagering is not. You know how to bet on the NFL Draft; now you just need to make your bets.