2022 NFL Draft Results
Travon Walker DE – Jacksonville Jaguars
Aidan Hutchinson DE – Detroit Lions
Derek Stingley, Jr. DB – Houston Texans
Ahmad Gardner CB – New York Jets
Kayvon Thibodeaux EDGE – New York Giants
Ikem Ekwonu OT – Carolina Panthers
Evan Neal OT – New York Giants
Drake London WR – Atlanta Falcons
Charles Cross OT – Seattle Seahawks
Garrett Wilson WR – New York Jets
Chris Olave WR – New Orleans Saints
Jameson Williams WR – Detroit Lions
Jordan Davis DT – Philadelphia Eagles
Kyle Hamilton SAF – Baltimore Ravens
Kenyon Green OL – Houston Texans
Jahan Dotson WR – Washington Commanders
Zion Johnson OL – Los Angeles Chargers
Treylon Burks WR – Tennessee Titans
Trevor Penning OT – New Orleans Saints
Kenny Pickett QB – Pittsburgh Steelers
Trent McDuffie CB – Kansas City Chiefs
Quay Walker LB – Green Bay Packers
Kaiir Elam CB – Buffalo Bills
Tyler Smith OT – Dallas Cowboys
Tyler Linderbaum C – Baltimore Ravens
Jermaine Johnson II DE – New York Jets
Devin Lloyd LB – Jacksonville Jaguars
Devonte Wyatt DT – Green Bay Packers
Cole Strange G – New England Patriots
George Karlaftis EDGE – Kansas City Chiefs
Daxton Hill SAF – Cincinnati Bengals
Lewis Cane SAF – Minnesota Vikings
The NFL Draft is always one of the most anticipated days of the year for football fans. People want to see what talent their favorite team will pick up. While it can be a joyous day for some, others will be pulling their hair out over the players that their team picks.
Jump to
To help with the excitement of watching the draft, a lot of people like to place NFL Draft bets on what players will be chosen by different teams or in what order. This guide looks at all aspects of the 2022 NFL Draft that begins on April 28 in Las Vegas.
2022 NFL Draft – #1 Overall Pick Odds
There is always a lot of prestige to be the first player drafted in a given year. While there is no guarantee that they are going to be a success, a struggling franchise will be hoping that this will be the case.
Michigan defensive end Aidan Hutchinson is the strong favorite to go to the Jacksonville Jaguars with the first pick. Here is a look at the top five in the betting with the FanDuel Sportsbook:
Aidan Hutchinson -175
Travon Walker +165
Ikem Ekwonu +1600
Evan Neal +2000
Kayvon Thibodeaux +2000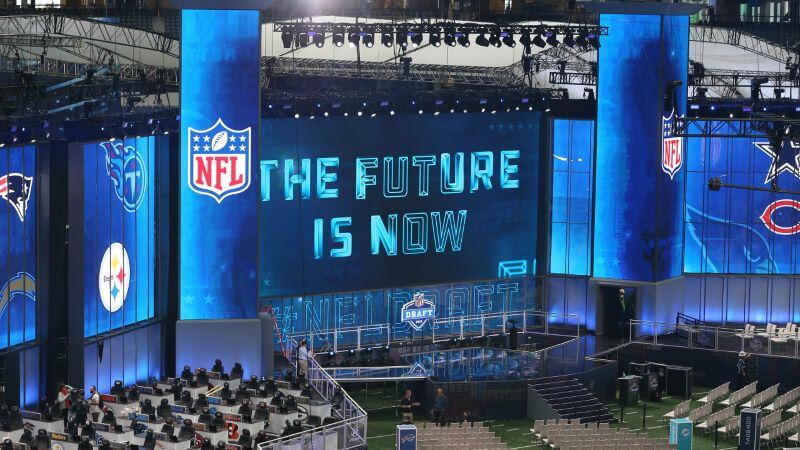 2022 NFL Draft – #2 Overall Pick Odds
The Detroit Lions hold the number two draft pick at the moment, and they seem to be eyeing up Kayvon Thibodeaux. Another defensive end, Thibodeaux was once the heavy favorite to go number one before being replaced by Hutchinson in recent months.
With some extremely impressive stats for Oregon, it is obvious why the Lions would be looking at such a stud. Here is a look at the top five in the betting for the second pick with the FanDuel Sportsbook:
Kayvon Thibodeaux +150
Aidan Hutchinson +150
Travon Walker +250
Malik Willis +900
Ahmad Gardner +1600
Is it possible that someone so in love with Chase Young moves up to No. 1 and decides to select him? Perhaps it's possible. But as you can see from the NFL Draft betting odds, it's highly unlikely.
2022 NFL Draft – #3 Overall Pick Odds
The Houston Texans have had a very turbulent couple of years, and they will be hoping that this year's draft will help put them back on the road to success.
NC State offensive tackle Ikem Ekwonu had an extremely impressive combine performance that caused him to rocket up the draft rankings. With huge versatility and athleticism, he can play both guard and tackle. Here are the top five potential players to go third in the 2022 NFL Draft order:
Ikem Ekwonu +300
Ahmad Gardner +300
Travon Walker +300
Evan Neal +400
Derek Stingley Jr +600
Previous #1 Draft Picks
Here's an overview of previous first picks and their positions.
2021 – Trevor Lawrence QB (Jacksonville Jaguars)
2020 – Joe Burrow QB (Cincinnati Bengals)
2019 – Kyler Murray QB (Arizona Cardinals)
2018 – Baker Mayfield QB (Cleveland Browns)
2017 – Myles Garrett DE (Cleveland Browns)
As you can see, it is usually the case that the team with the number one draft pick goes for a quarterback in an attempt to turn around their fortunes. The last non-quarterback to go number one was Myles Garrett in 2017.
It looks like the 2022 NFL Draft will also have a defensive end going first. The other non-quarterbacks to be drafted number one over the past decade are Jadaveon Clowney in 2014 and Eric Fisher in 2013.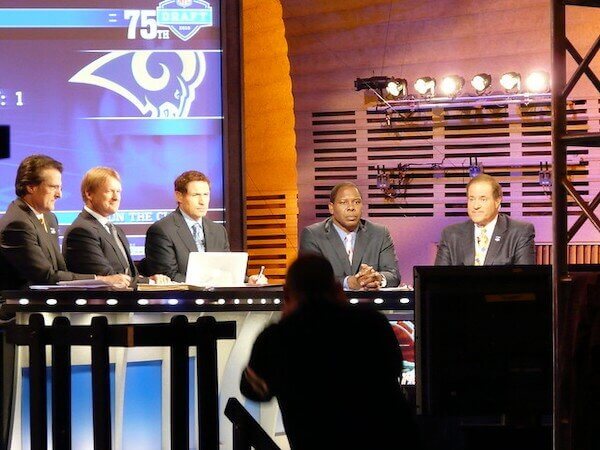 NFL Draft Odds: Position Players
Every team will have its own specific needs positionally when they are looking at drafting players. Some might have an urgent need for a quarterback or a defensive end.
Other teams can afford to take more of a gamble and focus on the talent rather than needing to urgently fill a position. Here is a look at the DraftKings Sportsbook NFL Draft props odds for the player in each given position to be chosen first.
NFL Draft Odds Top QB
Malik Willis -150
Kenny Pickett +150
Desmond Ridder +1000
Matt Corral +1800
Sam Howell +4000
NFL Draft Odds Top RB
Kenneth Walker III -200
Breece Hall +250
Isaiah Spiller +500
James Cook +1000
Kyren Williams +2000
NFL Draft Odds Top WR
Garrett Wilson +110
Jameson Williams +200
Drake London +225
Chris Olave +1800
Treylon Burks +2000
NFL Draft Odds Top TE
No odds are currently available.
NFL Draft Odds Top Offensive Line
Evan Neal -150
Ikem Ekwonu +185
Charles Cross +250
Trevor Panning +1800
Tyler Linderbaum +2500
NFL Draft Odds Top Defensive Line
No odds are currently available.
NFL Draft Odds Top LB
Devin Lloyd -500
Nakobe Dean +350
Quay Walker +1500
Christian Harris +3500
Troy Anderson +5000
NFL Draft Odds Top CB
Ahmad Gardner -450
Derek Stingley Jr +250
Trent McDuffie +1400
Andrew Booth Jr +7500
Martin Emerson +10000
NFL Draft Odds Top S
Dax Hill -175
Lewis Cine +275
Jaquan Brisker +500
Jalen Pitre +650
Kyle Hamilton +1600
NY Giants & NY Jets Decisions
Both the New York Giants and New York Jets haven't had a great few years. As they both have two top 10 draft picks and major positional needs, it is an extremely important draft for them both.
The NY Giants have some big holes to fill in their roster. Thankfully for them, they have five of the first 81 picks, so they can get some serious talent on board if they choose correctly.
Offensive tackle is the big area of concern, with Charles Cross, Evan Neal, and Ikem Ekwonu all being in the running for the Giants' first pick. Other positions that need filling include an edge rusher, quarterback, and getting a tight end on board.
The New York Jets haven't had much success in recent drafts, so they'll be hoping to turn things around in 2022. They have four of the top 38 draft picks, including two in the top 10. While there might be some trading of draft positions with other teams, they would be served well by picking up some top talent.
The positions where they are most in need are cornerback and a wide receiver. Ahmad Gardner or Derek Stingley Jr looks to be the favored cornerback options for the Jets, while a wide receiver like Garrett Wilson or Jameson Williams wouldn't go amiss.