NFL Draft Odds 2021
Commercial Content | 21+ | T&Cs Apply
The NFL Draft is always an exciting time, but this year even more so. Not only will it give the country a bit of normalcy at a time when normal is in very short supply, but for those of us who love to bet on sports, NFL Draft betting is like a beautiful oasis sitting in a vast desert of postponed sports.
NFL Draft Position Odds
It's almost a certainty that at least four quarterbacks will be taken in the first round this year. But will one of those QBs be taken with the first overall pick? Here are the odds from FanDuel for the first overall selection in the 2020 NFL Draft.
FanDuel NFL Draft Odds
And the best thing about NFL draft betting is that it is three days of Super Bowl-esque player and team props. You can bet on the Draft's first and second rounds, Mr. Irrelevant, positional battles, college conference domination, and every other possible bet you can imagine.
It's Christmas morning for the fans, who get to see which new players their teams will have next fall. And for the fan of sports betting, it's like the 12 days of Christmas, with odds placed on all things NFL draft. As the Andy Williams Christmas classic says, "It's the most wonderful time of the year."
First Overall Pick Analysis
He's not on the list above, but another quarterback that has risen considerably in recent weeks is Jordan Love of Utah State. It's possible that he sneaks into the top 10.
As for Joe Burrow, the clear favorite to go No. 1, he is either going to be a Cincinnati Bengal, or some team – possibly the Miami Dolphins – is going to pay a king's ransom for the right to draft him at No. 1.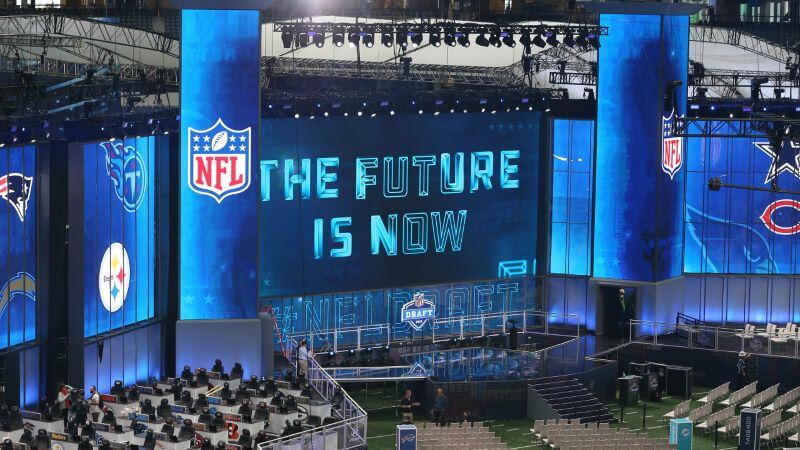 Is it possible that someone so in love with Chase Young moves up to No. 1 and decides to select him? Perhaps it's possible. But as you can see from the NFL Draft betting odds, it's highly unlikely.
NFL Draft Second Overall Pick
The player who will be selected second overall is not quite as cut and dry as the first overall selection, but there is a clear favorite. Here are the odds from FanDuel for the second overall selection.
Chase Young -1200
Tua Tagovailoa +700
Jeff Okudah +2500
Justin Herbert +1500
Jedrick Wills, Jr. +6000
Andrew Thomas +10000
Second Overall Pick Analysis
A couple of interesting things to note. Jeff Okudah, Justin Herbert, and Andrew Thomas have all been given better odds to go No. 1 vs. No. 2, even though No. 1 overall seems to be the surest bet. The league is in love with Chase Young, as are the oddsmakers. And if anyone is going to upset him for the second overall pick, the only realistic option seems to be Tua Tagovailoa.
NFL Draft Third Overall Pick
The player selected third overall becomes a little more competitive because the pick currently belongs to the Detroit Lions, who have Matthew Stafford at quarterback. Here are the odds from FanDuel for the third overall pick.
Tua Tagovailoa -110
Jeff Okudah +195
Chase Young +300
Isaiah Simmons +430
Jedrick Wills, Jr. +1600
Justin Herbert +2000
Joe Burrow +8500
Third Overall Pick Analysis
The Lions have Stafford, but clearly, the oddsmakers still like Tua to go in this spot. Although that does take into account that the Dolphins and Chargers lurk just a few picks back and both teams are almost guaranteed to select a quarterback. Either is a possibility to trade up and grab the guy they want.
If the Lions keep this pick, then they will most likely take Okudah or Simmons, who are both instant starters on defense. If, for some reason, Young doesn't go No. 1 or 2, he is a lock to go here.
Special DraftKings 2020 NFL Draft Odds
DraftKings Panthers Futures
Check out the notable Carolina Panthers futures, as they hold the 7th pick:
CAR Panthers Futures
Super Bowl +8000
NFC Champion +3500
NFC South Champion +2000
Win Totals O/U 5.5
To Make Playoffs Yes: +360/No: -500
NFL MVP – Christian McCaffrey +5000
Christian McCaffrey Rushing Yards O/U 1350.5
Coach of the Year – Matt Rhule +4000
Position of 1st Draft Pick Offense: +225/Defense: -286
Provided by DraftKings Sportsbook
DraftKings NFL Draft: Wide Receiver Specials
Here are some notable 1st Round WR Market Splits:
1st Wide Receiver Drafted
| | | |
| --- | --- | --- |
| Player | % Handle | % Bets |
| Jerry Jeudy | 57% | 37% |
| CeeDee Lamb | 31% | 34% |
| Henry Ruggs III | 11% | 21% |
Total Wide Receivers Drafted in the 1st Round
| | | |
| --- | --- | --- |
| | % Handle | % Bets |
| Over 5.5 | 64% | 39% |
| Under 5.5 | 36% | 61% |
Player to be Drafted in the Top 5
| | | |
| --- | --- | --- |
| Player | % Handle | % Bets |
| Jerry Jeudy | 3% | 8% |
| CeeDee Lamb | 1% | 2% |
CeeDee Lamb Draft Position
| | | |
| --- | --- | --- |
| | % Handle | % Bets |
| Over 12.5 | 3% | 16% |
| Under 12.5 | 97% | 84% |
Henry Ruggs Draft Position
| | | |
| --- | --- | --- |
| | % Handle | % Bets |
| Over 14.5 | 42% | 45% |
| Under 14.5 | 58% | 55% |
Jerry Jeudy Draft Position
| | | |
| --- | --- | --- |
| | % Handle | % Bets |
| Over 12.5 | 3% | 17% |
| Under 12.5 | 97% | 83% |
Player to be Drafted First
| | | |
| --- | --- | --- |
| | % Handle | % Bets |
| Jerry Jeudy | 95% | 59% |
| Henry Ruggs | 5% | 41% |
NFL Draft Odds: Top Skill Position Players
One of the real strengths of this draft is the number of high-quality skill players that will be available, and especially at wide receiver. As good as the 2019 draft class of wide receivers was last year – D.K. Metcalf, Deebo Samuel, Marquise Brown, Mecole Hardman – this 2020 class could be even better. Here are the odds for which of the skill players will be selected first at their respective positions.
NFL Draft First Running Back Taken Odds
D'Andre Swift -175
Jonathan Taylor +155
JK Dobbins +800
Clyde Edwards-Helaire +2500
AJ Dillon +7500
Zack Moss +7500
NFL Draft First Wide Receiver Taken Odds
Jerry Jeudy -125
CeeDee Lamb +155
Henry Ruggs III +420
Tee Higgins +3000
Justin Jefferson +3500
KJ Hamler +5000
NFL Draft First Tight End Taken Odds
Cole Kmet -200
Adam Trautman +600
Brycen Hopkins +800
Thaddeus Moss +950
Albert Okwuegbunam +1000
Harrison Bryant +1200
Hunter Bryant +1200
Jared Pinkney +2500
Colby Parkinson +3000
Jacob Breeland +3000
NFL Draft Odds: Top Offensive Linemen
When parsing the offensive linemen, the oddsmakers believe that three players stand out above the rest: Tristan Wirfs, Jedrick Wills, Jr., and Mekhi Becton. Here are the odds for which offensive lineman will be selected first.
Tristan Wirfs +125
Mekhi Becton +190
Jedrick Wills, Jr. +290
Andrew Thomas +850
Josh Jones +2500
Austin Jackson +6000
NFL Draft Odds: Top Defensive Players
The consensus best defensive player in this draft is Ohio State's Chase Young. The unanimous All-American won the Nagurski Trophy, Bednarik Award, Hendricks Award, Nagurski-Woodson DPOY, and was a Heisman Trophy finalist. Young will be the first defensive player to come off the board, and his over/under on draft position is 2.5.
Cornerback Jeff Okudah has the next highest defensive player draft position over/under at 4.5. Like his teammate at Ohio State, Okudah was a unanimous All-American and is easily the best defensive back available in this draft.
The most versatile defensive player in the 2020 NFL Draft is Clemson's Isaiah Simmons. He can play linebacker, he can play safety, he can play great run defense, and he can cover.
Simmons is an intriguing bet with a listed draft position of 6.5. He's highly coveted, but if another quarterback or offensive lineman pushes his way into the top 5, Simmons might drop.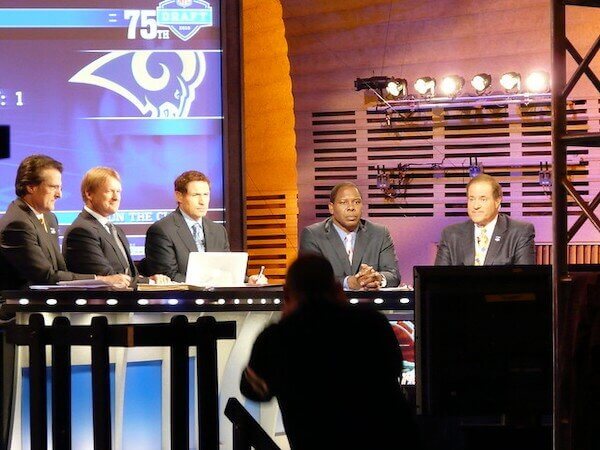 The next best defensive player, at least according to the odds, is Derrick Brown from Auburn. The unanimous All-American and SEC Defensive Player of the Year has a draft position line of 8.5. Brown is one of the most complete interior defensive line prospects to enter the NFL in the last several years.
If anyone is going to unseat Brown as the first defensive lineman off the board, it will be South Carolina's Javon Kinlaw. He's big and strong with a lightning-fast first step, and he will be an instant starter for whichever team drafts him. His draft position line is 13.5, and he could easily go under that.
Other NFL Draft Props
There are several other interesting proposition bets that can be placed on college team picks, NFL teams, and selected positions.
Number of First-Round Picks by School
No surprise that Alabama leads the way with an over/under of 5.5 players selected in the first round.
The national champion LSU Tigers also have a line of 5.5 players taken in the first round. Joe Burrow is obvious, as are linebackers K'Lavon Chaisson and Patrick Queen. Kristian Fulton, Justin Jefferson, and Grant Delpit are also graded as possible late first-round selections.
We can say with certainty that Ohio State is going to have two players selected in the top 10 in Chase Young and Jeff Okudah. That makes the 2.5 over/under line for Ohio State players a very interesting bet.
First Pick by NFL Team
The New York Giants, who select fourth overall, are predicted to select Isaiah Simmons. He's a +170 favorite. Iowa offensive tackle Tristan Wirfs is at +300, and Louisville tackle Mekhi Becton is listed at +400.
The Jets, who pick 11th, are +300 to select Alabama wide receiver Jerry Jeudy. Oklahoma wide receiver CeeDee Lamb and Georgia tackle Andrew Thomas are both +420 to be the newest members of the Jets.
The Eagles select 21st, and oddsmakers are convinced they are going with a wide receiver. LSU's Justin Jefferson is the favorite at +180, Alabama's Henry Ruggs III is +500, and Baylor's Denzel Mims is +600. Odds are also given on Jeudy and Lamb in case the Eagles decide to move up and pick either of them.
Round of First Special Teams Picks
Often forgotten, until they are needed, are the specialists who kick the ball. No one expects a kicker to go in the first three rounds of the draft. Odds per round are +10000, +5500, and +1100. But by the fourth round, that bet pays +500, and by the fifth round, it is paying even money.
For punters, the expectation is that the first one will be selected in the fifth round. That bet pays -110. The seventh and final round pays +150, with the next most likely the fifth round at +290, with the fourth round paying +900.