2020 NFL Draft Betting: Top NFL Draft Prospects, Prop Bets & Odds
Commercial Content | 21+ | T&Cs Apply
NFL Draft betting 2021 is around the corner! The 2021 NFL Draft will take place on April 23-25 in Las Vegas, Nevada. Find the best NFL Draft odds across all sportsbooks, as well as who will be the NFL Draft betting favorite to go first. Here is your all-in-one guide for NFL Draft betting in 2021.
Top NFL Draft Prospects for 2021
Contents

Best Sportsbooks: NFL Draft Odds
When looking to bet on NFL draft, your best option is US-based, legal sports betting websites. Here is a rundown of the major legal sports betting websites that you should look at for your NFL draft betting. These websites offer NFL Draft odds to help decide your risk versus reward when placing bets.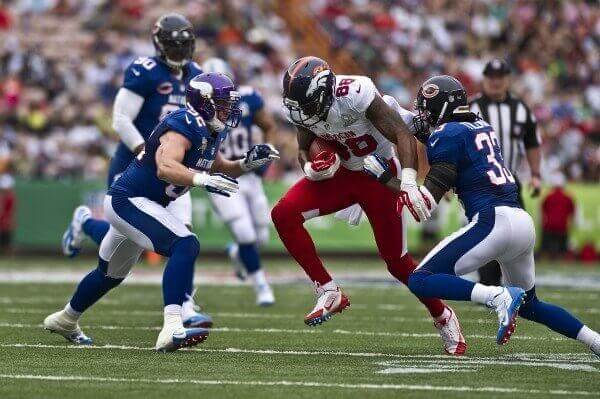 Special DraftKings 2021 NFL Draft Odds
Panthers Futures
Check out the notable Carolina Panthers futures, as they hold the 7th pick:
CAR Panthers Futures
Super Bowl +8000
NFC Champion +3500
NFC South Champion +2000
Win Totals O/U 5.5
To Make Playoffs Yes: +360/No: -500
NFL MVP – Christian McCaffrey +5000
Christian McCaffrey Rushing Yards O/U 1350.5
Coach of the Year – Matt Rhule +4000
Position of 1st Draft Pick Offense: +225/Defense: -286
Provided by DraftKings Sportsbook
Wide Receiver Specials
Here are some notable 1st Round WR Market Splits:
1st Wide Receiver Drafted
| | | |
| --- | --- | --- |
| Player | % Handle | % Bets |
| Jerry Jeudy | 57% | 37% |
| CeeDee Lamb | 31% | 34% |
| Henry Ruggs III | 11% | 21% |
Total Wide Receivers Drafted in the 1st Round
| | | |
| --- | --- | --- |
| | % Handle | % Bets |
| Over 5.5 | 64% | 39% |
| Under 5.5 | 36% | 61% |
Player to be Drafted in the Top 5
| | | |
| --- | --- | --- |
| Player | % Handle | % Bets |
| Jerry Jeudy | 3% | 8% |
| CeeDee Lamb | 1% | 2% |
CeeDee Lamb Draft Position
| | | |
| --- | --- | --- |
| | % Handle | % Bets |
| Over 12.5 | 3% | 16% |
| Under 12.5 | 97% | 84% |
Henry Ruggs Draft Position
| | | |
| --- | --- | --- |
| | % Handle | % Bets |
| Over 14.5 | 42% | 45% |
| Under 14.5 | 58% | 55% |
Jerry Jeudy Draft Position
| | | |
| --- | --- | --- |
| | % Handle | % Bets |
| Over 12.5 | 3% | 17% |
| Under 12.5 | 97% | 83% |
Player to be Drafted First
| | | |
| --- | --- | --- |
| | % Handle | % Bets |
| Jerry Jeudy | 95% | 59% |
| Henry Ruggs | 5% | 41% |
Provided by DraftKings Sportsbook
NFL Draft Order 2021
The NFL draft has a specific order each year. Each of the 32 teams receives a single pick in each of the seven rounds. The order in which they get to choose is determined by the order of finish in the previous football season, only in reverse, meaning the teams in need of better players get to go earlier than the teams that are already solid.
First Round Picks by Team
Cincinnati Bengals
Washington Redskins
Detroit Lions
New York Giants
Miami Dolphins
Los Angeles Chargers
Carolina Panthers
Arizona Cardinals
Jacksonville Jaguars
Cleveland Browns
New York Jets
Las Vegas Raiders
Indianapolis Colts
Tampa Bay Buccaneers
Denver Broncos
Atlanta Falcons
Dallas Cowboys
Miami Dolphins via Pittsburgh Steelers
Las Vegas Raiders via Chicago Bears
Jacksonville Jaguars via Los Angeles Rams
Philadelphia Eagles
Buffalo Bills
New England Patriots
New Orleans Saints
Tennessee Titans
Minnesota Vikings
Miami Dolphins via Houston Texans
Seattle Seahawks
Kansas City Chiefs
Green Bay Packers
San Francisco 49ers
Baltimore Ravens
The Top 2021 NFL Draft Picks
For your NFL draft betting needs, you will need to look at NFL draft odds, NFL draft projections, and NFL player stats in order to make your NFL draft predictions and NFL draft prop bets. The players listed below are the ones to look at for NFL props when making your NFL Draft bets. Here are the names as well as a short background of the players to watch this year.
#1 Chase Young, Ohio State, EDGE
The top prospective defensive player for 2021, Chase Young, is considered the consensus best player in the draft. He has won almost every award possible for a player of his position, even breaking OSU's record of 16.5 sacks in a single season.
Chase Young is considered the safest pick to make in the draft.
#2 Joe Burrow, LSU, QB
Joe Burrow has a pretty impressive record – a Heisman Trophy win, lead LSU to an unbeaten season finishing off with a 42-25 win in the National Championship, it's easy to see why he is considered to be one of the top, maybe even #1, overall pick.
Burrow is expected to go first to the Cincinnati Bengals.
#3 Tua Tagovailoa, Alabama, QB
Tua Tagovailoa is arguably the most intriguing pick of this year's NFL Draft. There aren't many QBs that are like Tagovailoa, with the perfect combo of mobility and accuracy. Despite the injury, he has now slowly resurfaced himself again amongst the betting favorites to get picked in the top 3.
#4 Jeff Okudah, Ohio St., CB
Strong build and quick, plus a unanimous All-American, Okudah can handle any receiver. He is 100% the top CB Pick for the 2021 NFL Draft.
#5 Isaiah Simmons, Clemson, LB
When looking at your NFL draft props, you cannot leave out Isiah Simmons. Simmons led the Clemson Tigers to a championship in 2018 with his winning mentality. Not to mention, he posted 104 tackles, 7 sacks, 16.5 tackles for loss and 3 interceptions in 15 games during his final college season.
#6 Derrick Brown, Auburn, DL
Considered the best interior defensive lineman in the Draft, Derrick Brown joined the Auburn team in 2016 as the 9th ranked high school prospect in the nation. It's no surprise to see him ranked as a top pick for the 2021 NFL Draft.
#7 Javon Kinlaw, South Carolina, DL
Javon Kinlaw is impressive on and off the field. He posted 6 sacks in 12 games for the Gamecocks last season. This interior defensive lineman could join any team and make an instant positive impact on the NFL level.
#8 CeeDee Lamb, Oklahoma, WR
CeeDee Lamb is slated to be the first Wide Receiver picked in the Draft. There is no doubt that the Sooners player will bring a positive impact to any team. Not to mention, Lamb needed only 58 receptions to post 1,208 yards and 14 TDs in 13 games last season.
#9 Jedrick Wills Jr., Alabama, OL
When looking at Jedrick Will's performance, it's clear that he is a high risk – high reward lineman. Strong, natural and powerful run-blocker with the athletic upside to round into a smooth pass-protector are the positives. Will's performance just needs to be more consistent.
#10 Andrew Thomas, Georgia, OL
The anchor of the Georgia Bulldogs run-blocking, Andrew Thomas, another unanimous All-American in 2019, and enters the Draft most likely as the first offensive lineman to go pro.
2021 List of NFL Draft Prospects
Chase Young, EDGE, Ohio State
Isaiah Simmons, LB, Clemson
Jeff Okudah, CB, Ohio State
Derrick Brown, DT, Auburn
Joe Burrow, QB, LSU
Tua Tagovailoa, QB, Alabama
Mekhi Becton, OT, Louisville
Jedrick Wills, OT, Alabama
CeeDee Lamb, WR, Oklahoma
Dexter Lawrence, DT, Clemson
Jerry Jeudy, WR, Alabama
C.J. Henderson, CB, Florida
Tristan Wirfs, OT, Iowa
Andrew Thomas, OT, Georgia
Henry Ruggs III, WR, Alabama
DeAndre Swift, RB, Georgia
K'Lavon Chaisson, EDGE/LB, LSU
Patrick Queen, LB, LSU
Xavier McKinney, S, Alabama
A.J. Epenesa, EDGE, Iowa
Kenneth Murray, ILB, Oklahoma
Justin Herbert, QB, Oregon
Justin Jefferson, WR, LSU
Zach Baun, EDGE/OLB, Wisconsin
Tee Higgins, WR, Clemson
Kristian Fulton, CB, LSU
Trevon Diggs, CB, Alabama
A.J. Terrell, CB, Clemson
Josh Jones, OT, Houston
Jalen Reagor, WR, TCU
Brandon Aiyuk, WR, Arizona State
Yetur Gross-Matos, EDGE, Penn State
Laviska Shenault Jr., WR, Colorado
Jeff Gladney, CB, TCU
Ross Blacklock, DT, TCU
Cesar Ruiz, G, Michigan
Jaylon Johnson, CB, Utah
J.K. Dobbins, RB, Ohio State
Jonathan Taylor, RB, Wisconsin
K.J. Hamler, WR, Penn State
Bet on NFL Draft
When looking into NFL draft betting, you may be wondering what kinds of bets you can place. Each bookmaker is allowed to make their own types of bets. You will find many sports bookmakers accepting bets such as:
Which player will be selected as the first overall NFL draft pick 2019?
Which player will be selected as the second pick of the first round?
What will a specific team do with their own first-round pick?
Will a specific player be selected in the first round?
Which of the college football conferences will wind up with the most selections in the first round?
Who will be the first player/position chosen from each particular group?
You will also find sports bookmakers offering over/under bets for each round, such as:
How many quarterbacks will be chosen in the first round?
How many running backs will be chosen in the second round?
The over/under on a player's draft position/which team will the player go to?
Will more offensive or more defensive players be drafted?
1st Overall Pick
The first overall NFL draft pick is fairly self-explaining, referring to the first player drafted by the first choosing team in the entire NFL draft of that year. Here is a closer look at the prospective first overall draft pick with the NFL draft odds pointing toward him.
Joe Burrow – Team to Draft
Joe Burrow is an outstanding player. Joe Burrow has solidified himself as a top pick in the 2021 NFL draft, and he is considered the betting favorite to go 1st overall to the Cincinnati Bengals. He had one of the best college QB seasons ever and won the 2021 National Championship Game with LSU Tigers with really put his mental and physical toughness, as well as on-field leadership, on display.
1st Drafted Positions
Here are the main positions, their definition, and the players most likely to get chosen for the positions in the NFL draft 2019 according to NFL draft predictions.
Quarterback
The quarterback is maybe the most important player on the field. The quarterback is a player positioned behind the center. The quarterback directs the team's offensive play. The lines for the first quarterback drafted this year are Joe Burrow, Tua Tagovailoa and Justin Herbert.
Running Back
A running back is a member of the offensive backfield. The main roles of a running back are to receive handoffs from the quarterback for a rushing play, catching passes from out of the backfield, and blocking. Look at D'Andre Swift, Jonathan Taylor, and JK Dobbins as the NFL props for this position.
Wide Receiver
The wide receiver's main role is to catch the passes from the quarterback. On passing plays, the receiver attempts to avoid, outmaneuver, and/or outrun defenders, most likely the cornerbacks or safeties, who will be in the area of his pass route. Look at players Jerry Jeudy and CeeDee Lamb to be early drafted wide receivers in the 2021 NFL Draft.
Linebacker
Linebackers are members of the defensive team. They line up around three to five yards behind the line of scrimmage. They will be behind the defensive linemen, literally backing up the line. Look at Isaiah Simmons, Patrick Queen, and Kenneth Murray as the linebackers to bet on for the NFL draft because of NFL draft projections.
Offensive Lineman
An offensive lineman is mostly responsible for blocking. In normal play, offensive linemen do not handle the ball aside from the snap from the center, except when the ball is fumbled by a ball carrier or in the case of when a pass is deflected. Tristan Wirfs, Jedrick Wills, Jr., and Mekhi Becton are the offensive lineman to watch in this year's NFL Draft.
Defensive Lineman
Defensive linemen are typically big, strong and quick. The defensive line works along with the linebackers to try to control the line of scrimmage. On typical plays, a defensive lineman holds up a blocker or two, and the linebacker then makes the tackle.
NFL Draft Prop Bets
The best NFL Draft Prop bets for this year are varied. You can expect to find NFL prop bets such as:
Defensive Players selected in the first round
Draft position for Kyler Murray (thought to be the first overall draft pick)
The number of players from Alabama selected in the first round
Total number of quarterbacks chosen in the first round
How many wide receivers chosen in the first round
2019 NFL Draft Betting Odds
The final 2019 NFL draft betting odds for specific players are:
| Player | Odds |
| --- | --- |
| 1. Nick Bosa, DE, Ohio State | +100 |
| 2. Kyler Murray, QB, Oklahoma | +160 |
| 3. Quinnen Williams, DT, Alabama | +450 |
| 4. Dwayne Haskins, QB, Ohio State | +1400 |
| 5. Josh Allen, LB, Kentucky | +1400 |
| 6. Drew Lock, QB, Missouri | +4000 |
| 7. Jawan Taylor, OT, Florida | +5000 |
| 8. Devin White, LB, LSU | +5000 |
NFL Mock Draft
A mock draft is used by sports websites and magazines as a simulation of a sports league draft. There are several NFL Mock Drafts out there for you to look at to help with your NFL Draft prop bets. An NFL Mock Draft tries to replicate the most likely outcome of the actual NFL draft to help predict how it will go. Many of the best sports websites will have their own NFL Mock Drafts.
2021 NFL Draft Info
When is the 2021 NFL Draft?
The NFL Draft 2021 will begin on April 23-25. All live events in Las Vegas have been canceled, making this a draft that will be carried out over live streams and internet connections. To add excitement, EA Sports is getting in on the "virtual" aspect of this year's NFL Draft. The schedule is as follows:
First Round – Thursday, April 23 (8 pm ET)
Second and Third Rounds – Friday, April 24 (7 pm ET)
Fourth through Seventh Rounds – Saturday, April 25 (Noon ET)
Where is the 2021 NFL Draft?
The NFL draft in 2021 was to be held in Las Vegas, Nevada but has been decided to be exclusively carried out via live streaming and the internet.
How to Watch the 2021 NFL Draft?
The first round of the draft can be watched on ABC, ESPN, ESPN2, Fox and the NFL Network. It can also be streamed online via the ESPN app or the NFL mobile app or using ESPN.com or NFL.com.
All seven rounds of the draft will be broadcast on many networks including ABC, ESPN, ESPN2, ESPN Deportes, and the NFL Network.