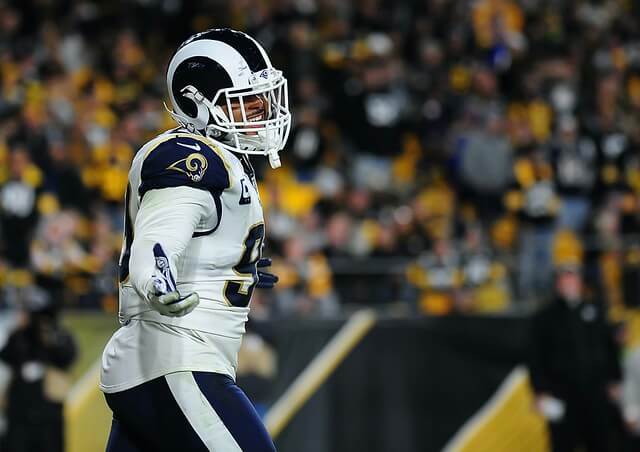 We've already reached Week 11 of the NFL season, and the top teams in the league have clearly separated themselves from the rest of the pack. The Los Angeles Rams are in the group of top teams, but they still have some work to do in the NFC.
The Rams are actually in second place in the NFC West with a record of 7-3 through 10 games. Los Angeles appeared to be ready to take over this division and run away with it, but they just suffered a blowout loss to the San Francisco 49ers in their most recent game.
Los Angeles is going to be in the mix all season long, but running away with the division is another story.
Jump to
Rams Making Big Moves
The Rams made it clear in the offseason that they were pushing all their chips in and going to make a run at the Super Bowl. Los Angeles decided that Matthew Stafford gave them the best opportunity and had little problem trading away Jared Goff to Detroit.
The big moves haven't stopped for the Rams during the season, as well as they have now put together a star-studded cast. Los Angeles recently acquired linebacker Von Miller in a trade and just recently signed Odell Beckham Jr.
It does take great players to win in the NFL, but these moves alone haven't made the might Rams invincible. Los Angeles also suffered a big blow last weekend as they lost wide receiver Robert Woods to an injury.
NFC West is Loaded
The Arizona Cardinals currently lead the NFC West with a record of 8-2, and they were also the last team to lose a game this season. Arizona is another team that made some aggressive moves in the offseason to give them a chance to win a Super Bowl title.
The Seattle Seahawks and San Francisco 49ers have gotten off to slow starts this season due to some adversity, but those teams are never easy to deal with. Facing these teams six times during the regular season is going to make it hard for the Rams to run away with anything.
The NFC West is likely going to have at least two playoff teams this season, but all four are good enough to beat any team in the league.
Cardinals Aren't Going Anywhere
Even if the Los Angeles Rams look like the team to beat on paper, keep your eye on the Arizona Cardinals. Arizona has already built up a division lead through 10 games, and this is a team that isn't going anywhere.
In fact, you could even argue that if any team is going to run away with the NFC West that it would be the Arizona Cardinals.