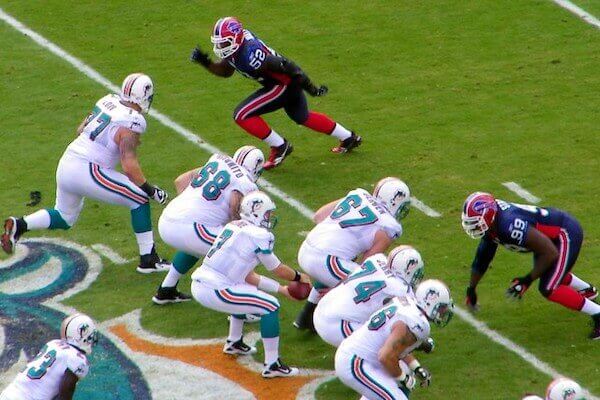 One of the most exciting ways to bet on live sports is after the kickoff, opening tip, faceoff or first pitch takes place. Live in-game betting follows the action in a particular game with updated betting lines at normal breaks throughout play. Prop bet odds covering 'what happens next' are also in a constant state of flux.
Traditionally, most sports bettors would place their final wagers with their favorite sportsbook right before a game would get underway. Live in-game betting lets you place bets after the start based on what is taking place. This is an especially popular way to bet on NFL games and Superbowl.
For example, the Green Pay Packers are seven-point home favorites against the Chicago Bears. Chicago wins the toss and goes on to score a touchdown on its opening possession. The new spread drops to three points still favoring the Packers. All the new money bet is based on that spread until it changes again.
In preparation for the upcoming NFL season, Penn National Gaming has teamed up with Sportsradar to offer live in-game betting. Investors were extremely excited about the news. The company's stock priced jumped five percent to start the month of July.
This followed a recent decline of 17 percent over the past week. Penn National stock was down eight percent over the entire month of June. The gaming company also got a boost from three of its land-based casinos in Illinois reopening their doors as well as the possibility of online gambling. Its video gaming terminals (VGT) are also open for business to help the cause.
Penn National has been able to reopen 34 of its land-based casinos across the nation. This accounts for 83 percent of its overall gaming revenue. It also means that 14 of the 19 states it does business in are back up and running.
The agreement with Sportsradar involves the use of proprietary NFL data. That company is a global provider of sports data and content.
This data can be used on Penn National wagering platforms to offer live betting during NFL games. This also applies to the new Barstool Sportsbook app and the Barstool Sportsbook bonus code. This is part of a recent promotional and marketing agreement between Penn National sports betting and Barstool Sports.
Penn National bought a 36 percent stake in Barstool Sports earlier this year. As part of this partnership, all the company's land-based sportsbooks will bear the Barstool brand.
This new partnership will also give Penn National the ability to use the official NFL play-by-play data feed to readjust its live in-game betting lines.
Jon Kaplowitz is the Senior Vice President of Penn National's interactive gaming division.