Patrick Mahomes just signed the biggest contract in American sports history, worth more than $500 million, for a ten year extension with the Kansas City Chiefs.
In light of this, we found out how much players earn for their game time. To do so, we took the "Highest Paid Athletes in the World" list for 2020 Forbes released last month.
Combining the income earned both from their salary and endorsements during the period of June 1, 2019 – June 1, 2020, the top 100 athletes span across 10 different sports, with players representing 22 countries.
Being an athlete is a full-time job. Constant practice, physical training, team, and self-promotions take up a lot of time, but how much money are these athletes actually earning when the game is on the line? This is what we wanted to explore.
By collecting every match appearance for each of the 100 athletes for the same time period as Forbes, we've created a new list that highlights which athletes had the biggest paydays for the least amount of game time. We also stripped the athletes of their endorsements, looking only at the salary they were being paid for their game appearances.
Jump to
The Highest and Lowest Paid Athletes Per Game
Forbes' list is topped by Roger Federer, who managed to earn 106.3 Million USD in endorsements and salary/winnings. He is the first tennis player ever at the top of the list, and is the only tennis player among the Top 20. However, Federer has earned most of his money from endorsements, and that has led him to plummet down our list to position 92.
Boxing is the clear winner for short burst, high pay sports. Four boxers made it on Forbes' 2020 list, and all of them shot up to the Top 5 in our list. Boxer Canelo Alvarez claims the top spot, earning $35 Million for his fight against Sergey Kovalev.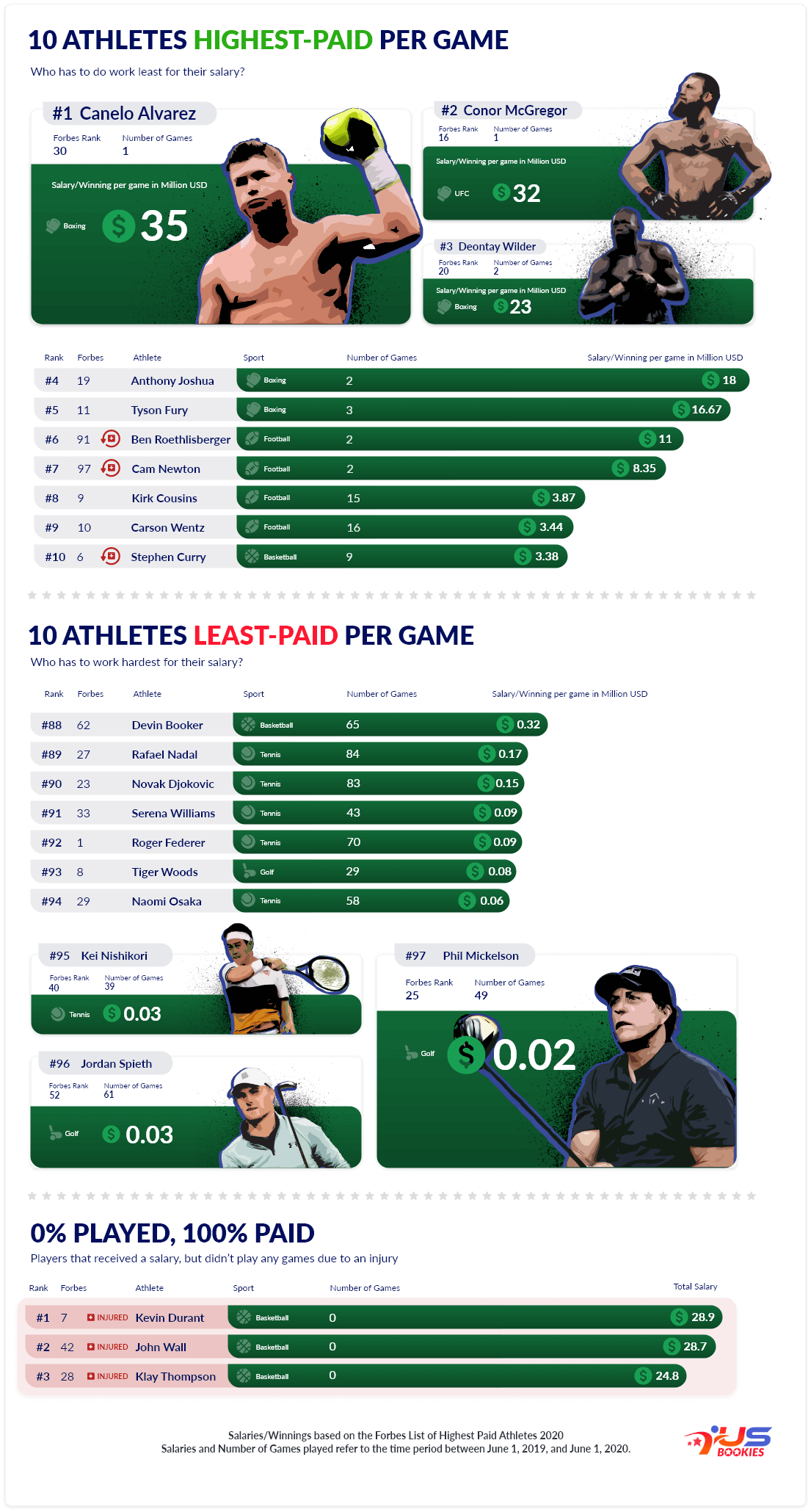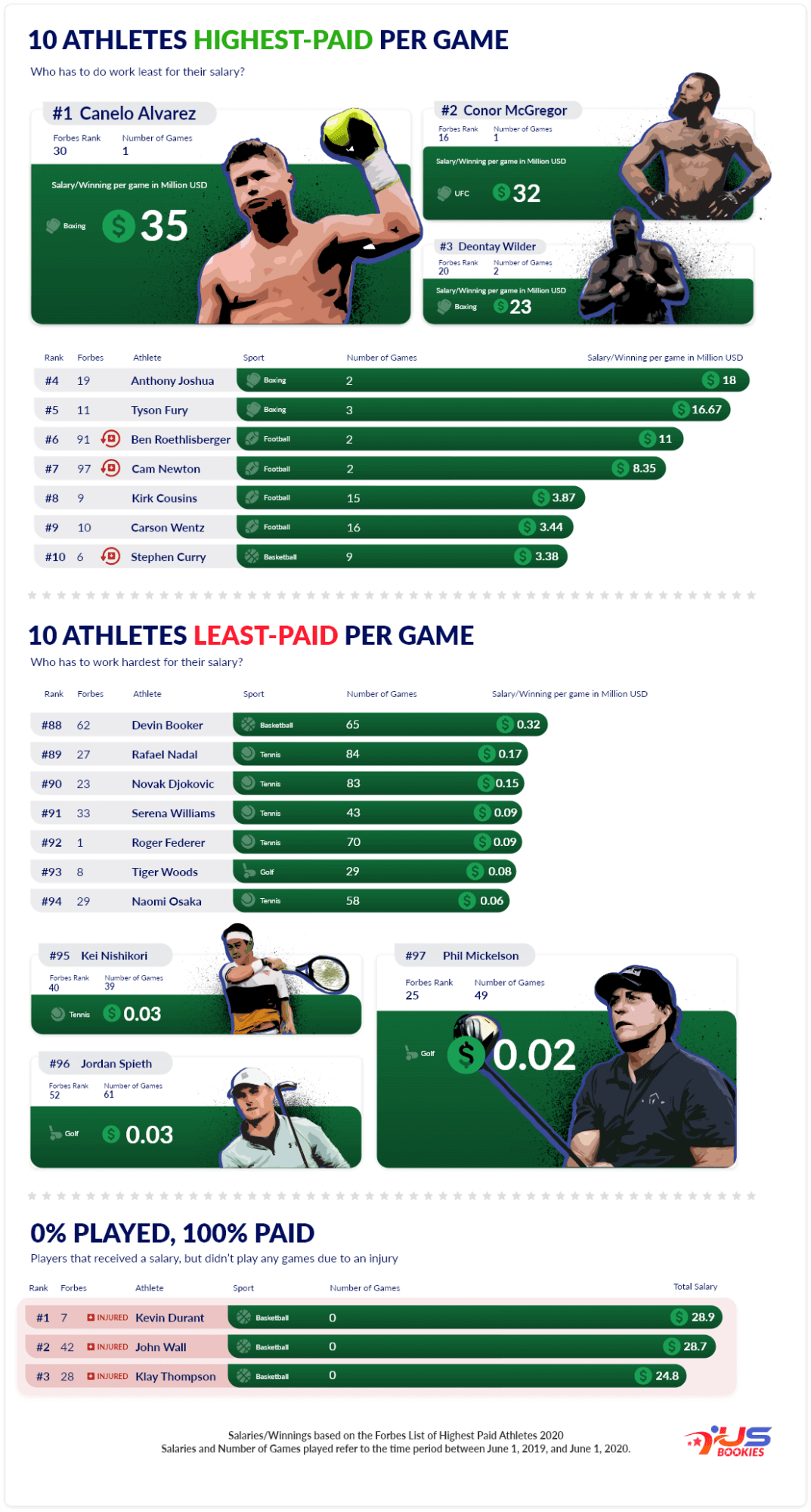 Federer being the first tennis star to top the Forbes list is due to the $100 Million he earned from endorsements. In general, Tennis players don't earn as much from the game alone, as all 6 tennis players on Forbes' list drop down to our bottom ten without their endorsements. Rafael Nadal reaches the highest salary per game amongst his tennis peers at slot #90.
It's worth mentioning that the truest "winners" of playing the least amount of games and earning the most are players who didn't play a single game last season due to injuries. Topping that list is NBA star Kevin Durant, who signed with Brooklyn Nets after his three year tenure with the Golden State Warriors. During Game 5 of the 2019 championship with the Warriors, Durant suffered an injury to his achilles tendon that resulted in him being benched for the entirety of his first season with the Nets before it was suspended due to COVID-19. Although injury is never a good thing, earning $28.9 million without having to leave a bench isn't a terrible silver lining.
Durant's former Warrior teammate, Stephen Curry, also owes his overall Top 10 ranking of highest paid per game due to injury. Due to breaking his left hand, Curry only played 9 games, earning $3.38 Million per appearance. Other high ranking injured players include NFL QB's Ben Roethlisberger and Cam Newton, both of which only appeared in two games last season.
Top Earners per Sport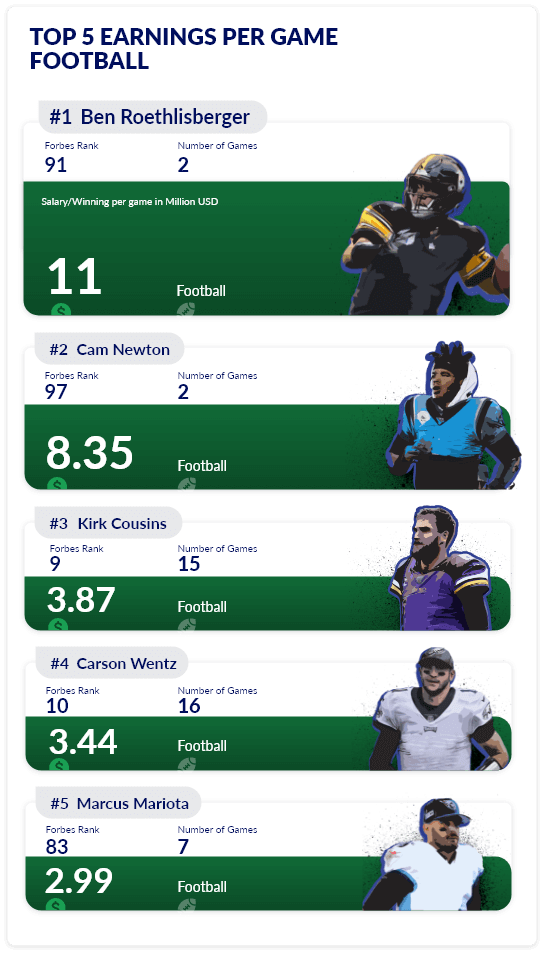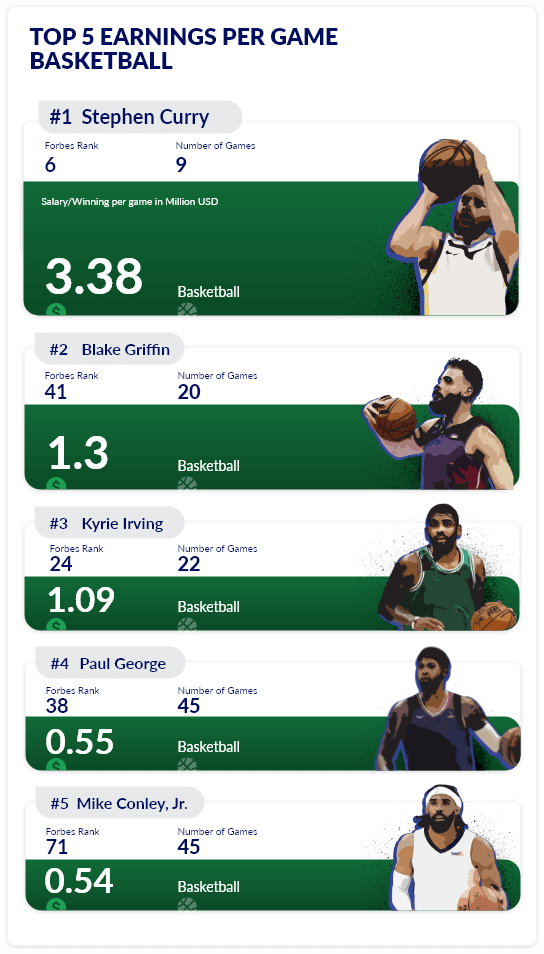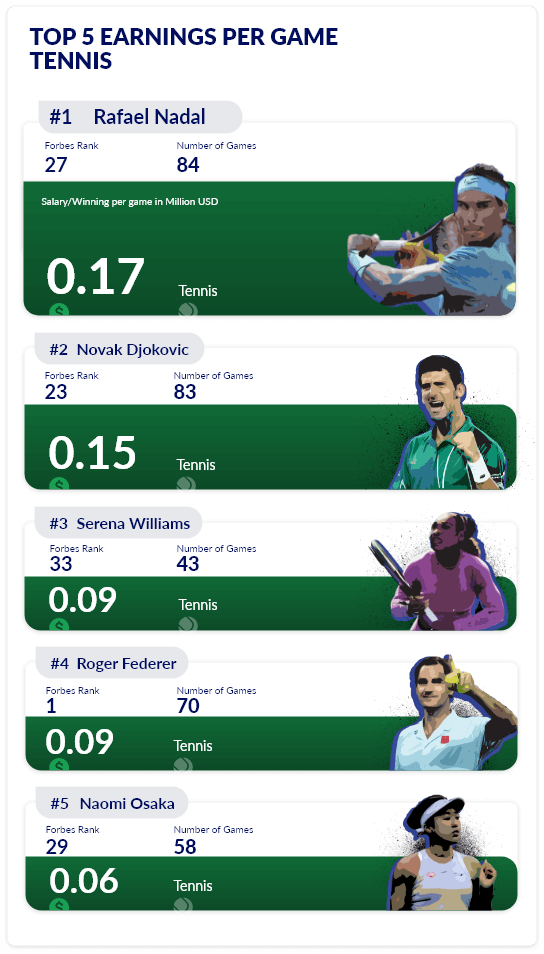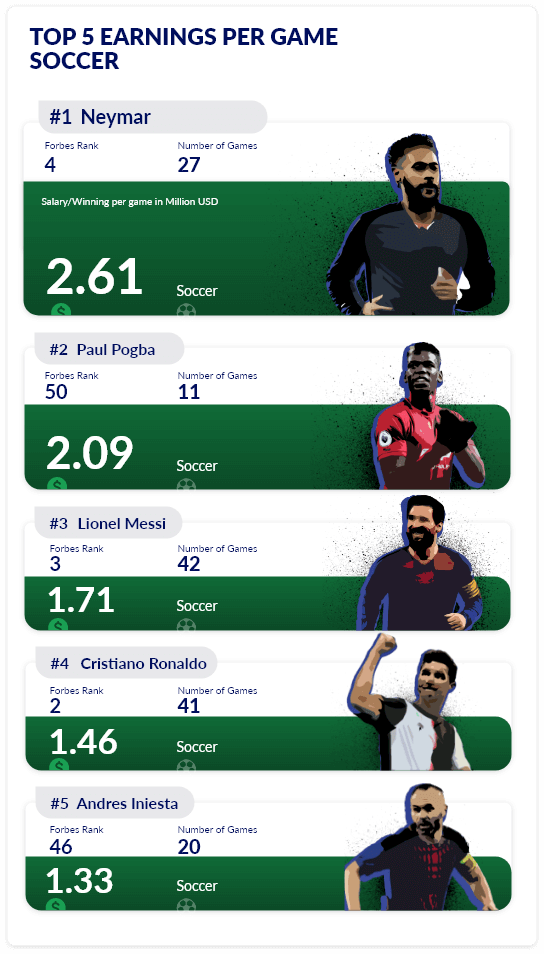 Looking at the sports that had more than five representative players, we ranked the top paid athletes of each sport per game.
As previously mentioned, an unfortunate but quick way to boost your earnings per game is to suffer from an injury. Alongside Curry and the QBs topping their individual sport's lists, star strikers Neymar and Pogba were both benched due to injuries during last season yet they still earned $70.5 million and $23 million in salary respectively.
Although the NBA is most represented on Forbes' 2020 list (35 players), the NFL, due to its limited number of games per season, pays the most per game out of all team sports. With 31 NFL players on the top 100 list, the average number of games played is 13.8, with an average salary per game of $2.45 million. Basketball players on the list earn just over a fifth of that, with an average $550,000 per game.
In the end, no sport comes close to the earnings per match of boxers. Laying it all on the line for one night only, the top four boxers pull in an average of $23.2 Million a match. Considering that these fighters fought an average of 8 rounds per match, it's not a bad hourly wage. athletes
Sources:
Earnings:
Games Played: