With the proliferation of fantasy football into every nook and cranny of following the NFL, it is not surprising there is a whole betting market available for punters to test their luck on over/under for yards and touchdowns accumulated by quarterbacks, wide receivers, running backs, and tight ends.
The challenge, of course, is figuring out which offences are productive in terms of yards and points. For example, the Tampa Bay Buccaneers ranked third in total offence with 415.5 yards per game yet 12th in scoring at 24.8 points per contest. That kind of discrepancy matters when considering a play on top Bucs receiver Mike Evans. He ranked third in the NFL with 1,524 yards but tied for 13th with eight touchdown catches.
Factor in an off-season of player movement, contract holdouts, injuries, and shifts in offensive philosophies, and the challenge becomes more daunting. But fear not intrepid reader, for there are some definite value plays to be had with a little bit of research and a little bit of confidence.
Jump to
Cleveland Browns QB Baker Mayfield (O/U 4,250 yards, 31.5 TDs at -110)
No one entered this season with as much hype as Mayfield and the Cleveland Browns and with good reason. The No. 1 overall pick of the 2018 draft sparked the Browns to a win coming off the bench in his NFL debut, ending their 20-game winless streak, and had them in playoff contention until the second-to-last week of the season as he threw for 3,725 yards and 27 TDs in 14 games.
The Browns were aggressive in the offseason in finding Mayfield more weapons, landing wide receiver Odell Beckham Jr. via trade from the New York Giants to be opposite Jarvis Landry and signing running back Kareem Hunt, who was cut by the Kansas City Chiefs – arguably derailing a Super Bowl run – after video of him kicking a woman surfaced in November. While Hunt will serve an eight-game suspension for his actions, the Browns do not lack at running back after Nick Chubb finished four yards shy of 1,000 as a rookie.
But for all the positives Mayfield and the Browns accumulated going from zero to seven wins, it will be difficult going from seven to nine or 10 wins while potentially fighting for a playoff spot. Opponents now have the most important thing they can get in stopping Mayfield – video tape – and any defensive coordinator worth his salt will scheme to slow him down.
In a pass-happy NFL, Mayfield should deliver the over on yardage, but the extra five touchdowns will be a far more challenging prop bet.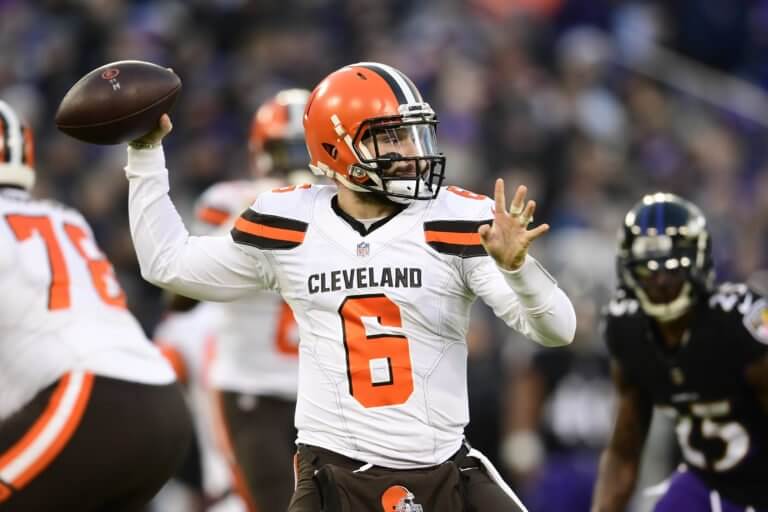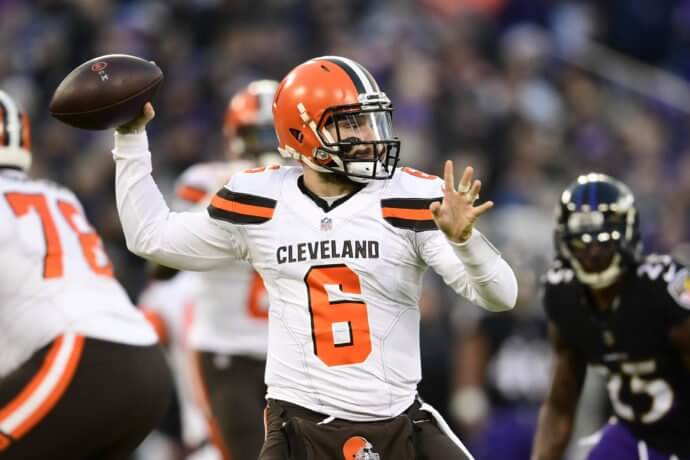 New England QB Tom Brady (O/U 4,150.5 yards, 29.5 TDs at -110)
Under centre as the starting quarterback for the 19th consecutive season in New England, Brady will once more try to elude Father Time like he sidesteps an on-coming pass rusher. The 42-year-old remains far more motivated by Super Bowl rings than he does individual numbers, and a seventh title would give the Patriots the most Super Bowl victories of any team.
Brady had a solid 2018 season, throwing for 4,375 yards and 29 TDs, but matching those numbers this year could prove challenging for the sure-fire Hall of Famer. The most pressing issue is the Rob Gronkowski-sized hole at tight end following his retirement in the offseason.
A nightmare matchup for opponents, Gronkowski created mismatches at every level because of his ability to stretch the middle of the field vertically. It also allowed the Patriots to operate without a true No. 1 wide receiver for years as slot receivers such as Julian Edelman ran into the open spaces Gronkowski created to catch short passes from Brady that turned into medium-sized gains.
Edelman will miss the preseason with a thumb injury, and Gronkowski's top replacement – 38-year-old Ben Watson – will miss the first four games for violating the league's PED policy. Brady does have a new target in first-round draft pick N'Keal Harry, a wide receiver who totalled 155 catches, 2,230 yards and 17 TDs in his final two seasons at Arizona State, but there is still a learning curve rookie wideouts endure before being a valued target.
Brady has thrown for 4,000 yards in each of the last seven seasons he appeared in all 16 games, but it may be a struggle to keep that streak alive in 2019.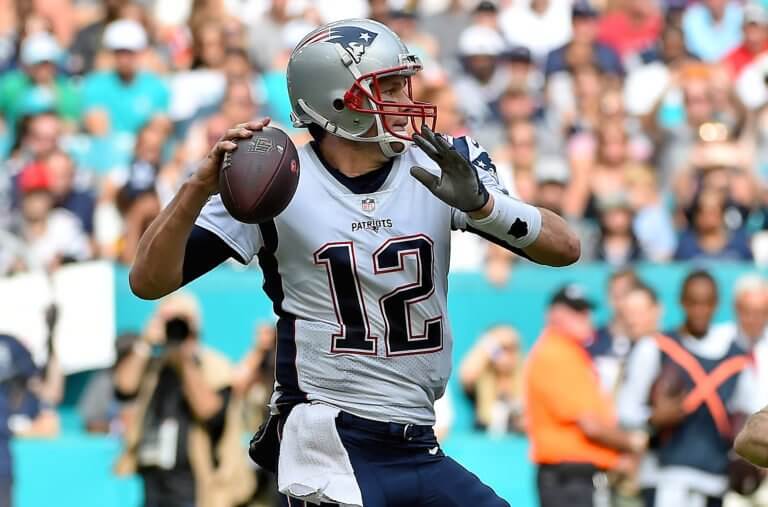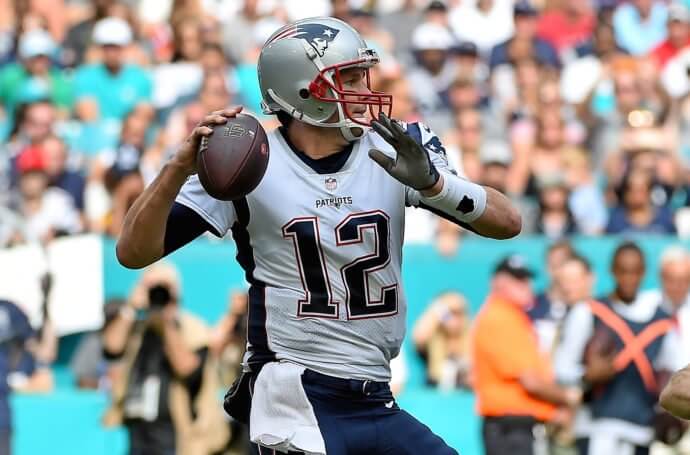 Patrick Mahomes, QB Kansas City Chiefs (O/U 4,650.5 yards at -110, 35.5 TDs at -134/+110)
Mahomes is one of the few quarterbacks who has splits in terms of different lines for yards and touchdowns. The key reason for that is how the Chiefs plan to replace Hunt at running back, which right now appears to be by committee with Damien Williams as the lead. If Williams and company are competent and keep defenses honest, Mahomes can sell play-action and be effective using his howitzer of an arm.
In his first full season under centre, Mahomes threw for 5,097 yards and 50 TDs while also averaging an AFC-high 8.79 yards per attempt. But Hunt's release led to a noticeable dip in yards per game, with Mahomes averaging 329.8 yards in the first 11 games and 293.8 in the five after he was cut.
The Chiefs still have their entire vertical arsenal in wide receivers Tyreek Hill and Sammy Watkins along with tight end Travis Kelce, and there are hopes second-round draft pick Mecole Hardman can stretch defences with his top-end speed like Hill as a No. 3 receiver. But Mahomes clearing 4,650.5 yards will likely hinge on how well all his running backs serve as receivers, as well as Andy Reid continuing to be one of the more creative offensive minds in the NFL.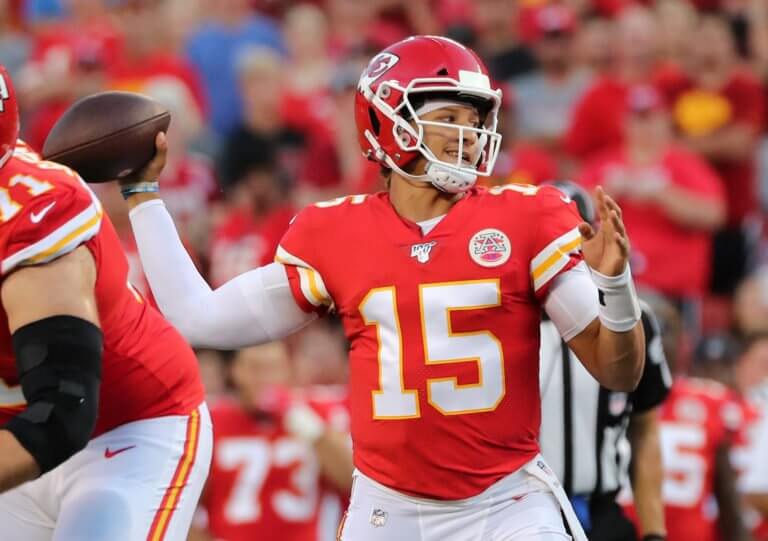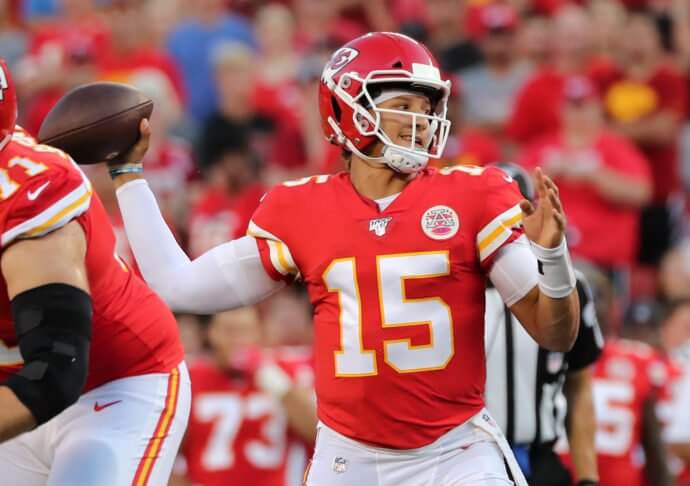 Le'Veon Bell, RB New York Jets (O/U 1,100.5 yards and 7.5 TDs at -110)
After sitting out the 2018 season as part of a protracted contract holdout with the Pittsburgh Steelers that included not signing while designated as a franchise player, Bell arrived in New York via free agency and may have the most to prove of any player in the NFL at an offensive skill position.
At his best, Bell is a dual threat rushing and receiving and has cleared 1,250 rushing yards three times and 600 receiving yards three times. He has an almost-unnerving amount of patience in finding holes, something that could be troublesome behind a Jets offensive line that ranked 26th in rushing last year with 101.4 yards per game and 24th with 43 rushes of 10 or more yards in 2018.
Bell also has a still-developing quarterback in second-year pro Sam Darnold as opposed to cagey veteran Ben Roethlisberger, though the No. 3 overall pick came on strong in his final five games and has shown a good early rapport with first-year coach and noted quarterback whisperer Adam Gase. Bell and Darnold's fortunes – and those of the Jets – will likely rise and fall together based on their effectiveness.
The number itself is a challenging one considering there has not been an 1,100-yard rusher on the Jets since Thomas Jones had 1,402 yards in 2009. But with Bell carrying an enormous chip on his shoulder and Darnold looking sharp in preseason, the over is worth a flyer here.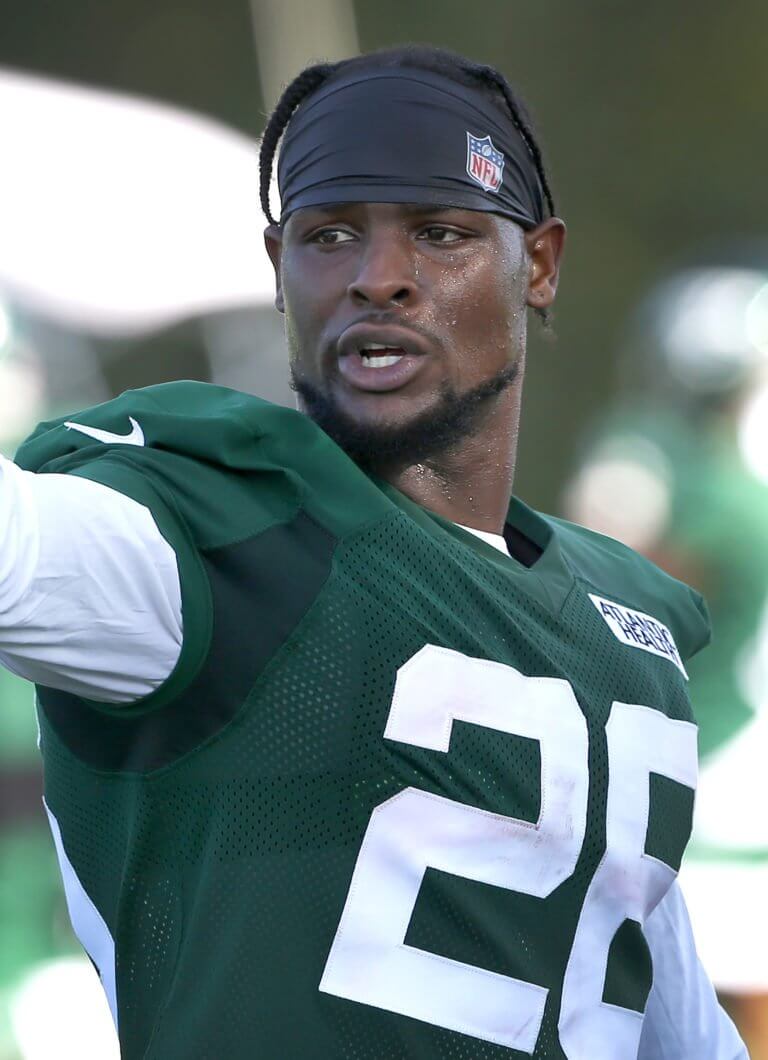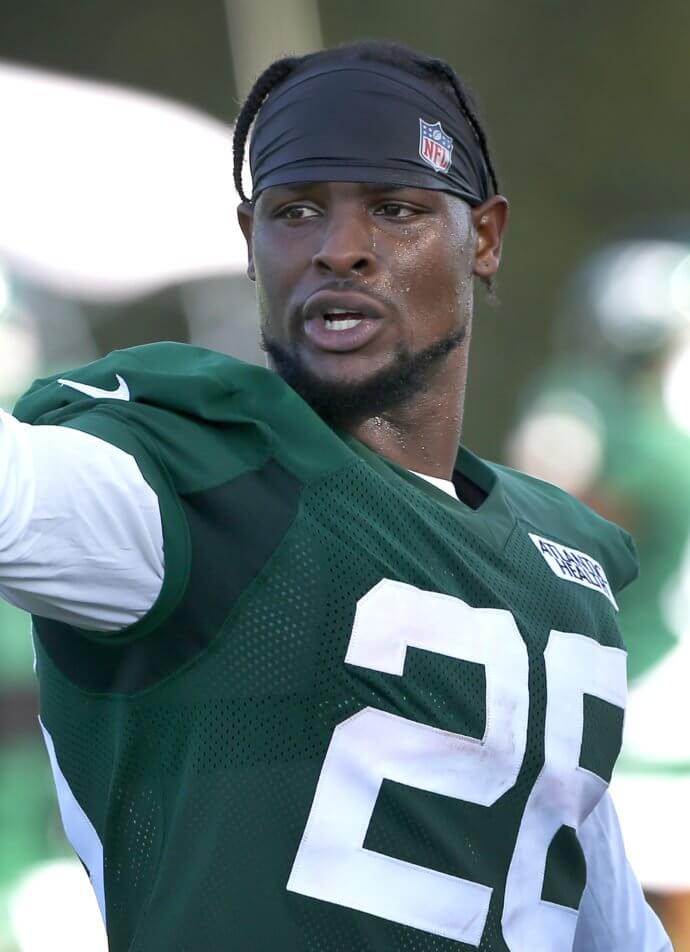 Jul 25, 2019; Florham Park, NJ, USA; New York Jets running back Le'Veon Bell (26) during Jets training camp at Atlantic Health Center. Mandatory Credit: Noah K. Murray-USA TODAY Sports
San Diego Chargers TE Hunter Henry (O/U 750.5 yards, 6.5 TDs at -110)
Henry missed the entire 2018 regular season with a torn ACL, yet the Chargers think so highly of the third-year pro they activated him for the AFC Championship game against New England after he worked himself back into game shape. With future Hall of Famer Antonio Gates not expected to return for a 17th season, this is Henry's opportunity to become one of the league's elite at his position.
Add running back Melvin Gordon's holdout and trade request into the mix, and Philip Rivers is going to be looking for receivers he can trust more often. Henry made a noticeable improvement from his first to second seasons in 2016 and 2017, going from 36 to 45 catches and 478 to 579 yards.
The 37-year-old Rivers threw for 4,308 yards and 32 touchdowns last year, and Henry should see a significant increase in passes thrown his way than the 4.43 per game in 2017. This should be an easy over for Henry on yardage provided he stays healthy.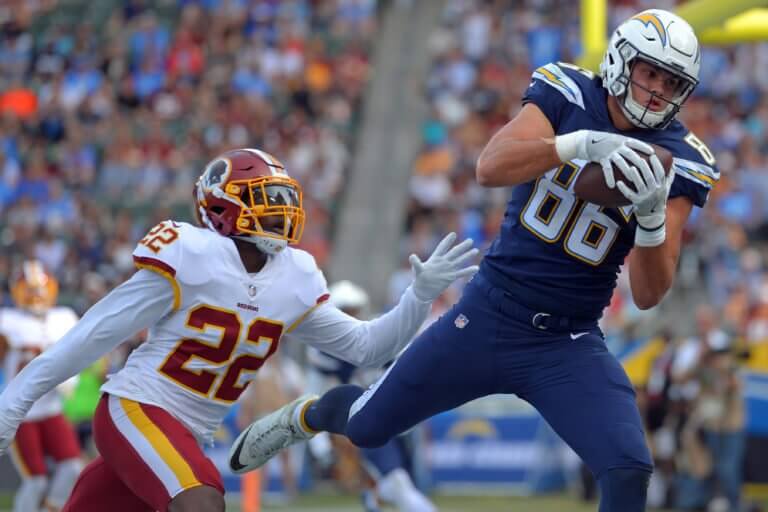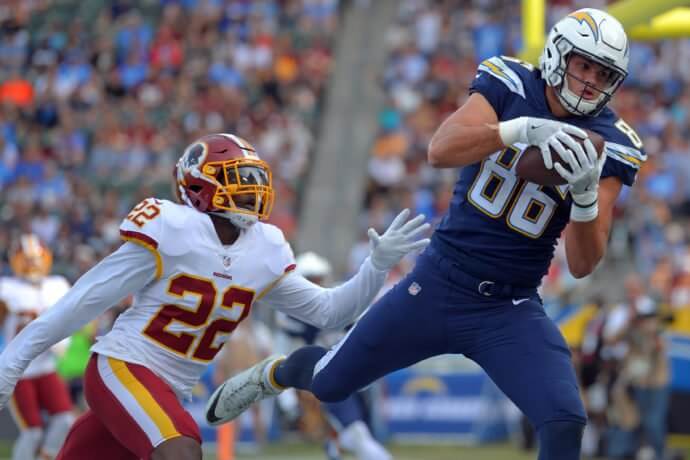 Michael Thomas, WR New Orleans Saints (O/U 1,250.5 yards and 9 TDs at -110)
Thomas also enters this season with much to prove, but because he got "Paid" with a capital P after signing a five-year deal for a reported $100 million that includes $61 million in guaranteed money.
The All-Pro recorded his second 100-catch season in his three years in the league – leading the NFL in 2018 with 125 receptions – and set a Saints single-season franchise record with a career-best 1,405 yards despite opponents trying every sort of bracket, Cover-2 and Cover-3 schemes with cornerbacks and safeties imaginable.
Another reason to take the over with Thomas, however, is because of the still-enormous gap between the No. 1 and No. 2 receivers on the Saints, which means Drew Brees will look Thomas' way early, late, and often, and be successful a good deal of the time.
Brees threw Thomas' way 147 times last season, which meant Thomas caught the pass 85 percent of the time it came his way. The second-leading receiver on the Saints last year was rookie Tre'Quan Smith, and he caught 28 passes on 44 targets. That essentially amounts to a fifth of Thomas' catches on 30 percent of his targets.
With soft secondaries across the NFC South in Tampa Bay, Atlanta, and Carolina, Thomas should rack up a substantial number of yards in those six games and had 278 alone in the two matchups with the Buccaneers. The over/under works out to an average of 78.1 yards per game, a number Thomas cleared eight times while going over 100 yards on four occasions and 125 on three. Another big year should be in store for the Saints after the sting of losing in the NFC title game, and Thomas should be a key component in their bid to get back and finish the job.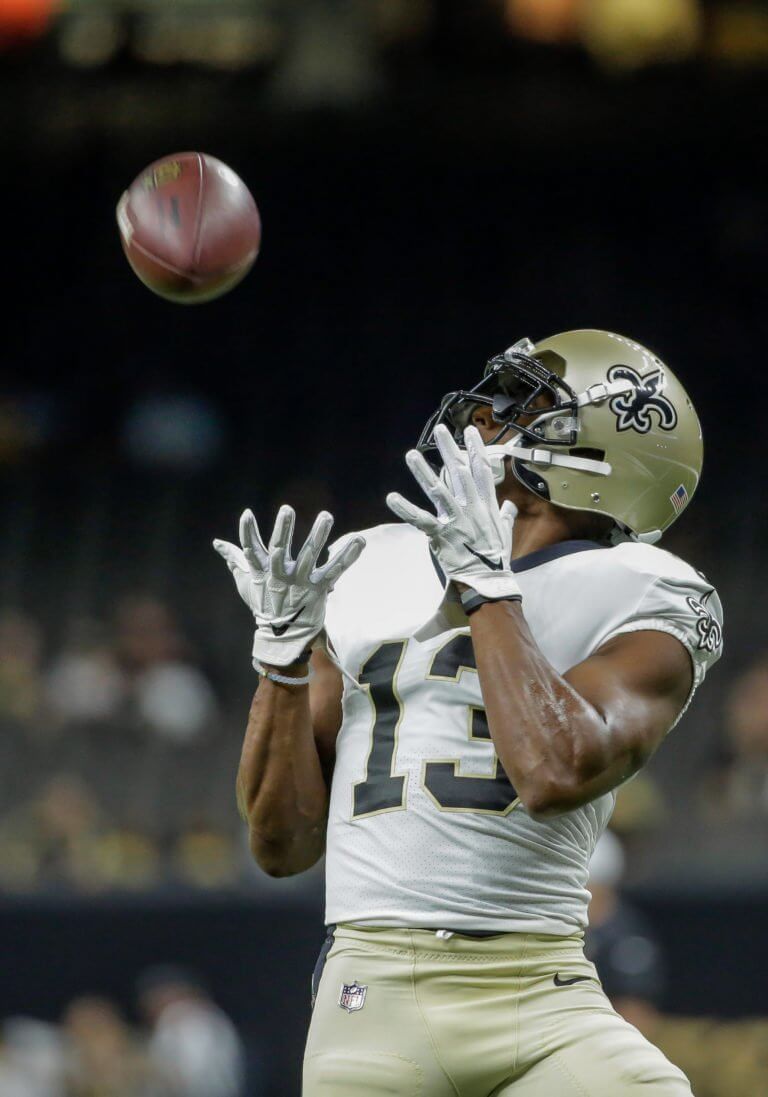 (All odds courtesy SugarHouse Sportsbook)