Been missing NASCAR? Well, the "big one" is here to provide fans a great day of racing. Fans from all over the world will travel to Daytona for the "Super Bowl of NASCAR".
This 500-mile, 200 lap race has made heroes and villains, started careers and ended them with some unpredictable Daytona 500 betting. The 62nd installment promises to be no different, so we're sure you're wondering how to stream Daytona 500.
Jump to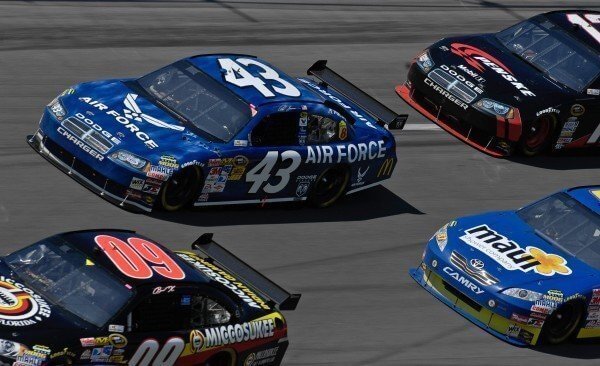 How to stream Daytona 500
ESPN+
Cable TV
Radio
Hulu
DirecTV
FuboTV
Sling TV
PlayStation Vue
Youtube
When is the Daytona 500?
The 63nd edition of the Daytona 500 will take place Sunday, February 14th, 2021. The venue will be of course be at the all-time famous Daytona International Speedway where the 2.5 miles is perfect for every car racer.
Usually, the race lasts around 3 and a half hours.
How to watch the Daytona 500
There's plenty of ways to watch Daytona 500 live, from the official TV coverage to online streaming services.
Cable TV
NASCAR races are usually shared between NBC Sports and FOX, with FOX taking the first half of the season and NBC the second. Being the first event of the year, you can watch Daytona 500 online with FOX. This option works if you have cable TV, but if you're unable to access this service, then there are some other options for you.
Since you can watch the excitement of the Daytona 500 on FOX, why not bet on the winner with FOX Bet?
Radio
As well as watching the Daytona 500 live over cable, you can also listen to it through the radio broadcaster Motor Racing Network. They broadcast all NASCAR events and is a great way to stay up-to-date will NASCAR racing.
Streaming Services
The digital age means that it's no longer necessary to have cable tv in order to watch some great stuff. In fact, there's a whole heap of ways to watch Daytona 500 online.
ESPN+
ESPN+ is a new streaming subscription service that's considered a complement to existing ESPN content. Think of it as an add-on to ESPN with live games, exclusive on-demand video, and access to what was formerly known as ESPN Insider.
Subscribers also get access to original shows exclusive to ESPN+ such as in-depth event recaps and analyses hosted by well-known athletes.
You can even access ESPN+ from the current ESPN app!
Hulu
Hulu has been working away on a new TV service, which allows you to stay in touch with a massive range of events and channels. Their full service offers you access to over 60 channels, including FOX Sports. The full streaming package is around $40 dollars per month and is a great way to take advantage of cable TV from your laptop or computer. Hulu are also currently offering a free trial for 7 days, which if you only want to watch Daytona 500 online, is a great way to watch it free.
DirecTV Now
Much like Hulu, DirecTV Now also gives you access to a great range of fox services. These are offered in all subscription bundles. DirecTV can give you a simple-to-use Daytona 500 live stream, so you don't miss out on the action.
FuboTV
Likewise, FuboTV is another excellent streaming service that gives you access to a massive range of FOX content. As such, FuboTV provides its users with over 80 channels, with many of these were focused on sports. Again, like Hulu, there is also a free trial offer, which means that if you're only interested in watching the Daytona 500, you can watch it free by signing up to this service.
Sling TV
One of the cheapest ways to watch Daytona 500 online, this lightweight service costs only $25 per month and includes FOX networks. However, Sling TV has a lower amount of select markets, so it's very important to check the availability in your region before signing up!
Youtube TV
Youtube has also expanded its business from a video sharing service to a full TV service. This costs $40 per month and has around 60 channels including FOX. The service is available across the US.
Despite not being as cheap as Sling TV, Youtube TV offers a wider choice of channels. YouTube TV is also available on a free trial, so if you just want access to the Daytona 500, then this is the option for you.
Outside the US
If you want to want to watch Daytona 500 online from outside of the US, then this obviously depends on your location. In general, for places like Canada, you can access FOX Sports services as part of their International channels. For other countries please check whether there is a FOX provider, or whether another channel is supporting the event.
While we can't recommend this, you can also access all of the American streaming services by using a VPN. As you may know, this will change your IP address to be in the US, meaning that you can take advantage of the services mentioned.
Live Mobile Streaming
Likewise, it's possible to watch Daytona 500 live on your hand-held device. You can do this in the US by downloading the FOX Sports GO app for both iOS and Android.
Final Summary
This year's Daytona 500 is shaping up to be an amazing event. We hope this guide will help you to pick the best option for you in order to stay up to date and connected with all the action.